Citrusy Sweetness: A Delicious Cranberry-Orange Curd Tart
My taste buds were tantalized the first time I made this Cranberry-Orange Curd Tart. I was intrigued by the idea of combining tart cranberries and sweet oranges in one dessert and the results did not disappoint. I found the combination of flavors to be unique and delicious, and the tart was a hit with my family and friends. The simple ingredients and steps make this recipe an easy and delicious treat that can be enjoyed any time of year.
Cranberry-Orange Curd Tart Recipe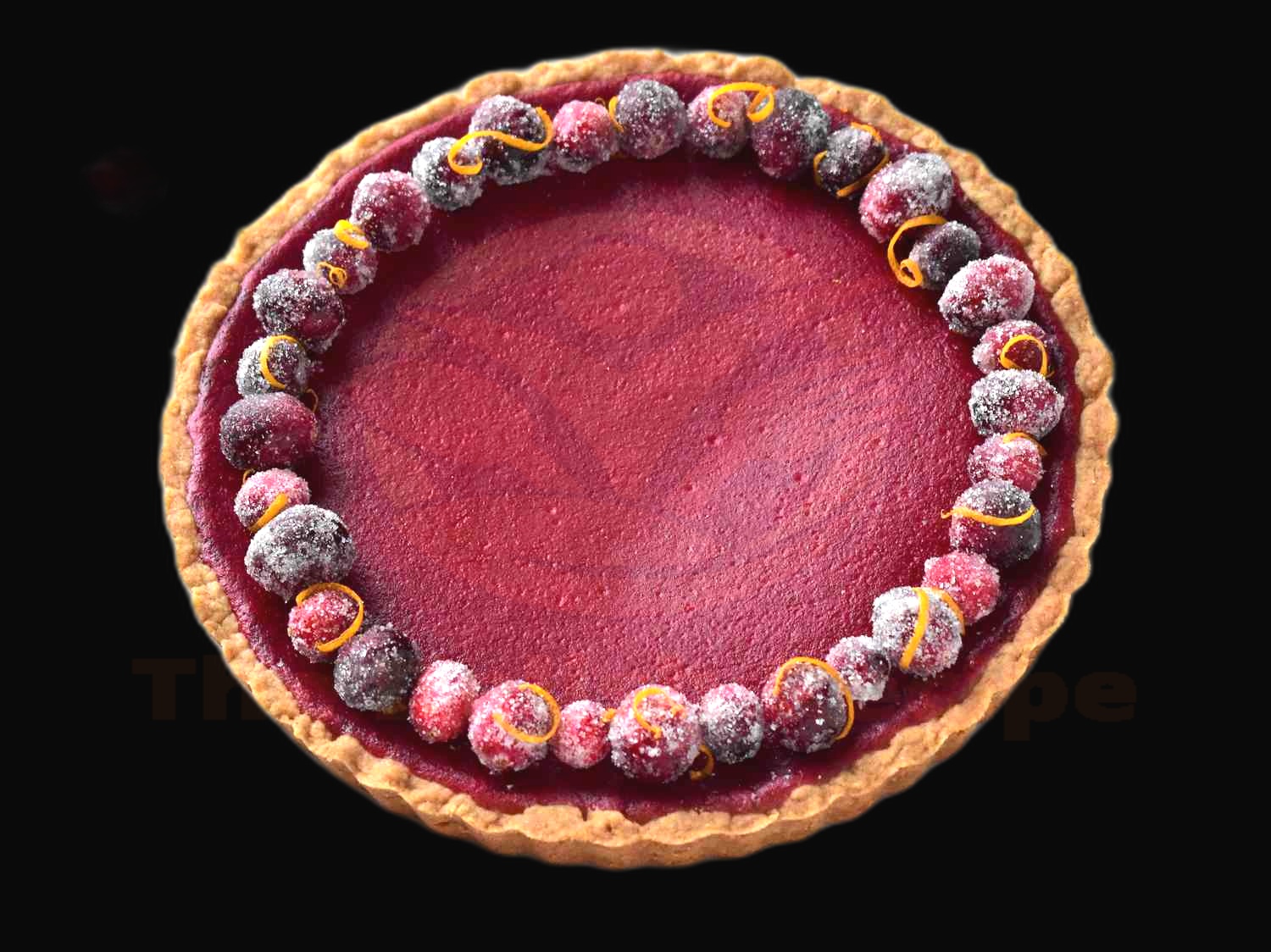 Ingredients
1 package store-bought puff pastry, thawed
1/2 cup fresh cranberries
1/2 cup freshly squeezed orange juice
1/4 cup orange zest
1/3 cup granulated sugar
3 tablespoons butter, cut into small pieces
3 large eggs, lightly beaten
1/4 teaspoon salt
Confectioners' sugar, for dusting (optional)
Instructions
Step 1: Preheat your oven to 375 degrees Fahrenheit.
Step 2: Roll out the thawed puff pastry on a lightly floured surface until it is about 1/8-inch thick. Then, transfer the pastry to a 9-inch tart pan and press it into the edges. Prick the bottom of the pastry with a fork.
Step 3: In a medium bowl, mix together the cranberries, orange juice, orange zest, granulated sugar, butter, eggs, and salt. Pour the mixture into the prepared tart pan.
Step 4: Bake in the preheated oven for 30 minutes, or until the filling is set and the pastry is golden brown.
Step 5: Allow the tart to cool in the pan on a wire rack for 15 minutes.
Step 6: Remove the tart from the pan and sprinkle with confectioners' sugar (optional). Serve and enjoy your Cranberry-Orange Curd Tart!
Nutrition Facts
Calories: 320
Fat: 14g
Saturated Fat: 8g
Carbohydrates: 40g
Fiber: 2g
Protein: 5g
Sugars: 22g
Cholesterol: 90mg
Sodium: 160mg
What flavors can you expect from this cranberry-orange curd tart?
This cranberry-orange curd tart is a sweet and tangy treat! The tart has a buttery and flaky pastry crust that perfectly complements the creamy sweet-tart cranberry-orange curd. The citrusy orange flavor is balanced out with the tart cranberry and the sweet pastry base. The combination of flavors creates a delicious and complex taste. Not only is this tart tasty, but it also looks beautiful when served. The vibrant colors of the cranberry-orange curd will be sure to attract attention at any gathering.
What tips and tricks can you use to make this tart a success?
Start by preheating your oven and preparing the tart pan with butter and flour. Make sure to allow for generous overlap when cutting the tart dough to fit your pan.
When making the cranberry-orange curd, make sure to stir constantly as it thickens. This will ensure an even texture and prevent any lumps from forming.
Try to use freshly squeezed orange juice and zest in the curd. This will give the curd a bright, delicious flavor and make the tart truly special.
Don't forget to top the tart with a sprinkle of sugar before baking. This will give the tart a sweet and crunchy finish.
Allow the tart to cool before serving, as this will give the curd time to thicken and set.
What makes this tart a perfect dessert for any occasion?
This Cranberry-Orange Curd Tart is the perfect go-to dessert for any occasion! Its mix of sweet and tangy flavors, plus its simple yet elegant presentation make it ideal for any gathering.
The tart starts with a buttery shortbread crust that is filled with a creamy orange curd. The curd is then topped with fresh cranberries for a tart and tangy pop of flavor. The combination of sweet and tart takes this tart to the next level! The colors of the tart also make it a beautiful and festive dessert for any event.
This tart is also incredibly versatile. For example, you can easily top it with a dollop of whipped cream for a more indulgent dessert. You can also add a sprinkling of crushed pistachios or almonds for a nutty crunch.
The best part is that this tart is easy to make and requires minimal ingredients. So, regardless of how much time you have or how many guests you're hosting, this tart can be prepped in no time!
Make this Cranberry-Orange Curd Tart the dessert of choice for your next occasion and you won't be disappointed! Its delicious flavor, versatile toppings, and simple preparation make it the perfect dessert for any gathering.
What special ingredients give this tart its unique taste?
This Cranberry-Orange Curd Tart is packed with the perfect combination of flavors to give it its unique taste! The tart starts with a buttery homemade crust that gets filled up with an orange curd and fresh cranberries. The orange curd is made with orange zest, freshly squeezed orange juice, and a touch of sugar for sweetness, while the cranberries add a tart and tangy flavor. The topping is where this tart really shines – it's a combination of heavy cream and cream cheese that's been whipped together and flavored with a hint of orange zest. The tart is finished off with a sprinkle of demerara sugar and a few additional cranberries to give it a delicious crunch.
How can you make this tart even more delicious?
You can make this Cranberry-Orange Curd Tart even more delicious by adding a few simple ingredients! A sprinkle of cinnamon and a tablespoon of fresh ginger are both excellent additions that will give the tart a delightful flavor. A light dusting of powdered sugar and a few sprigs of mint will give the tart a beautiful presentation. You can also top the tart with some freshly whipped cream or a scoop of ice cream for an extra special sweet treat. For a bit of crunch, mix some chopped pecans or walnuts into the curd or sprinkle them on top.