Cranberry-Filled Delight – A Delicious Coffee Cake Recipe
I first tried Cranberry Coffee Cake a few years ago and it quickly became my favorite treat! The combination of sweet cranberries and rich, buttery coffee cake is simply irresistible. Every time I make it, I can't get enough! The best part about this recipe is that it's so easy to make – no special skills or ingredients needed. So if you're looking for a delicious dessert that's sure to impress, this Cranberry Coffee Cake is the perfect choice!
Cranberry Coffee Cake Recipe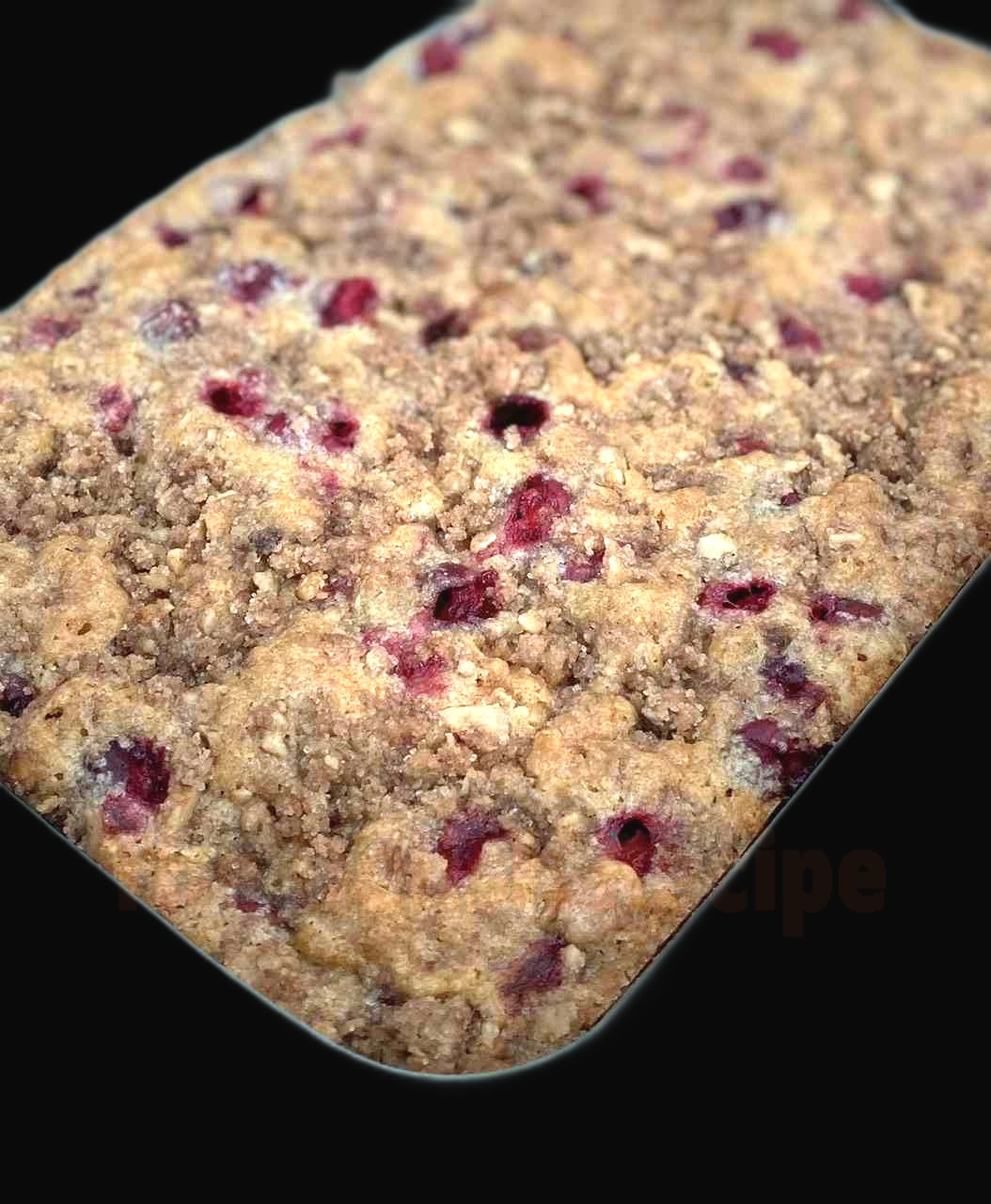 Ingredients
½ cup all-purpose flour
¼ cup sugar
¼ teaspoon baking powder
¼ teaspoon baking soda
¼ teaspoon salt
2 tablespoons butter, melted
2 tablespoons milk
1 egg, lightly beaten
¼ cup cranberry jam
½ cup chopped cranberries
2 tablespoons chopped walnuts or almonds
Instructions
Preheat your oven to 350°F.
In a medium bowl, mix together the flour, sugar, baking powder, baking soda, and salt.
In a separate bowl, mix together the butter, milk, and egg until combined.
Pour the wet ingredients into the dry ingredients and stir until just combined.
Grease a 8-inch round cake pan and pour the batter into it.
Spread the cranberry jam on top of the batter.
Sprinkle the chopped cranberries and nuts over the jam and lightly press them into the batter.
Bake in the preheated oven for 40-45 minutes, or until a toothpick inserted in the center of the cake comes out clean.
Let the cake cool for 5 minutes before serving. Enjoy!
Nutrition Facts
Calories: 710
Total Fat: 32g
Saturated Fat: 19g
Cholesterol: 120mg
Sodium: 470mg
Total Carbohydrates: 97g
Dietary Fiber: 4g
Sugars: 54g
Protein: 11g
What makes a cranberry coffee cake so special?
A cranberry coffee cake is a treat like no other! Its zesty, tart cranberry flavor paired with the comforting notes of coffee creates a unique and delicious flavor combination that's sure to be a hit. Not only is it full of flavor, but a cranberry coffee cake can also be incredibly moist and fluffy thanks to a few simple ingredients. The sugar, butter, and eggs work together to create a perfectly light, buttery, and fluffy texture that's sure to make your taste buds happy. And for an extra special touch, you can even top it with a sweet glaze or a sprinkling of cinnamon.
What are some interesting ways to enjoy your cranberry coffee cake?
If you're looking for some interesting ways to enjoy your cranberry coffee cake, then you've come to the right place! Whether you're hosting a get-together, sharing a snack with friends, or just need a little something sweet, there are plenty of fun and delicious ways to enjoy this classic treat. Here are some ideas to get you started:
Create individual mini-cakes. Divide the cranberry coffee cake into small portions, and top with a sprinkle of powdered sugar. These mini-cakes are perfect for parties, or as a special snack for yourself.
Toast it. Toasting slices of cranberry coffee cake in the oven or toaster oven adds a wonderful crunchy texture. Serve toasted slices with a dollop of butter or whipped cream.
Dip it in fondue. Create a sweet and creamy dip with your favorite melted chocolate or caramel. Dip slices of cranberry coffee cake in the fondue for a tasty treat.
Turn it into a sundae. Layer slices of cranberry coffee cake with your favorite ice cream, top with whipped cream, and drizzle with syrup. An indulgent sundae that's sure to satisfy your sweet tooth.
There you have it – four delicious ways to enjoy cranberry coffee cake.
What are the benefits of making this type of cake?
The Benefits of Making Cranberry Coffee Cake:
Cranberry coffee cake is a delicious, sweet treat that's easy to make and is a hit at any gathering.
It's made with simple ingredients that are easy to find and combine for a beautiful, flavorful cake.
The cranberry coffee cake also looks great after it's been made, with its red cranberry pieces and sweet glaze.
The taste of this cake is unique and flavorful, with a strong coffee flavor, a sweet glaze, and tart cranberries.
It is also a great way to use up overripe cranberries and bring out their flavor.
This cake is incredibly versatile and can be served with coffee, tea, or even ice cream.
The simple ingredients and easy instructions make it a great cake for beginners and experienced bakers alike.
How does the combination of cranberries and coffee enhance the flavor of this cake?
The combination of cranberries and coffee in this cranberry coffee cake is truly magical! The tart cranberries provide a wonderful contrast to the bold coffee flavor, resulting in an incredibly rich and delicious flavor profile.
The coffee flavor really brings out the sweetness of the cranberries, which creates a balance between the two flavors. Coffee is also a great way to add depth to a cake without making it overly sweet.
The addition of the coffee also helps to bring out the other flavors in the cake, such as the sweetness of the butter and the nutty flavor of the walnuts. It creates a complex and flavorful cake that's sure to please!.
Finally, the coffee and cranberries combine to create a delightful aroma that's hard to resist.
What tips and tricks can you use to make sure your cranberry coffee cake turns out perfectly?
Use the freshest cranberries you can find and make sure to rinse them thoroughly before adding them to the batter.
Don't overmix the batter, as it can cause the cake to be dense and chewy.
Grease the pan well – a non-stick spray is great for this – so that the cake releases easily after baking.
If your cake is browning too quickly, cover it with a piece of foil.
Make sure to bake your cake until a toothpick or knife inserted into the center comes out clean.
Allow your cake to cool fully before slicing and serving.
If you'd like, top your cake with a sprinkle of powdered sugar or a drizzle of honey before serving.