Cantuccini Recipe – Delicious Italian Biscotti Cookies
I am absolutely loving my newfound discovery of Cantuccini! I had heard about this delicious Italian treat before but never had the chance to try them until recently. After one bite, I was hooked! I was amazed by the crunchy texture, balanced sweetness, and subtle almond aroma. The perfect combination of flavors and textures make this treat a must-have in anyone's kitchen. If you're looking for a delicious, easy-to-make dessert, Cantuccini is the way to go!
Cantuccini Recipe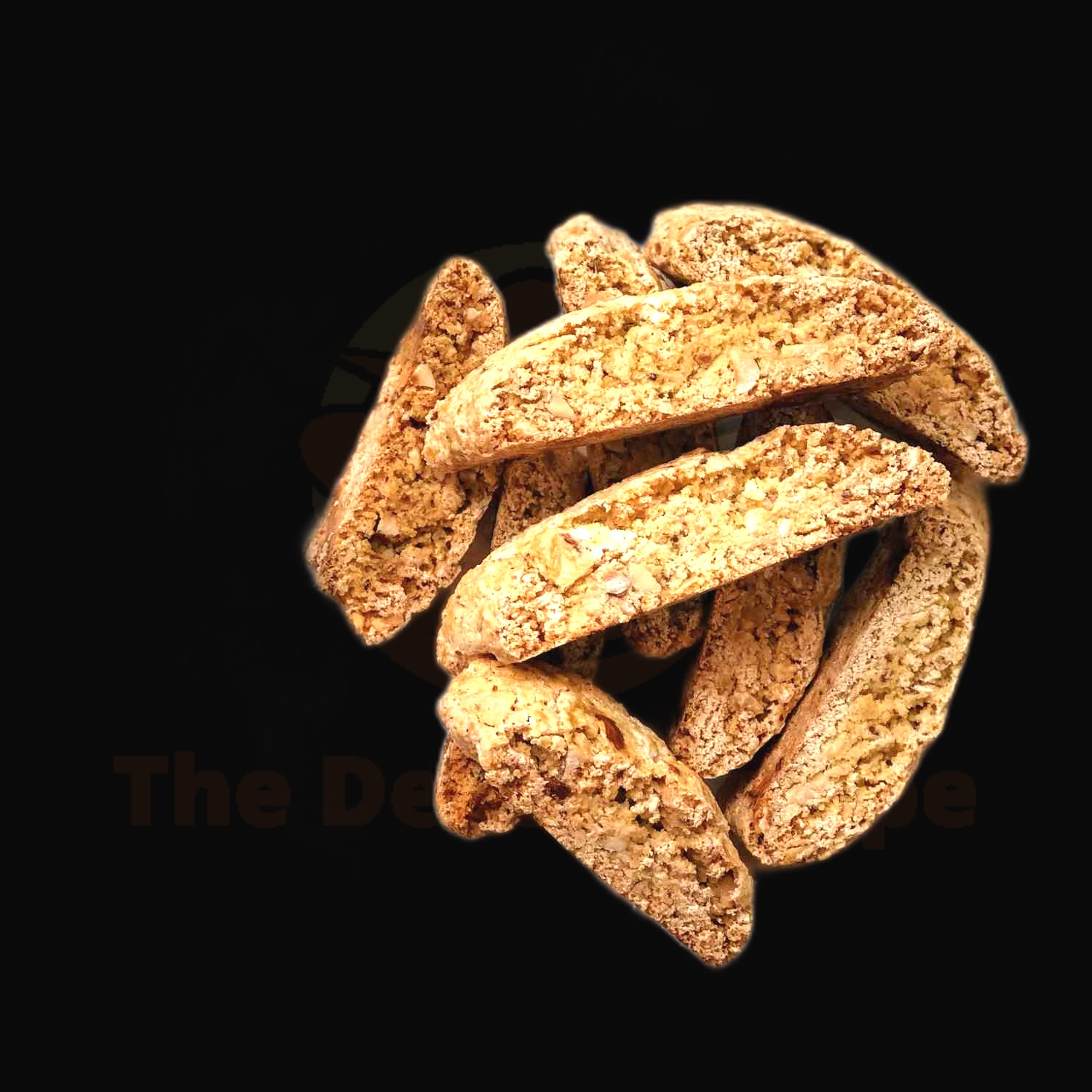 Ingredients
2 cups all-purpose flour
1/2 teaspoon baking powder
1/2 teaspoon ground cinnamon
1/4 teaspoon salt
6 tablespoons unsalted butter, softened
1/2 cup granulated sugar
2 large eggs
1 teaspoon almond extract
1/2 cup toasted slivered almonds
1/2 cup dried cranberries
1/2 cup dark chocolate chips
Instructions
Preheat your oven to 350°F and line a baking sheet with parchment paper.
In a medium bowl, whisk together the all-purpose flour, baking powder, ground cinnamon and salt.
In a large bowl, cream together the softened butter and sugar until light and fluffy.
Beat in the eggs one at a time, followed by the almond extract.
Slowly add the dry ingredients to the wet ingredients and mix until everything is just combined.
Fold in the toasted slivered almonds, dried cranberries, and dark chocolate chips.
Transfer the dough to the prepared baking sheet and shape it into a log about 14 inches long and 2 inches wide.
Bake for 20 minutes, or until the log is golden brown and set.
Remove the log from the oven and let it cool for 10 minutes.
Using a sharp knife, cut the log into 1/2 inch slices. Place the slices cut side down on the baking sheet and bake for an additional 10 minutes, or until golden brown.
Let the cantuccini cool completely before serving. Enjoy!
Nutrition Facts
Calories: 397
Total Fat: 20g
Saturated Fat: 10g
Cholesterol: 70mg
Sodium: 102mg
Carbohydrates: 48g
Fiber: 2g
Sugar: 22g
Protein: 6g
What is cantuccini?
You may not have heard of it yet, but cantuccini is a delicious Italian biscuit that you're going to want to try! It's a bite-sized treat made of a crunchy, almond-flavored biscotti biscuit that's perfect for dipping in coffee or tea. The biscotti is made with a combination of flour, sugar, eggs, butter, and almonds, resulting in a sweet, nutty flavor that you'll love.
Cantuccini is a traditional Italian dessert, but it's becoming increasingly popular around the world. It's an Italian staple that can be enjoyed any time of day, from breakfast to dessert. It's also a great snack to have on hand when entertaining friends and family.
You can find cantuccini in many Italian bakeries and stores, as well as online. It's usually sold in packages of four or more and can be enjoyed either plain or with a drizzle of honey or chocolate sauce. If you're feeling adventurous, you can even make your own cantuccini at home. All you need is a few basic ingredients, a few simple steps, and you'll have a delicious treat in no time.
Cantuccini is a delicious Italian biscuit that's sure to become a favorite. With its sweet, nutty flavor and crunchy texture, it's the perfect treat to enjoy with a cup of coffee or tea.
What makes cantuccini such a delightful treat?
Cantuccini are a delightful treat because they are a perfect combination of crunchy and sweet. The crunchy texture of the biscuit is offset by the sweetness of the almonds and honey, creating a delicious taste sensation. They also pair perfectly with coffee, tea or a glass of milk, making them the ideal morning or afternoon snack. Plus, they are so easy to make – all you need to do is mix the ingredients together and bake in the oven – so you can enjoy them anytime.
What are the different ways to enjoy cantuccini?
You can enjoy cantuccini in a variety of delicious and exciting ways! Whether you're looking for a sweet treat to satisfy a craving or a snack to accompany your afternoon coffee, cantuccini has something to offer. Here are some of the different ways to enjoy this Italian biscuit:
Dunk it in coffee! Cantuccini are often served as a dessert accompaniment to a cup of espresso. Dip a cantuccini in your coffee for a sweet and decadent flavor that can't be beat.
Add some olive oil and honey. Mix together some extra-virgin olive oil and honey and drizzle it over a few cantuccini for a unique flavor combination that will tantalize your taste buds.
Enjoy it with cheese. Cantuccini pair wonderfully with a variety of cheeses. Try it with a soft goat cheese or a sharp cheddar for an amazing combination of sweet and savory.
Top it with Nutella. Spread some Nutella on your cantuccini for a decadent and indulgent treat that's sure to please.
Try it with a glass of wine. Cantuccini are the perfect accompaniment to a glass of your favorite red or white wine.
No matter how you decide to enjoy cantuccini, you're sure to love the sweet and crunchy Italian biscuit.
What recipes can i make with cantuccini?
You can make lots of delicious recipes with cantuccini! These crunchy Italian biscuits bring a sweet and nutty flavor to desserts and snacks. Here are some ideas to get you started:
Cantuccini Tiramisu: This classic Italian dessert is made even better with the addition of cantuccini. Soak the biscuits in espresso and layer them with mascarpone cream and cocoa powder. Top it all off with a sprinkle of chopped hazelnuts for a delicious treat.
Cantuccini Crumble: This is a great recipe for those who love to bake. Combine cantuccini with butter, sugar, and cinnamon in a bowl, and then spread it over a layer of buttery apples. Bake it in the oven until golden and crunchy, and serve it with a dollop of cream or ice cream.
Cantuccini Pudding: A simple combination of cantuccini, eggs, and sugar makes a delicious pudding. Soak the cantuccini in the egg mixture, and then bake it in the oven until it's golden and creamy. Serve it with a sprinkle of cinnamon and a drizzle of honey.
Cantuccini Ice Cream: If you have an ice cream maker, you can make a delicious cantuccini ice cream. Toast the cantuccini and then mix them with cream, sugar, and a few drops of vanilla extract. Freeze it in the ice cream maker and enjoy the sweet and nutty flavor.
These are just a few recipes to get you started with cantuccini. With a bit of creativity, you can come up with lots of yummy treats.
What is the history of cantuccini?
Have you ever wondered what the history of Cantuccini is? Well, you're in luck as this delicious treat has a long and fascinating history that dates back centuries! Cantuccini are a traditional Italian biscuit, also known as biscotti, that are typically enjoyed as an after-dinner dessert. They are made with a combination of flour, sugar, and eggs and then baked twice to create a crunchy and delicious treat.
The origin of these sweet treats can be traced back to the 16th century in Prato, a small town near Florence, Italy. Legend has it that they were first created by a baker named Antonio Mattei who was trying to make a biscuit that would last longer. He used a combination of flour, sugar, and eggs to make a dough that he then shaped into a log and baked twice. This method of baking created a biscuit that had a much longer shelf life than other types of cookies and it quickly became popular.
Since then, Cantuccini have remained a beloved Italian treat. They are typically enjoyed with a glass of vin santo, a sweet Italian dessert wine, which brings out the flavor of the biscuit even more. They also make a great snack on their own or when dipped in coffee or tea. Today, Cantuccini are enjoyed all over the world and are considered a classic Italian delicacy.
So, if you're looking for a delicious treat with a long and interesting history, Cantuccini are a great choice! They are the perfect after-dinner dessert or snack and they are sure to please even the pickiest of taste-buds.