Bacon-Y Rosemary-Tomato Frittata – A Delicious Start To Any Day!
I love a good frittata, and this rosemary, bacon, and tomato frittata is one of my favorites. It combines the savory flavors of bacon and rosemary with the sweetness of tomatoes for a delicious breakfast or brunch. I have made this dish countless times for friends and family, and it's always a hit. The combination of ingredients makes for a flavorful and hearty dish that's sure to satisfy.
Rosemary, Bacon, And Tomato Frittata Recipe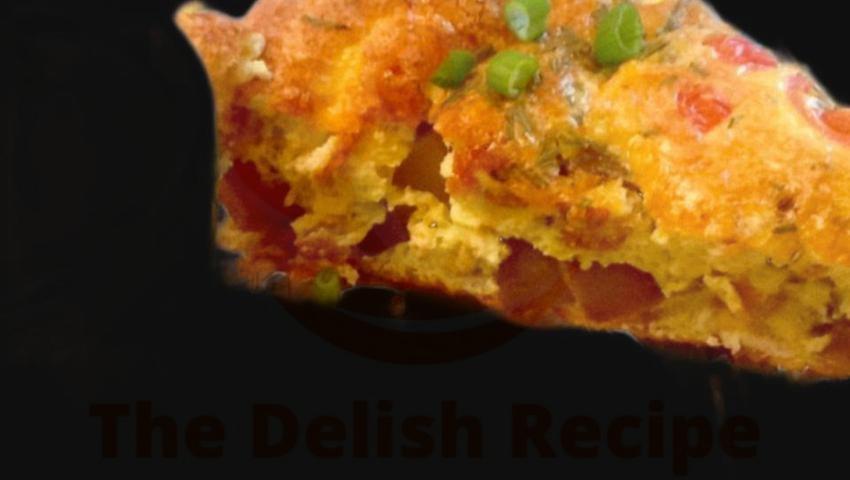 Ingredients
12 eggs
¾ cup milk
1 tablespoon minced fresh rosemary, divided
1 pound red potatoes, diced
6 ounces bacon, cut crosswise into 1/2-inch pieces
1 large tomato, diced
1 cup grated Parmesan cheese
Salt and ground black pepper to taste
Instructions
Preheat oven to 375 degrees Fahrenheit.
Grease a 9-inch round baking dish with butter or nonstick cooking spray.
In a large bowl, whisk together the eggs, milk, and ½ tablespoon of the minced rosemary.
Spread the diced potatoes in the bottom of the greased baking dish.
Sprinkle the bacon pieces over the potatoes.
Top the bacon with the diced tomato.
Pour the egg mixture over the top of the vegetables and bacon.
Sprinkle the Parmesan cheese and remaining ½ tablespoon of minced rosemary over the top.
Season with salt and pepper to taste.
Bake in preheated oven for 40 to 50 minutes, or until the top is golden brown and the eggs are set.
Allow the frittata to cool for 10 minutes before serving. Enjoy!
Nutrition Facts
Serving size: 1 slice
Calories: 127
Fat: 8.3g
Carbohydrates: 6.2g
Protein: 8.2g
Cholesterol: 161mg
Sodium: 222mg
Sugars: 0.5g
Fiber: 0.5g
What types of flavors does a rosemary, bacon, and tomato frittata bring to the table?
A Rosemary, Bacon, and Tomato Frittata combines savory, salty, and sweet flavors to create an unforgettable combination. The rosemary brings a woodsy, herbal flavor to the dish, while the bacon adds a smoky, salty component. The tomatoes round out the flavor profile with a hint of sweetness. Together, these flavors create a mouthwatering, full-bodied dish.
How does this dish pair with other breakfast favorites?
A Rosemary, Bacon, and Tomato Frittata pairs perfectly with classic breakfast favorites such as toast and oatmeal.
The savory flavors and texture of the frittata combine nicely with the light, fluffy texture and sweetness of a stack of pancakes.
You can also enjoy the frittata alongside eggs, sausages, and bacon for a hearty and satisfying breakfast.
For a lighter breakfast, pair the frittata with a smoothie and fresh fruit.
The frittata is also delicious with a side of roasted potatoes or hash browns.
A healthy, balanced breakfast can be achieved by pairing the frittata with a yogurt and granola parfait.
What unique health benefits can be gained from incorporating rosemary, bacon, and tomato into a frittata?
Rosemary, bacon, and tomato frittata is a delicious and nutritious breakfast option that offers several unique health benefits. These benefits include:
Improved digestion: The rosemary in this frittata is high in a compound called rosmarinic acid, which has been shown to aid digestion and reduce stomach discomfort.
Enhanced flavor: Bacon adds a rich, smoky flavor to the frittata that can't be achieved with any other ingredient.
Increased fiber: Tomatoes are high in fiber, which helps keep your digestive system healthy.
Improved nutrient absorption: The combination of rosemary, bacon, and tomato helps your body to absorb more nutrients from the food you eat.
Reduced inflammation: Rosemary contains antioxidants, which can reduce inflammation in the body.
Improved heart health: Bacon is rich in monounsaturated fatty acids, which can help reduce cholesterol levels and improve heart health.
Improved brain health: Rosemary and bacon both contain compounds that can help improve cognitive function and reduce the risk of Alzheimer's disease.
Overall, incorporating rosemary, bacon, and tomato into a frittata can offer a range of unique health benefits that can improve your overall well-being.
What special techniques are required to make a rosemary, bacon, and tomato frittata?
Making a rosemary, bacon, and tomato frittata requires a few special techniques to ensure the best possible outcome.
The first step is to prepare the ingredients. For this dish, you'll need rosemary, bacon, tomatoes, eggs, and a variety of other ingredients. Start by prepping the bacon by cutting it into small pieces and cooking it in a skillet on medium-high heat until it is crispy. Then, chop the rosemary and tomatoes into small pieces and set aside.
Next, whisk the eggs together in a bowl and season with salt and pepper. Heat a non-stick skillet over medium-high heat and add the bacon and rosemary. Sauté for a few minutes, until the bacon is crispy. Then, add the tomatoes and sauté for another few minutes.
Finally, add the egg mixture to the skillet and reduce the heat to low. Cover the skillet and let the frittata cook for 15-20 minutes, until the eggs are cooked through. Once the frittata is done, serve hot with your favorite accompaniments.
By following these special techniques, you can make a delicious rosemary, bacon, and tomato frittata that is sure to please.
How can this frittata be used in weekly meal prep to save time and money?
A Rosemary, Bacon, and Tomato Frittata can be used in weekly meal prep to save time and money by making a large batch for the week and using it in a variety of different dishes. This frittata is an easy, versatile meal that can be used in breakfasts, lunches, and dinners throughout the week.
For breakfast, the frittata can be served with toast and sliced fruit. Additionally, it can be served cold in a wrap with a side of yogurt or used to make breakfast sandwiches. For lunch and dinner, the frittata can be served as a side dish with a salad, or it can be used as the main dish with a side of roasted vegetables.
The frittata can also be used to make a variety of different dishes. For example, it can be used as a pizza topping, used to make quesadillas, or used as an omelet filling. In addition, it can be used to make frittata muffins for easy, on-the-go breakfasts and lunches.
Meal prepping a Rosemary, Bacon, and Tomato Frittata is a great way to save time and money. The frittata can be made in large batches and used in a variety of dishes throughout the week. This ensures that your meals are always nutritious, delicious, and easy to prepare.