These peanut chewies are chewy, nutty and full of flavor! They make a great snack or dessert and are perfect for sharing. Peanut butter and honey combine to create a delicious filling that is sandwiched between two layers of crispy graham crackers. These chewies are then dipped in chocolate for an extra special treat.
Ingredients
1.5 cups all-purpose flour
2/3 cup packed brown sugar
1/2 teaspoon baking powder
1/2 teaspoon salt
1/4 teaspoon baking soda
1/2 cup butter, softened
1 teaspoon vanilla extract
2 egg yolks
3 cups miniature marshmallows
2/3 cup corn syrup
1/4 cup butter
2 teaspoons vanilla extract
2 cups peanut butter chips
Instructions:
Instructions
1. Preheat oven to 350 degrees F (175 degrees C).
2. In a large bowl, combine flour, brown sugar, baking powder, salt, baking soda, 1/2 cup butter or margarine, 1 teaspoon vanilla and egg yolks. Mix on low speed with an electric mixer until crumbly.
3. Press firmly into bottom of 13 x 9 inch pan. Bake 12- 15 minutes until golden brown.
4. Immediately sprinkle marshmallows over top and return to oven for 2 – 2 1/2 minutes5 Let cool while preparing topping..
5 To Make Topping: In a large saucepan over low heat combine corn syrup, 1/4 cup butter or margarine, 2 teaspoons vanilla and peanut butter chips until smoothly melted stirring constantly
6 Remove from heat and stir in cereal and nuts
7 Immediately spoon over marshmallows spreading to cover
8 Refrigerate until firm
9 Cut into 36 bars
Nutrition Facts
Calories: 2505
Fat: 158 g
Saturated fat: 58 g
Unsaturated fat: 96 g
Trans fat: 4 g
Carbohydrates: 243 g
Sugar: 169 g
Fiber: 8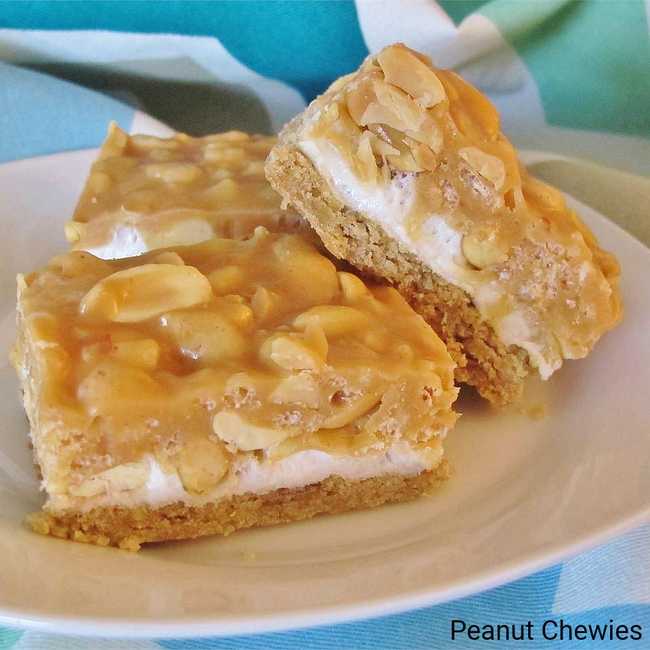 Why is my Cornflake Candy hard?
If your cornflake candy hardens too much, it likely means the corn syrup and sugar mixture were cooked too long or at too high of a temperature. Be sure to cook over medium heat and add the peanut butter as soon as the sugar dissolves.
When making cornflake candy, it's important to not overcook the mixture of corn syrup and sugar. If you do, the candy will be hard instead of being flexible enough to easily tear in half even when dry. The key is to cook over medium heat and add the peanut butter as soon as the sugar has dissolved.
How do you make peanut butter candy with corn flakes?
Old-fashioned cornflake candy is a delicious treat that's easy to make at home. To start, combine sugar and corn syrup in a large saucepan and cook over medium to medium-high heat, stirring regularly, until the mixture begins to boil. Then remove from the heat and blend in the peanut butter and vanilla. Finally, add cornflakes a cup at a time until the mixture thickens.
How do you keep cornflake candy from getting hard?
There are a few things you can do to keep cornflake candy from getting hard. First, store it in an airtight container on the countertop. Second, avoid placing it in the fridge as the texture will get too hard. Finally, if you need to store it for longer than a week, you can place it in the freezer.
How do you make Peanut Chews?
Ingredients: 1 cup corn syrup. 1 cup white sugar. 1 cup creamy peanut butter. 4 ½ cups cornflakes cereal. 1 cup semi-sweet chocolate chips (Optional) 1 cup butterscotch chips (Optional)
Instructions:
1. Preheat oven to 375 degrees F (190 degrees C). Grease a 9×13 inch baking pan with butter or cooking spray.
2. In a large saucepan, heat the corn syrup and sugar over medium heat until it comes to a boil. Stir in the peanut butter until smooth, then remove from heat.
3. Pour the mixture over the cornflakes and stir until evenly coated. Spread into the prepared baking pan and press down firmly with a spoon or your hands.
Can you make cornflake cookies without corn syrup?
Yes, you can make cornflake cookies without corn syrup! In fact, these chewy no bake Peanut Butter Cornflake Cookies are an easy dessert with few ingredients and NO corn syrup. Plus, they're better than what Grandma used to make because there's NO need to boil corn syrup while standing over the stove.