Special Buttercream Frosting
This Special Buttercream Frosting is perfect for decorating cakes and cupcakes. It's made with butter, sugar, milk, and vanilla extract. You can pipe it into different shapes or spread it on with a spatula.
Ingredients
2 cups butter, 8 cups confectioners' sugar, ½ teaspoon salt, 2 teaspoons pure vanilla extract, 6 fluid ounces heavy cream
Instructions
In a large bowl, cream together the butter and confectioners' sugar until light and fluffy. Add salt, vanilla, and heavy cream and mix on low speed until moistened. Increase the mixer speed to high and beat until the frosting is fluffy. If necessary, add additional whipping cream (up to 2 ounces) to reach desired consistency.
Nutrition Facts
Calories: 1680
Fat: 99 g
Saturated fat: 62 g
Cholesterol: 270 mg
Sodium: 840 mg
Carbohydrates: 193 g
Fiber: 0 g
Sugar: 187 g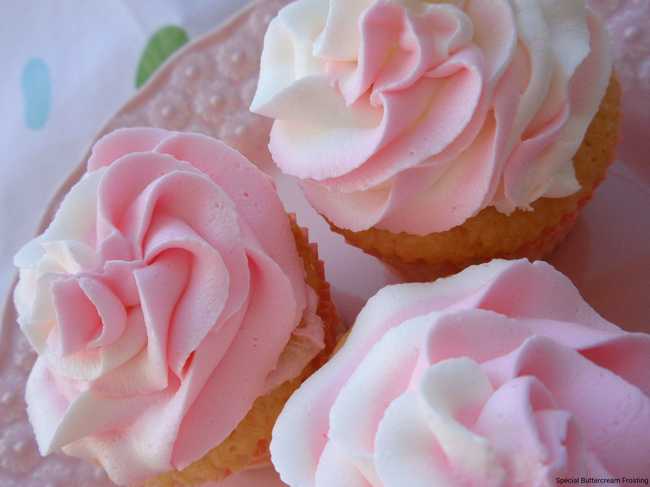 What are the 4 steps in icing cake?
There are four steps to icing a cake: frosting essentials, steadying the cake, layering the frosting, and adding a crumb coat.
Frosting Essentials: Spend a few bucks on an offset spatula. This will help you spread the frosting evenly over the cake's surface. Steady Trick: Place your cake on a turntable while you ice it. This will make it easier to rotate the cake as you work and get an even coverage of frosting. Layer by Layer: Start by spreading a thin layer of frosting over the top and sides of the cake. Then, add another layer of frosting and use a piping bag to pipe borders or designs on top. Finally, add a third layer of frosting for a smooth finish. Crumb Coat: Once all three layers of frosting are in place, use a clean offset spatula to apply a thin layer of icing over the entire Cake- this is called the crumb coat. The crumb coat helps to seal in any loose crumbs so they don't end up in your final Frosted Cake! Frost Away: Now it's time to start decorating! Use whatever color combination or design you like- have fun with it! If you're using sprinkles or other decorations, be sure to apply them before the icing sets so they'll stick properly. Decorative Touch: To give your Cake some extra personality, try adding some Piped Flowers or Leaves aroundthe edge or on top Of The Cake.
What are the four types of buttercream icing?
There are four main types of buttercream icing: Italian, German, French and Swiss. Each type has its own unique flavor and texture, making it ideal for different types of cakes and desserts.
Italian buttercream is made with hot sugar syrup that is beaten into egg whites to create a light and fluffy frosting. It is often used on wedding cakes and other special occasion cakes.
German buttercream is similar to Italian buttercream, but uses cooked pudding instead of hot sugar syrup. This gives the frosting a richer flavor and creamy texture. It is perfect for use on chocolate cake or cupcakes.
French buttercream is made with softened butter that is beaten into confectioners' sugar until it reaches a smooth consistency. Egg whites may also be added to give the frosting more body. This type of buttercream is less sweet than the others and has a light, airy texture. It works well on delicate cakes such as vanilla sponge cake.
What is the process of icing?
When it comes to icing, there are a few different methods that can be used. The most common method is to put the butter into a large bowl and beat it with an electric hand mixer until light and fluffy. Once the butter is light and fluffy, you will then want to sift in the icing sugar. After the icing sugar has been added, you will want to work it into the butter slowly at first, and then increase the speed once all of the sugar has been combined. Finally, add in the milk and vanilla extract, and beat until everything is creamy and smooth.
What are the 5 types of icing?
There are five main types of icing: buttercream, whipped cream, royal icing, cream cheese frosting, and meringue.
Buttercream is softer and more spreadable than most other types of icing. It is also the preferred choice for taste and flexibility. Whipped cream is a light and airy type of icing that is made by whipping heavy cream with sugar. Royal icing is a thick and glossy type of icing that dries hard. Cream cheese frosting is a rich and creamy type of icing made with cream cheese, sugar, and often times vanilla extract or other flavorings. Meringue is a light and fluffy type oficing made from egg whites and sugar that can be used to top pies or cakes. Fondant is a smooth paste made from sugar, water, corn syrup, gelatin, food coloring, and flavoring that can be rolled out into thin sheets.
What are the four types of icing?
There are four main types of icing: buttercream, whipped cream, royal icing, and cream cheese frosting.
Buttercream is softer and more spreadable than most other icings. It is also the preferred choice for taste and flexibility. Whipped cream makes a lighter frosting that is perfect for those who want a less sweet option. Royal icing is made with egg whites and has a stiffer consistency ideal for decorating cakes or cupcakes. Cream cheese frosting is rich and creamy making it perfect for topping carrot cake or red velvet cake. Lastly, meringue is made with egg whites and sugar creating a glossy finish that can be used on pies or as an accent on cupcakes. Fondant is another type of icing that can be rolled out to cover an entire cake giving it a smooth appearance.