These meatball cookies are a fun and easy way to show your kids how to make delicious cookies that everyone will love! The best part is, they can help you make them too!
Ingredients
3 cups all-purpose flour
1 cup unsweetened cocoa powder
1 1/2 teaspoons baking powder
1 1/2 teaspoons baking soda
1 teaspoon salt
1 cup chopped walnuts (or other nut of choice)
1 teaspoon ground cloves
1 teaspoon ground allspice
1 teaspoon ground cinnamon
1/2 teaspoon ground nutmeg
3 eggs
11 tablespoons butter, softened to room temperature 2 teaspoons vanilla extract 4 cups confectioners' sugar 1/4 cup unsweetened cocoa powder 1/2 cup milk
Instructions
1. Preheat oven to 350 degrees F (180 degrees C). Grease cookie sheets.
2. Cream the butter margarine or shortening, white sugar, eggs and vanilla.
3. In a separate bowl, stir the flour, 2/3 cup cocoa, baking powder, baking soda, salt and spices. Add flour mixture to butter mixture. If too sticky add more flour, if too dry add a little milk. Add nuts and mix with hands until of consistency to roll into little 1/2 – 1 inch balls.
4. Roll dough into balls and place on cookie sheet; bake for 10-12 minutes or until firm but not overcooked.. Remove from oven; let rest on sheet for a few moments then remove to wax paper using spatula . When cookies are cool frost with confectioner's sugar and cocoa glaze (see below).
5: For Glaze: Combine 4 cups confectioner's sugar, 1/4 cup cocoa in medium saucepan; whisk in about 1/2 cup milk until desired consistency is achieved .Pour small amount of glaze over each cookie (about 1 tsp.). Decorate with sprinkles while glaze is still wet
Nutrition Facts
Serving size: 1 cookie
Calories: 106
Fat: 5 g
Saturated fat: 2.5 g
Unsaturated fat: 0 g
Trans fat: 0 g
Cholesterol: 20 mg sodium: 85 mg Carbohydrates: 15g Fiber 3 g Sugar 10g Protein 2g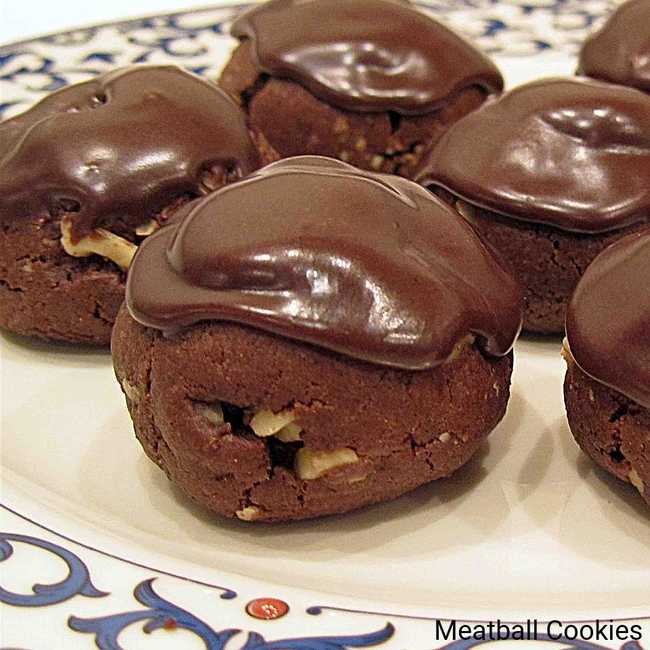 What are Italian meatball cookies?
Italian meatball cookies are a type of cookie that is chock full of nuts, raisins and chocolate chips, spiced with cinnamon, nutmeg and cloves. These delicious cookies can be topped with a sweet glaze, making them even more irresistible!
These cookies were introduced to me by my mother-in-law, and they have quickly become my favorite Christmas cookie. There's just something about their flavor and texture that I can't get enough of! If you're looking for a new holiday cookie to try this year, I highly recommend giving these Italian meatball cookies a shot.
How do you bake meatballs?
In order to bake meatballs, you will need to preheat your oven to 400F. Then, in a large bowl, mix all of the ingredients together. Knead the mixture with your hands until it is thoroughly combined. Next, roll the mixture into 1 1/2 inch meatballs and place them on a baking sheet lined with parchment paper. Finally, bake the meatballs in the oven at 400F until they are cooked through, which should take about 20-24 minutes.
How do you make fig filling for cookies?
To make fig filling for cookies, you will need the following ingredients: figs, dates, orange juice, candied orange peel, sugar, lemon zest and cinnamon.
Start by combining all of the ingredients in a small saucepan over medium-high heat. Bring the mixture to a boil, then reduce the heat to medium-low and simmer for 5 to 8 minutes until the fruit is soft and the mixture is thick.
Once it's done cooking, let the fig filling cool slightly before using it as desired. You can use this fig filling to top off any type of cookie -from simple sugar cookies to more complex creations.
How do you make Cuccidati?
Cuccidati are a type of Italian fig cookie that is popular around the holidays. The cookies are made with a filling that contains dried figs, candied fruit, and Marsala wine. To make the filling, steep the dried figs in hot water for about 30 minutes. Then, remove them from the water and pat them dry on a paper towel or linen towel to remove any excess liquid. Next, add the figs, candied fruit, and Marsala wine to a food processor and process until you have a nice paste.
Once you have made the filling, it is time to assemble the cookies. To do this, you will need two types of dough – an outer dough that will encase the filling, and an inner dough that will be used to form little pockets within the outer dough where the filling will go.
What does Cuccidati mean in Italian?
Cuccidati are a type of Italian cookie that is traditionally made around Christmas time. The cookies are made with a fig filling, and they are often decorated with almonds or other nuts. Cuccidati means "figs" in Italian, so these cookies are essentially fig cookies.
The history of cuccidati is somewhat unclear, but it is thought that they originated in Sicily. The Sicilian city of Messina was once an important center for trade between Italy and the Middle East, and it is believed that the Fig Cookies came to Sicily from the Middle East. There is also evidence that similar cookies were being made in Italy during the Renaissance, so it is possible that the cuccidati recipes were brought over from Italy as well.
Regardless of their origins, cuccidati have become a popular Christmas treat in Italy. They are typically made by hand, and many families have their own special recipe for them.