These Caramel Crispy Treats are an easy and delicious way to enjoy your favorite cereal! Made with just a few ingredients, they come together in no time and make the perfect snack or dessert.
Ingredients
3 tablespoons butter
2 ½ cups miniature marshmallows
1 (5 ounce) can chow mein noodles, crushed
12 individually wrapped caramels, unwrapped and chopped
1 tablespoon cold water
2 tablespoons peanut butter
Instructions
1. In a saucepan, melt the butter over low heat. Add the marshmallows and stir until smooth.
2. Add the chow mein noodles and toss until coated with the marshmallow mixture.
3. Drop spoonfuls of noodle mixture onto a greased baking sheet, making sure to spread them out evenly.
4. In a separate saucepan, melt the caramels with water over low heat, stirring until smooth. Add peanut butter to the caramel mixture and mix well.
5. Drizzle the caramel-peanut butter mixture over the treats on the baking sheet and chill for about 30 minutes or until firm
Nutrition Facts
Calories: 120
Fat: 8 g
Saturated Fat: 3.5 g
Cholesterol: 15 mg
Sodium: 85 mg
Carbohydrates: 12 g
Fiber: 1 g
Sugar: 9 g
Protein: 2 g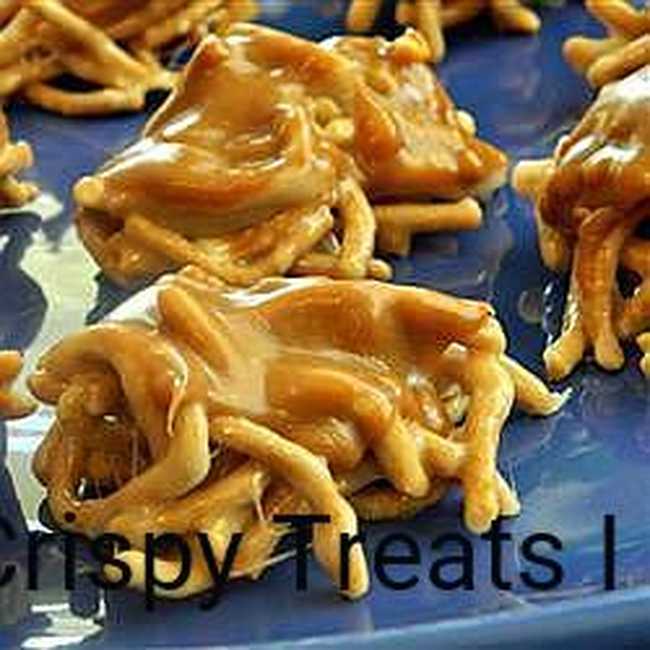 Why are my Rice Krispie Treats not crispy?
There are a few reasons why your Rice Krispie Treats might not be as crispy as you'd like them to be. The most common reason is that the ratio of marshmallow to butter is off – either there's too much marshmallow or not enough butter. This can make the treats too sticky, wet, or soggy.
Another possibility is that you're using old cereal that's lost its crunch. Be sure to use fresh cereal for the best results.
Finally, it's important to let the treats cool completely before cutting into them. If they're still warm, they won't be as crisp as they'll be once they've cooled completely. So if your Rice Krispie Treats are soft or mushy, give them some time to cool down and then try again.
What can I make with caramel treats?
There are numerous delicious caramel treats that can be made at home with some simple ingredients. Caramel Shortbread Squares are a classic dessert that is easy to make and only requires a few ingredients. Caramel Pretzel Brownies are another delicious treat that is perfect for parties or gatherings. Chocolate Turtles Cheesecake is a decadent and rich dessert that will satisfy any sweet tooth. Caramel Peanut Fudge is an easy and tasty treat that can be made in minutes. Gourmet Caramel Apples are a fun and festive treat for Fall or Halloween celebrations. Caramel French Toast is a blissful breakfast dish that will start your day off on the right foot. Salted Caramel Sauce is the perfect finishing touch to many desserts or dishes.
What causes rice crispy treats to get hard?
The prime culprit for rock hard rice krispie treats is high heat. If you want to avoid this, melt the butter and marshmallows over low heat.
How do you make caramel rice crispy treats?
What You'll Need: –
6 Tbsp butter
4 cups marshmallows
5 cups Krispie Rice Cereal
1/2 cup caramel sauce
2 cups mini marshmallows
Instructions:
1. In a large pot over low heat, melt the butter. Add the marshmallows and stir until melted and combined.
2. Pour in the Krispie Rice Cereal and stir until coated with the marshmallow mixture.
3. Pour the caramel sauce over the top of the Krispie layer, then sprinkle on the mini marshmallows.
4. Refrigerate for 20 minutes or until the caramel has set.
How do you make caramel Rice Crispy Treats?
To make caramel Rice Crispy Treats, you'll need 6 tablespoons of butter and 4 cups of marshmallows. Melt the butter in a large pot over low heat, then add the marshmallows and stir until they're melted and combined.
Next, pour 5 cups of Krispie Rice Cereal into the marshmallow mixture and stir until it's coated. Then pour a layer of caramel over the Krispie layer and sprinkle 2 cups of mini marshmallows on top of that.