Refreshingly Sweet & Savory Watermelon-Feta Skewers
If you're looking for an easy yet impressive summer appetizer, look no further than these Watermelon-Feta Skewers! I recently made these for a summer barbecue and let me tell you – they were a huge hit! Not only are these skewers absolutely gorgeous and full of bright colors, but they also have a delicious combination of sweet and salty flavors. Plus, they're super easy to make and require minimal effort. I'm so excited to share this recipe with you – let's get started!
Watermelon-Feta Skewers Recipe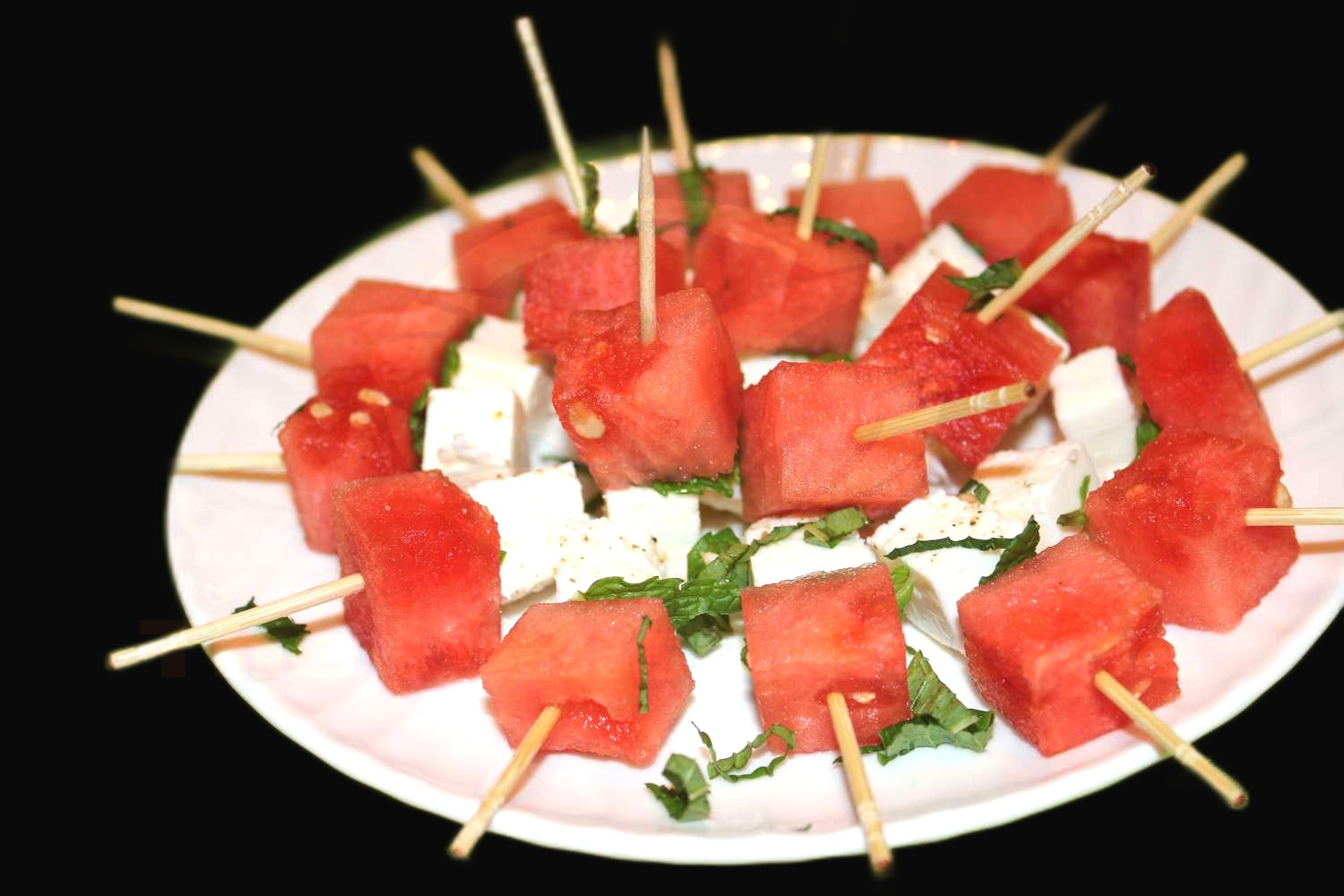 Ingredients
2 cups diced watermelon
2 ounces feta cheese, cubed
2 tablespoons extra-virgin olive oil
1 teaspoon freshly squeezed lemon juice
1 teaspoon honey
Salt and black pepper to taste
2 tablespoons chopped fresh mint
Instructions
Get ready to make some delicious Watermelon-Feta Skewers! To start, gather up all of your ingredients: 2 cups of diced watermelon, 2 ounces of cubed feta cheese, 2 tablespoons of extra-virgin olive oil, 1 teaspoon of freshly squeezed lemon juice, 1 teaspoon of honey, salt and black pepper to taste, and 2 tablespoons of chopped fresh mint.
Next, take your 2 cups of diced watermelon and thread them onto skewers.
Then, cube the feta cheese and add it to the skewers, alternating with the watermelon.
Now, grab a bowl and mix together your extra-virgin olive oil, lemon juice, honey, salt, and pepper.
Drizzle the mixture over the skewers and let them sit for 10 minutes.
Finally, sprinkle the chopped fresh mint over the skewers and you're all done! Your Watermelon-Feta Skewers are ready to be served. Enjoy!
Nutrition Facts
Calories: 104 kcal
Carbohydrates: 6g
Protein: 3g
Fat: 8g
Saturated Fat: 3g
Cholesterol: 11mg
Sodium: 119mg
Potassium: 115mg
Fiber: 1g
Sugar: 5g
What makes watermelon-feta skewers such a unique and delicious snack?
Watermelon-Feta Skewers are a unique and delicious snack because of the balance of sweet and salty flavors they offer. The juicy, ripe watermelon is complemented perfectly by the salty, creamy feta cheese, and the combination of textures creates an exciting and enjoyable experience. Plus, the bright colors of the watermelon and feta make the skewers visually appealing and inviting.
Another factor that makes Watermelon-Feta Skewers so delicious is their versatility – they can be served as an appetizer, a light lunch, or as a snack. You can also dress them up with different ingredients, such as herbs, nuts, or spices, to make them even more flavorful.
Finally, Watermelon-Feta Skewers are incredibly quick and easy to make. All you need are a few ingredients, some skewers, and a few minutes of your time. This makes them the perfect snack for busy days when you don't have time to prepare a full meal.
Overall, Watermelon-Feta Skewers are a unique and delicious snack that offers a perfect balance of sweet and salty flavors, visual appeal, versatility, and convenience.
What are the health benefits of adding feta cheese to watermelon skewers?
Feta cheese is an excellent source of beneficial nutrients that can provide a variety of health benefits when added to watermelon skewers.
Feta cheese is an excellent source of calcium and is also packed with protein, which can make watermelon skewers a great snack for those looking to boost muscle growth and repair.
Feta cheese is also a good source of probiotics, which can help support digestion and regularity.
The addition of feta cheese can also increase the iron content of watermelon skewers, helping to prevent anemia.
Feta cheese is also high in potassium, which is essential for healthy blood pressure and cardiovascular health.
The combination of feta cheese and watermelon also provides a good source of vitamin C, a powerful antioxidant that can protect against free radical damage and help reduce the risk of certain diseases.
Finally, the combination of feta cheese and watermelon can provide a delicious snack that is low in calories and high in essential vitamins and minerals.
What tips can be offered for creating the perfect watermelon-feta skewer?
Creating the perfect watermelon-feta skewer is easy with a few helpful tips! Here are the best ways to get that delicious, summery flavor and texture combo:
Start by choosing the freshest watermelon and feta you can find. The flavors of watermelon and feta are both quite mild, so you want to make sure you're getting the best quality ingredients for the best result.
Cut the watermelon into cubes, about one inch square, and the feta into cubes about the same size. This will help ensure the feta and watermelon cook evenly on the skewer.
Pre-soak your bamboo skewers in cold water for at least 30 minutes before threading the cubes onto them. This will help prevent them from burning when you cook them.
To increase the flavor, sprinkle a little bit of sea salt and/or black pepper onto the cubes before you skewer them.
Finally, cook the skewers on preheated grill or on a stovetop grill pan for about 5 minutes, or until the watermelon and feta cubes are lightly browned.
What food combinations pair well with watermelon-feta skewers?
When it comes to delicious summer snacks, there's nothing better than watermelon-feta skewers! Whether you're grilling out with friends or just looking for a quick and easy snack, these skewers are sure to please. But what food combinations pair well with watermelon-feta skewers? We've got you covered.
For a light and refreshing side dish, try a simple Mediterranean salad. This salad is made with fresh tomatoes, cucumbers, olives, and feta cheese and pairs perfectly with the watermelon-feta skewers. For an extra kick, add some chopped red onion, garlic, and a splash of olive oil and lemon juice.
If you're looking for something a little more substantial, try making a watermelon-feta caprese sandwich. Start with a thick slice of crusty bread and layer it with thick slices of fresh mozzarella, tomato, and watermelon-feta skewers. Top it off with a drizzle of olive oil and balsamic vinegar and you have a delicious and filling lunch or dinner.
For a sweet and savory snack, try combining the watermelon-feta skewers with a grilled cheese sandwich. The sweet-tart flavor of the watermelon and feta is the perfect complement to the gooey cheese and crunchy bread. Or for a unique twist, try adding some sliced cucumbers and tomatoes to the sandwich before grilling.
No matter what food combination you choose to pair with your watermelon-feta skewers, you can be sure it will be both delicious and refreshing.
How can watermelon-feta skewers be prepared for a potluck or summer barbecue?
Making Watermelon-Feta Skewers is a great way to bring a fresh, summer-inspired dish to any potluck or barbecue. Preparing these skewers is surprisingly easy; all you need is watermelon, feta cheese, kale or spinach, and wooden skewers.
To start, cut the watermelon into cubes and the feta into small cubes. Thread the watermelon and feta cubes onto wooden skewers, alternating between the two. Then, take some kale or spinach leaves, roll them up, and push them onto the ends of the skewers. Finally, drizzle a bit of olive oil and your favorite seasonings over the skewers and you're ready to enjoy a refreshing, healthy snack.
These skewers are the perfect combination of sweet and savory, and can be enjoyed both hot and cold. They're also a great way to get your guests to try something new and exciting. Plus, with only a few simple ingredients, they can easily be made in bulk and are sure to be a hit at any party.