This cake is a wonderfully moist and fragrant cake that's perfect for any occasion. Made with a blend of spices, including cinnamon, nutmeg, and cloves, this cake is sure to please everyone.
Ingredients
1 (18.25 ounce) package butter cake mix
1 cup sour cream
⅓ cup vegetable oil
2 teaspoons ground cinnamon
2 tablespoons brown sugar
1 cup chopped pecans
¼ cup white sugar
1 cup confectioners' sugar
2 tablespoons milk
4 eggs ¼ cup water
Instructions
1. Preheat oven to 375 degrees F (190 degrees C). Grease and flour a bundt pan.
2. In a large bowl, combine cake mix, sour cream, oil, water, eggs, and sugar. Beat on high speed for 2 minutes.
3. Pour 2/3 of batter into the prepared bundt pan. Sprinkle the cinnamon sugar mixture in the center of this and spread remaining batter evenly over this.
4. Bake for 45 to 55 minutes at 375 degrees F (190 degrees C). Cool in pan for 25 minutes before removing from pan to finish cooling on a wire rack or serving platter.
5a) To Make Glaze: Blend powdered sugar and milk together to make a glaze while cake is baking.. Drizzle over cooled cake prior to serving..
OR 5b) If you prefer a thinner glaze, double the recipe ingredients listed above for the glaze
Nutrition Facts
Servings: 16
Calories: 400
Fat: 22 g
Saturated fat: 8 g
Cholesterol: 80 mg
Sodium: 350 mg
Carbohydrates: 47 g
Fiber: 1 g
Sugar: 33 g Protein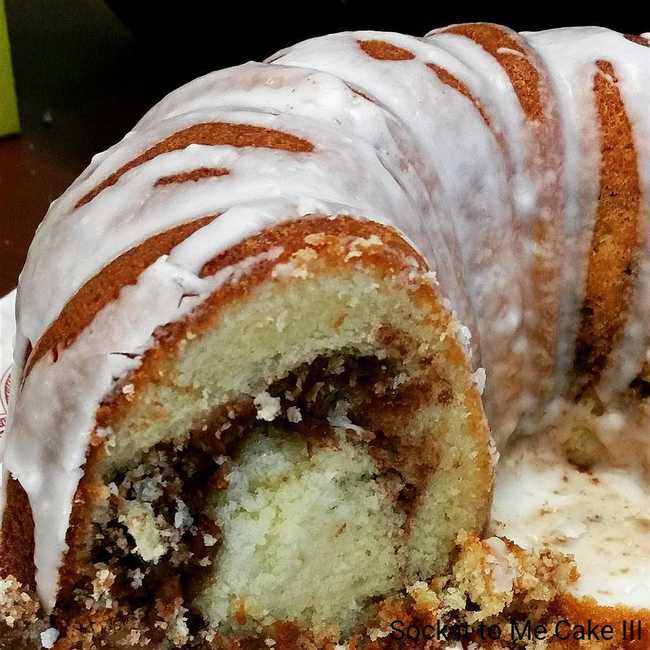 Can I freeze Sock It To Me cake?
Yes, you can absolutely freeze Sock It To Me cake! I would suggest double wrapping it, paying special attention to the hole in the middle. You can glaze it before or after freezing.
Why do they call it Sock it to me cake?
The term "sock it to me" is derived from the Outro of Aretha Franklin's 1967 hit, Respect. The phrase means something like "lay it on me." It's akin to when a baker asks someone if they want a piece of buttery cake, and the reply is "sock it to me!" As a result, the cake acquired its name.
The sock it to me cake is a type of coffee cake that originated in the United States. This dessert gets its flavor from brown sugar, cinnamon, and nuts, which are all key ingredients in traditional coffee cakes. However, what sets this cake apart is the addition of buttermilk or sour cream to the batter. This results in a denser and moister texture that many people find irresistible.
What are the cakes called with a hole in the middle?
Bundt cakes are uniquely characterized by their shape, which features a central tube or "chimney" that leaves a cylindrical hole through the center of the cake. While there is no single recipe for Bundt cakes, they are often made with rich and flavorful ingredients like chocolate, spices, fruit, and nuts. Whether you're looking for an elegant dessert to serve at a dinner party or a simple and tasty snack to enjoy with your family, Bundt cakes are sure to please.
What are the 5 types of cakes?
There are 5 types of cakes: yellow butter cake, pound cake, red velvet cake, carrot cake and sponge cake. Each type of cake has its own unique flavor and texture.
Yellow Butter Cake: This type of cake is moist and fluffy, with a rich buttery flavor. It's often used as the base for sheet cakes that are decorated with frosting and sprinkles.
Pound Cake: A pound cake is dense and heavy, made with a lot of butter or oil. It gets its name from the fact that it traditionally contains a pound each of flour, sugar, eggs and butter. Pound cakes can be flavored with vanilla, lemon or other extracts.
Red Velvet Cake: Red velvet cake is soft and moist, with a distinctive red coloration that comes from cocoa powder or food coloring. It's often iced with a cream cheese frosting.
Carrot Cake: Carrot cake is moist and lightly spiced, containing shredded carrots in the batter. It's commonly topped with cream cheese frosting or icing made from confectioners' sugar and milk.
Sponge Cake: Spongecake is light and airy, made with beaten eggs whites to give it volume. It can be flavored with vanilla extract or other extracts like almond extract.
What is a Sock it to me cake made out of?
A Sock it to me cake is a cake made with a boxed cake mix, adding sour cream, pecans, brown sugar and cinnamon. This kind of dessert is semi-homemade.