Lemon-Dill Salmon Pasta Salad: A Light And Refreshing Summer Dish
I'm a huge fan of simple, delicious meals that don't take hours to prepare. That's why I'm so excited to share my recipe for Salmon Pasta Salad. It's a dish that I've been making for years and it's always a hit. It's a light, flavorful pasta salad that's packed with fresh salmon, crunchy vegetables, and a tangy dressing. It's a great meal for busy weeknights, family gatherings, or even fancy dinner parties.
Salmon Pasta Salad Recipe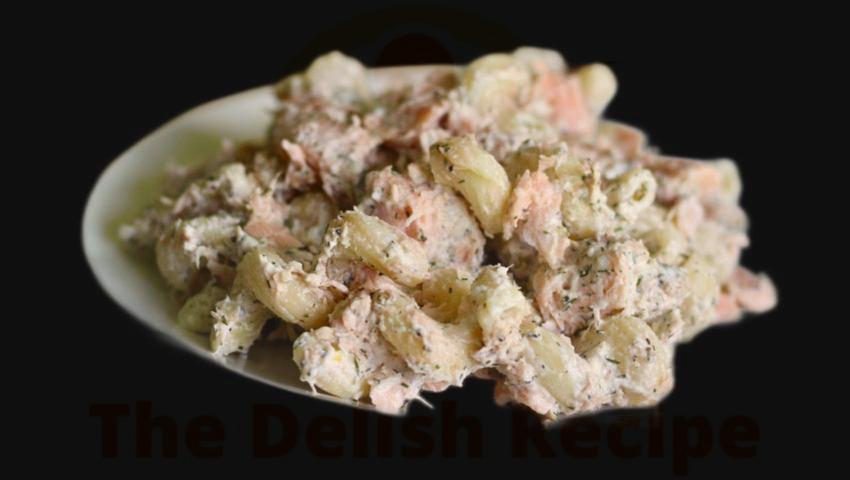 Ingredients
1 (8 ounce) package cavatappi pasta
6 ounces cooked and chilled salmon, flaked into bite-sized chunks
½ cup sour cream
¼ cup mayonnaise
½ cup finely chopped celery
3 tablespoons grated Parmesan cheese
1 tablespoon dried dill weed
1 tablespoon white wine vinegar
2 teaspoons white sugar
1 teaspoon ground black pepper
1 teaspoon salt
¼ teaspoon garlic powder
1 lemon, zested
Instructions
Bring a large pot of salted water to a boil over high heat.
Add the cavatappi pasta and cook until al dente, about 8 to 10 minutes.
Drain the pasta and transfer to a large bowl.
Add the cooked and chilled salmon chunks to the bowl.
In a separate bowl, mix together the sour cream, mayonnaise, celery, Parmesan cheese, dill weed, white wine vinegar, sugar, pepper, salt, garlic powder, and lemon zest.
Pour the mixture over the pasta and salmon and toss to combine.
Cover the bowl and refrigerate for at least 2 hours to allow the flavors to blend.
Serve cold. Enjoy!
Nutrition Facts
Servings: 8
Calories: 212
Fat: 8g
Carbohydrates: 17g
Protein: 16g
Sodium: 114mg
Cholesterol: 31mg
Sugar: 2g
What flavors can be added to this dish to make it more interesting and flavorful?
When it comes to making salmon pasta salad more interesting and flavorful, the possibilities are endless. Here are a few ideas for adding different flavors to this dish:
Fresh Herbs: Fresh herbs such as dill, parsley and chives can add a bright, herbaceous flavor to the dish.
Citrus: A splash of lemon or lime juice can provide a nice zesty flavor.
Spices: Try adding a pinch of dried oregano, basil, or even a little bit of red pepper flakes for a bit of heat.
Condiments: A dollop of tartar sauce, mayonnaise, or even a pesto sauce can add a delicious creamy, tangy flavor.
Cheese: Cheese can provide a nice salty, creamy flavor. Try adding some feta, parmesan, or even a crumbly blue cheese.
By experimenting with different flavors, you can easily make your salmon pasta salad more interesting and flavorful.
What are the health benefits of eating salmon pasta salad?
Eating salmon pasta salad can provide your body with a range of health benefits.
Salmon is a great source of omega-3 fatty acids which can help reduce inflammation and improve heart health.
Salmon is also packed with high-quality protein, making it a great choice for building and maintaining muscle mass.
The combination of salmon and pasta also makes it a filling and nutritious meal. The complex carbohydrates in the pasta provide your body with essential energy while the salmon provides essential vitamins and minerals.
The other ingredients in a salmon pasta salad like vegetables, herbs, and cheese also provide your body with additional nutrients and can make the dish even more nutritious.
Eating salmon pasta salad can also help you maintain a healthy weight since it is high in protein and fiber and low in fat and calories.
Finally, salmon pasta salad is a delicious and convenient way to get the nutrients you need without having to spend a lot of time preparing a meal.
How can salmon pasta salad be served in a unique way?
Salmon pasta salad can be served in a unique way by adding interesting and colorful toppings such as toasted nuts, diced avocado, or crumbled feta cheese. For an even more unique presentation, you can serve the salmon pasta salad in individual cups or glasses for an easy and creative way to showcase your dish. You can also try adding freshly diced vegetables such as tomatoes, cucumbers, or peppers to add a refreshing crunch. If you're looking for something a little more indulgent, you can top your salmon pasta salad with a creamy garlic dressing or a Greek yogurt-based dressing. Finally, you can sprinkle herbs or a light sprinkle of grated cheese to give the dish a final finishing touch.
How can this dish be adapted for different dietary restrictions?
Salmon Pasta Salad is a versatile dish that can easily be adapted to meet different dietary restrictions. For those on a gluten-free diet, substituting gluten-free pasta for regular pasta is a simple solution. To make this dish suitable for vegetarians or vegans, swap out the salmon for a plant-based protein, such as tempeh or tofu. To make it dairy-free, omit the cheese or use a vegan cheese alternative. Finally, for those on a low-carb or ketogenic diet, skip the pasta altogether and serve the salmon and vegetables over a bed of cooked quinoa or cauliflower rice. With a few simple adjustments, anyone can enjoy this delicious dish.
What are some creative garnishes to enhance the presentation of salmon pasta salad?
Adding creative garnishes to salmon pasta salad can help to enhance its presentation and create a stunning dish. Some of the most attractive and flavorful garnishes to use with this dish include fresh herbs, a sprinkle of lemon zest, and a drizzle of olive oil.
Herbs such as dill, parsley, and chives are a great way to add flavor and color to the salad. Try finely chopping the herbs and sprinkling them over the top of the salad before serving. This will add a fresh, herby flavor that pairs perfectly with the salmon and pasta.
Lemon zest is another great garnish to use with salmon pasta salad. It adds a nice zing to the dish, as well as a beautiful yellow hue. Simply use a zester or the fine side of a grater to finely grate the zest of one lemon, then sprinkle over the salad.
Finally, a drizzle of olive oil is a great way to add a rich flavor and a glossy finish to the salad. Simply whisk together a few tablespoons of olive oil with a little lemon juice and some salt and pepper, then drizzle over the top of the salad.
These simple garnishes can help to take your salmon pasta salad from ordinary to extraordinary. With their vibrant colors and delicious flavors, they'll make this dish a showstopper.