Easy Pumpkin-Cranberry Scones Recipe
I remember the first time I tried pumpkin-cranberry scones. It was a chilly fall morning and I was in a baking mood. I was looking for something special and unique, and this recipe caught my eye. I was immediately drawn to its fragrant aroma and the bright combination of pumpkin and tart cranberries. I was amazed by the flaky texture and the sweetness of the scones. They were truly a delicious treat and one that I have enjoyed making and eating ever since.
Pumpkin-Cranberry Scones Recipe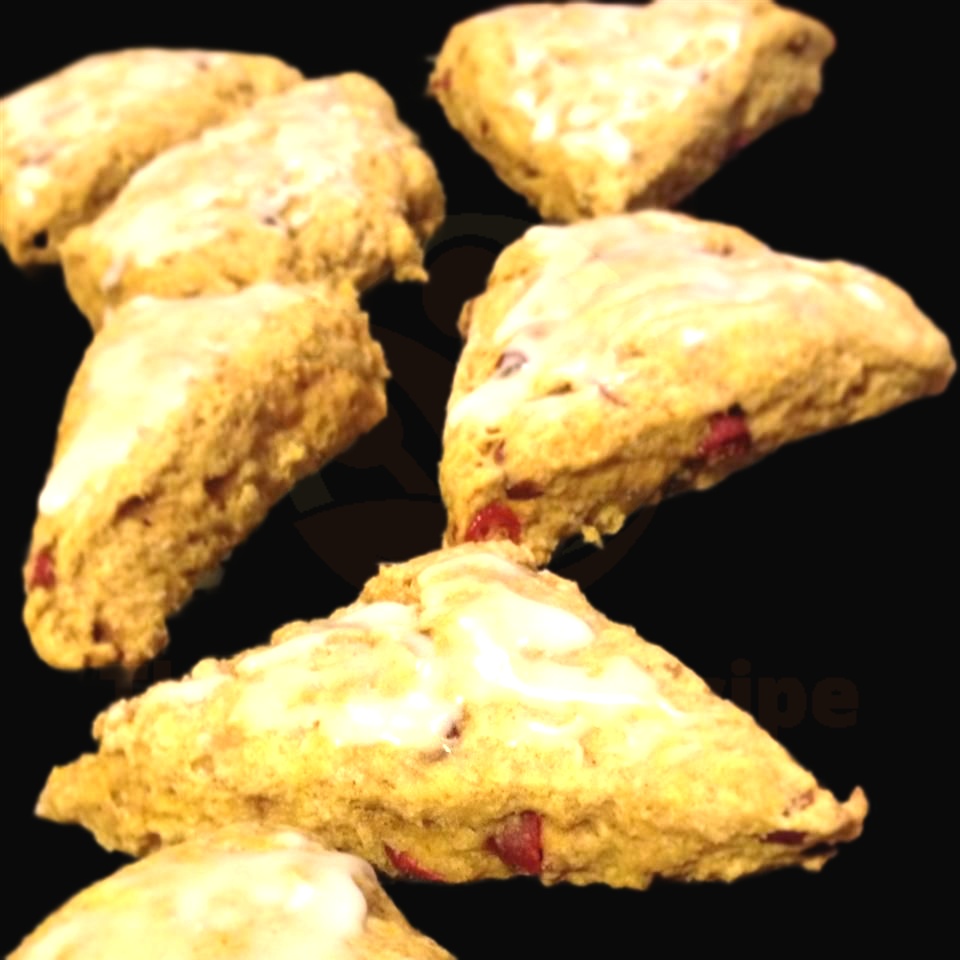 Ingredients
2 cups all-purpose flour
2 teaspoons baking powder
1 teaspoon baking soda
1/2 teaspoon ground cinnamon
1/2 teaspoon ground nutmeg
1/4 teaspoon salt
4 tablespoons cold unsalted butter, cut into small pieces
1/2 cup canned pumpkin puree
1/2 cup dried cranberries
1/2 cup buttermilk
1/4 cup light brown sugar
1 large egg
2 tablespoons turbinado sugar, for topping
Instructions
Preheat oven to 375 degrees. In a large bowl, whisk together flour, baking powder, baking soda, cinnamon, nutmeg and salt.
Cut the butter into the dry mixture with a pastry cutter or two forks until the butter is in small pieces and it resembles coarse crumbs.
In a medium bowl, mix together pumpkin puree, dried cranberries, buttermilk, and light brown sugar.
Add the wet ingredients to the flour mixture and stir until everything is just combined. Do not over mix.
On a lightly floured surface, knead the dough gently, then pat it into a round that is about 1 inch thick. Cut the round into 8 slices and place them on a baking sheet lined with parchment paper.
Beat one egg in a small bowl and brush it over the top of each scone. Sprinkle with turbinado sugar.
Bake for 20 minutes until the scones are golden brown. Let cool for 10 minutes before serving. Enjoy your Pumpkin-Cranberry Scones!
Nutrition Facts
Calories: 500
Fat: 18g
Carbohydrates: 72g
Protein: 8g
Sugar: 10g
Sodium: 980mg
Fiber: 6g
What is the best season to bake pumpkin-cranberry scones?
The best season to bake pumpkin-cranberry scones is definitely fall! This is the perfect time to cozy up in the kitchen, fill your home with the warm and inviting aromas of pumpkin and spices, and create a hearty, seasonal treat. Not only do the flavors of pumpkin and cranberry pair perfectly together, but they're also in season during the fall.
There's something special about autumn that makes it the perfect season for baking pumpkin-cranberry scones. This is the time of year when the cold weather is just starting to set in, the leaves are changing, and it's the perfect excuse to light a fire, grab a comfy blanket, and enjoy a warm and comforting snack. With their slightly tart cranberries and sweet pumpkin, these scones are the perfect treat for a chilly day.
Baking pumpkin-cranberry scones in the fall is a great way to bring a bit of the season into your kitchen. The combination of warm spices and sweet fruits will remind you of all the wonderful things about autumn, from the changing leaves to the crisp, cool air. Plus, these scones are so easy to make and will fill your whole house with the warm, inviting smells of fall.
So, if you're looking for the best season to bake pumpkin-cranberry scones, look no further than fall. With its crisp air and changing leaves, it's the perfect time to cozy up in the kitchen and enjoy a warm and comforting treat.
What type of cranberries are best to use in pumpkin-cranberry scones?
When it comes to pumpkin-cranberry scones, fresh cranberries are definitely the way to go! They provide a tart and tangy flavor that really complements the sweetness of the pumpkin and other ingredients. Fresh cranberries are also easy to find in most grocery stores during the autumn months. If you can't find fresh cranberries, frozen cranberries are a great alternative. Just be sure to thaw them completely before using them in your scone recipe.
No matter which type of cranberries you use, make sure to chop them up into small pieces before adding them to your scone batter. This will ensure they are evenly distributed throughout the scones and provide the perfect balance of tart and sweet.
What are the benefits of using pumpkin in scones?
The Benefits of Using Pumpkin in Scones:
Pumpkin is a healthy, nutritious ingredient that adds lots of flavor and moisture to a scone.
Pumpkin is a great source of vitamins A and C, as well as fiber, which helps keep you full longer.
Using pumpkin in scones adds a nice sweetness and a delicious hint of spice.
Pumpkin works well with other ingredients, such as cranberries and spices, to create a flavorful scone.
Pumpkin is a versatile ingredient that can be used in many different types of scones, from sweet to savory.
Pumpkin also helps to keep the scones moist and fluffy, making them even more delicious.
Pumpkin-cranberry scones are a great way to enjoy a tasty treat without feeling guilty.
How can you make sure that your pumpkin-cranberry scones are perfectly moist?
It's easy to make perfectly moist pumpkin-cranberry scones with just a few simple tips! To ensure your scones stay soft and fluffy, always start with cold butter and use a light hand when mixing. When adding the wet ingredients, stir gently until just combined. To make sure your scones are extra moist, add a tablespoon of heavy cream or sour cream to the batter. Finally, don't overbake your scones – keep an eye on them as they bake and take them out of the oven as soon as they turn golden brown.
What type of toppings go best with pumpkin-cranberry scones?
When it comes to topping pumpkin-cranberry scones, the options are endless! Whether you're looking for something sweet, savory, creamy, or crunchy, there is a topping to perfectly complement your scones. To make things even more exciting, why not mix and match a few different toppings to create a scone that is truly unique! Here are some of our favorite topping combinations for pumpkin-cranberry scones:
Sweet: A drizzle of honey, a sprinkle of cinnamon sugar, or a dollop of jam or jelly all make for great sweet toppings for pumpkin-cranberry scones.
Savory: A luscious layer of cream cheese and a sprinkle of fresh herbs make for a delicious savory topping.
Creamy: A dollop of butter, a smear of cream cheese, or a layer of melted chocolate all make for amazing creamy toppings for pumpkin-cranberry scones.
Crunchy: Chopped nuts, seeds, or granola all make for great crunchy toppings for pumpkin-cranberry scones.
No matter what topping combination you choose, pumpkin-cranberry scones are sure to be a hit! So go ahead and experiment with different combinations to create your own signature scone.
What kind of equipment do you need to make pumpkin-cranberry scones?
If you're eager to make some delicious pumpkin-cranberry scones, you'll need some basic baking equipment. To start, you'll need a large bowl and a wooden spoon for mixing the dough, as well as a knife for cutting the scones. You'll also need a non-stick baking sheet, a rolling pin, and a biscuit cutter to shape your scones. Lastly, you'll need measuring cups and spoons to measure out the ingredients.
Once you've gathered your equipment, you'll be ready to start making your scones! With a few simple tools, you'll be able to whip up a batch of these delicious treats.