Tropical Twist: Pineapple Fried Rice
I have a special place in my heart for Pineapple Fried Rice. Whenever I make it, I'm instantly transported back to the days of my childhood in Thailand, when I used to help my grandmother make this dish for Sunday dinners. The combination of succulent pineapple and savory rice is a classic and comforting favorite.
Pineapple Fried Rice Recipe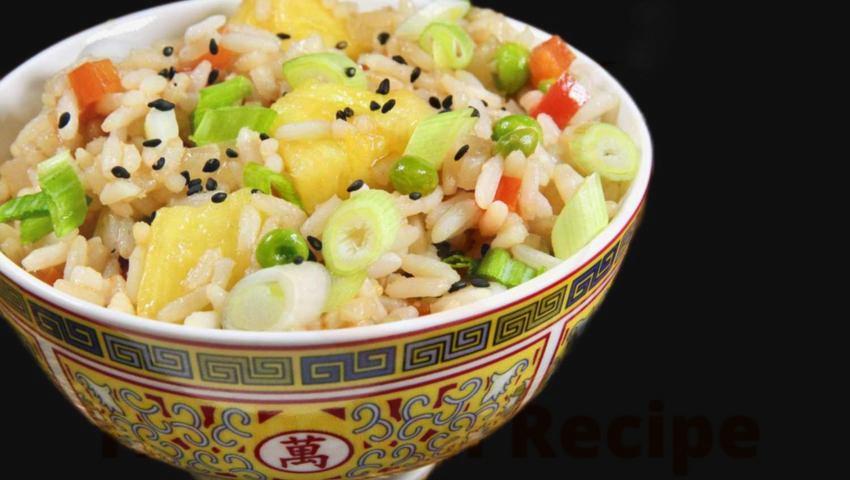 Ingredients
1. 2 tablespoons vegetable oil
2. ½ cup diced sweet onion
3. 1 tablespoon grated ginger root
4. 1 clove garlic, minced
5. ½ diced red bell pepper
6. 1 ½ cups fresh pineapple chunks
7. ⅓ cup thawed frozen peas
8. 2 cups cold, cooked white rice
9. 2 tablespoons low-sodium soy sauce, or to taste
10. 1 teaspoon sesame oil
11. 2 tablespoons sliced green onion
12. 1 teaspoon toasted sesame seeds
Instructions
Heat the vegetable oil in a large skillet over medium heat.
Add the diced sweet onion, grated ginger root, and minced garlic to the skillet. Cook until the onion is softened, about 5 minutes.
Add the diced red bell pepper, fresh pineapple chunks, and thawed frozen peas. Cook for an additional 5 minutes or until the vegetables are tender.
Increase the heat to high and add the cold, cooked white rice. Stir-fry for 2-3 minutes or until the rice is heated through.
Stir in the low-sodium soy sauce, sesame oil, sliced green onion, and toasted sesame seeds. Cook for an additional 2 minutes.
Taste and adjust the seasoning with additional soy sauce, if desired.
Serve the pineapple fried rice immediately. Enjoy!
Nutrition Facts
Calories: 214
Fat: 6g
Carbohydrates: 33g
Protein: 5g
Sodium: 221mg
What are the origins of pineapple fried rice?
The origins of pineapple fried rice can be traced back to Thailand. The dish is believed to have been developed by Chinese immigrants who settled in Thailand during the late 19th century. They combined their traditional Chinese fried rice with the abundance of fresh pineapples that were available in the region. This combination created a unique and delicious dish, which quickly became a staple of Thai cuisine.
Pineapple fried rice is a popular dish in Thailand and other Southeast Asian countries. It is typically served as an accompaniment to a main course, as a side dish, or even as a meal in itself. The dish is made by frying diced pineapples with rice, eggs, onions, garlic, and other spices. This combination creates a savory and sweet flavor, with the subtle taste of the pineapple adding a unique twist.
The dish is now popular around the world, and has even been adapted to include different ingredients. Some versions now include shrimp, pork, chicken, and even tofu. The dish is usually served with a variety of condiments, such as fish sauce, chili paste, and sweet and sour sauce.
Pineapple fried rice is an easy and delicious dish that can be enjoyed by everyone. Its origins in Thailand make it a great way to experience a taste of Southeast Asian cuisine in your own home.
What are the benefits of adding pineapple to fried rice?
Pineapple adds a unique sweet and tart flavor to fried rice that helps to enhance the dish's overall taste.
Pineapple adds a delightful texture to the rice, making it crunchy and juicy.
Adding pineapple to fried rice can help to balance out the flavors of other ingredients, such as garlic and onion, that can be quite strong.
Pineapple is a great source of vitamin C, an essential nutrient for a healthy diet.
Pineapple also contains bromelain, an enzyme that helps to break down proteins, making it easier to digest.
What are some tips for making the perfect pineapple fried rice?
Start with cold cooked rice; as freshly cooked rice will clump and be difficult to stir-fry.
Cut the pineapple into small cubes and fry in a pan with oil for a few minutes.
Add in optional ingredients such as egg, onion, garlic, and peppers.
Add in the rice and stir-fry for a few minutes.
Add in pineapple juice, soy sauce, and fish sauce to give the rice a sweet and salty flavor.
Stir-fry until all the ingredients are heated through and the rice is cooked.
Serve the pineapple fried rice with a wedge of fresh pineapple.
How is pineapple fried rice different from other fried rice dishes?
Pineapple fried rice is a unique variety of fried rice due to its sweet, savory, and fruity flavor profile. It differs from other fried rice dishes in that it contains pineapple, which adds a sweet and tart taste and a distinct aroma to the dish. In addition, the pineapple also adds a unique texture to the fried rice, making it distinct from other fried rice dishes. Furthermore, pineapple fried rice typically contains other ingredients such as onions, garlic, and spices, which are not found in other fried rice dishes. All of these elements together create a delicious and distinct fried rice dish.
What are some creative ways to serve pineapple fried rice?
There are many creative and delicious ways to serve pineapple fried rice. Here are some ideas to get you started:
Add a fried egg: For a delicious twist on the classic pineapple fried rice dish, try topping it with a fried egg. The egg will add a nice richness and creaminess to the dish, making it even more flavorful.
Serve with grilled shrimp: Grilled shrimp is a perfect accompaniment to pineapple fried rice. The smoky flavor of the grilled shrimp pairs nicely with the sweet and savory flavors of the pineapple fried rice.
Top with grilled pineapple: For a simple yet creative way to serve pineapple fried rice, top it with grilled pineapple slices. The pineapple will add a nice sweetness and crunch to the dish.
Serve with roasted vegetables: Roasted vegetables, such as bell peppers, eggplant, zucchini, and mushrooms are a great way to add some extra flavor and texture to pineapple fried rice. The roasted vegetables will provide a nice depth of flavor that pairs well with the sweetness of the pineapple.
Add a spicy sauce: For those who like a bit of heat, try adding a spicy sauce such as sriracha or chili sauce to the dish. This will give the pineapple fried rice an extra kick that will be sure to please.
No matter how you choose to serve it, pineapple fried rice is a delicious and creative dish that is sure to please.