Deliciously Sweet Peach Scones
When I think of summer, one of the first things that comes to my mind is the sweet smell of fresh peaches. That's why I love making these Peach Scones. They are the perfect way to start a summer morning. With just a few simple ingredients, you can whip up a batch of these delicious scones in no time. The sweet, juicy peaches combined with the buttery scone dough make for an unbeatable flavor combination.
Peach Scones Recipe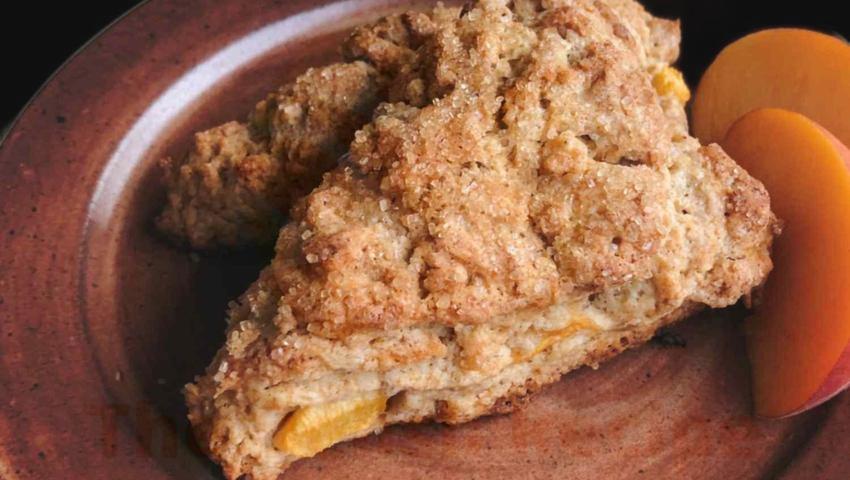 Ingredients
1. 2 cups all-purpose flour
2. 6 tablespoons white sugar
3. 1 teaspoon baking powder
4. ½ teaspoon salt
5. ¼ teaspoon baking soda
6. 1 teaspoon ground cinnamon
7. ½ teaspoon ground cardamom
8. 1 pinch ground nutmeg
9. 1 stick unsalted butter, frozen
10. ½ cup heavy cream
11. 1 egg
12. 1 teaspoon vanilla extract
13. 1 cup peeled and diced fresh peaches
14. 2 tablespoons turbinado sugar
Instructions
Preheat oven to 375 degrees F (190 degrees C).
In a large bowl, whisk together the all-purpose flour, white sugar, baking powder, salt, baking soda, ground cinnamon, ground cardamom, and ground nutmeg.
Using a grater, grate the frozen butter into the flour mixture. Using a fork or pastry blender, mix the butter into the flour until it forms small crumbs.
In a separate bowl, whisk together the heavy cream, egg, and vanilla extract.
Pour the cream mixture into the flour mixture, stirring until just combined.
Gently fold in the diced peaches.
Scoop the dough onto a baking sheet lined with parchment paper, forming into scone shapes. Sprinkle the tops with turbinado sugar.
Bake for 20 minutes, or until golden brown.
Allow to cool before serving. Enjoy!
Nutrition Facts
Serving size: 1 scone
calories: 250
fat: 13g
saturated fat: 8g
cholesterol: 45mg
sodium: 350mg
carbohydrates: 30g
fiber: 2g
sugar: 15g
protein: 3g
Creative ways to enjoy peach scones
Creative ways to enjoy peach scones include using them to make a breakfast sandwich, adding them to homemade ice cream, or making a crumble with peaches and scones.
Breakfast Sandwiches: Start by making a simple peach scone using your favorite recipe. Cut the scone in half and spread a generous layer of cream cheese on one side and a hearty dollop of your favorite jam on the other. Place a few slices of fresh peaches in between the two halves and you have a delicious breakfast sandwich that is sure to hit the spot.
Homemade Ice Cream: Make a simple peach scone crumble by chopping the scone into small cubes, then mix in melted butter, sugar and cinnamon. Sprinkle the crumble on top of your favorite homemade ice cream for a sweet and crunchy topping. The scones will add a delicious flavor and texture to the ice cream.
Crumble: To make a peach scone crumble, preheat your oven to 375 degrees. In a separate bowl, combine peaches, sugar, cinnamon and orange juice. Place the scone cubes in a baking dish and top with the peach mixture. Sprinkle with the scone crumble and bake for 20 minutes. Serve warm with a scoop of vanilla ice cream for an easy and delicious dessert.
These are just a few creative ways to enjoy peach scones. With a little bit of creativity, you can come up with your own tasty recipes to enjoy this delicious treat.
How to make the perfect peach scones every time
Preheat the oven to 375°F and lightly grease a baking sheet.
In a large bowl, mix together 2 cups of all-purpose flour, 2 tablespoons of white sugar, and 1 teaspoon of baking powder.
Cut in 1/2 cup of cold butter until the mixture resembles a coarse meal.
In a small bowl, whisk together 1/2 cup of heavy cream and 1/4 cup of milk.
Make a well in the center of the dry ingredients and pour in the liquid mixture.
Stir together until the dough forms a ball and all of the ingredients are combined.
Fold in 1 cup of fresh, diced peaches.
Place the dough onto a lightly floured surface and knead a few times, forming a disk.
Cut the disk into 8 wedges and place them onto the prepared baking sheet.
Bake for 15-18 minutes until the scones have lightly browned.
The health benefits of peach scones
The Health Benefits of Peach Scones:
Rich in Fiber & Antioxidants: Peach scones are packed with fiber and antioxidants, making them a nutritious and delicious snack.
Low in Sugar: Peach scones are made with a minimal amount of sugar, making them a great option for those looking to reduce their sugar intake.
Rich in Vitamin C: Peaches are a good source of vitamin C, which is important for maintaining a healthy immune system.
High in Protein: Peach scones are made with ingredients high in protein, such as whole wheat flour, which can help to keep you feeling full and energized.
Low in Fat: Peach scones are low in saturated fat and contain no trans fats, making them a healthier option than many other baked goods.
Deliciously Versatile: Peach scones can be enjoyed plain, with a variety of jams or jellies, or even topped with a dollop of whipped cream.
Tips for making delicious peach scones
Select ripe and juicy peaches for the best flavor.
Preheat the oven to 375 degrees Fahrenheit.
Use a pastry cutter to mix the butter and flour together until the mixture is crumbly.
Add the peaches and sugar, and mix until everything is evenly distributed.
Add the wet ingredients, and stir until everything is combined.
Use a spoon or your hands to shape the dough into round scones.
Brush the tops with cream for a golden brown finish.
Bake for 15-20 minutes or until golden brown.
Serve warm with butter or jam.
An overview of the history of peach scones
Peach scones have been a part of the baking tradition for centuries, with variations of the recipe appearing in cookbooks as far back as the 16th century. The traditional scone recipe is said to have originated in Scotland, but it quickly spread throughout Europe and the United States. Over time, different cultures have put their own spin on the recipe, adding their own unique ingredients and flavorings. For example, while the traditional recipe uses butter, some cultures prefer to use lard or other fats.
Today, peach scones are popular around the world, and many countries have their own regional variations. In the United States, the most common version is a dense, buttery scone made with fresh peaches and served either plain or with butter, jam, or cream. In Britain, peach scones are usually more cake-like in texture, often made with buttermilk and served with clotted cream and jam. In France, the recipe features almonds, while in Australia peaches are often added to a light, spongy scone.
No matter the culture, the addition of fresh peaches to scones is what makes them special. Peaches add a warm, sweet flavor to the scone, while also providing a slightly tart, acidic taste that helps to balance out the richness of the butter.
Peach scones are a great way to enjoy a classic baking recipe with a modern twist. Whether you make your scones the traditional way or add your own unique ingredients and toppings, this timeless recipe is sure to be a hit with friends and family.