This chocolate mousse pie is light, fluffy, and full of chocolate flavor. It's perfect for a special occasion or anytime you want a delicious dessert. The best part is that it's easy to make!
Ingredients
-1 (9 inch) pie shell, baked
-1 cup semisweet chocolate chips
-1/4 cup white sugar
-4 tablespoons water
-1 teaspoon unflavored gelatin
-1 tablespoon instant coffee powder
-3 eggs, 1 teaspoon vanilla extract
-1/2 cup heavy whipping cream,
2 tablespoons white sugar,
2 tablespoons unsweetened cocoa powder,
2 tablespoons confectioners' sugar,
1 cup heavy whipping cream,
1/2 teaspoon almond extract,
1/2 teaspoon vanilla extract
Instructions
1. Preheat oven to 350 degrees F (175 degrees C).
2. Sprinkle the gelatin on top of 2 tablespoons water; set aside. Separate the eggs. Lightly beat the egg yolks and set them aside.
3. In a small saucepan, heat chocolate, 1/4 cup sugar, 2 tablespoons water, and coffee; stir constantly until melted then remove pan from heat.
4. Add softened gelatin to the saucepan, and whisk until completely dissolved then gradually pour chocolate mixture into beaten egg yolks while whisking constantly.
5. Return the custard to the pan and cook over medium-low heat while stirring constantly until mixture thickens slightly then remove from heat and stir in 1 teaspoon vanilla extract before transferring it to a bowl allowing it to cool to room temperature
6When chocolate mixture has cooled sufficiently, beat egg whites to soft peaks in a separate bowl then gradually add 2 tablespoons sugar while continuing to beat until stiff but not dry before folding whipped egg whites into chocolate mixture gently but thoroughly..
7 Whip 1/2 cup cream until stiff in yet another bowl then fold into chocolate mixturefolding just until combined Spoon mousse filling into pie crust refrigerating pie for several hours or overnightuntil
Nutrition Facts
-1 (9 inch) pie shell, baked: 350 calories, 18 g fat, 5 g saturated fat, 42 mg cholesterol, 210 mg sodium, 45 g carbohydrate, 2 g fiber, 19 g sugar, 4 g protein.
-1 cup semisweet chocolate chips: 480 calories, 24 g fat ,14g saturated fat ,0mg cholesterol ,0mg sodium ,72g carbohydrates ,8g fiber ,52g sugar ,8g protein.
-1/4 cup white sugar : 50 calories . 0g fat .0mg cholesterol .0mg sodium .13 carbs . 0 fiber,.12 sugars,. 0 protein.
-4 tablespoons water : 0 calories . 0 fat . 0 mg cholesterol. 0 mg sodium. 1 carb. 0 fiber.. 1 sugars.. o protein
-1 teaspoon unflavored gelatin: 10 calories,.01fat., 00mg choles., 3sodium,,2carbs., 000fiber,,2sugars,,00protein
-1 tablespoon instant coffee powder: 12calories,,Fat Free,,Cholesterol Free,,Sodium 2 milligramsCarbohydrates 3 gramsDietary Fiber Less than 1 gramSugars Less than 1 gramProtein Less than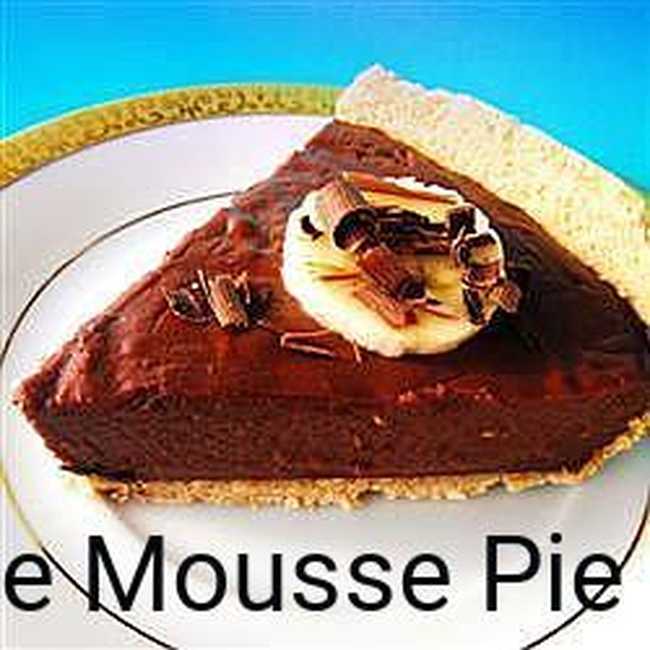 How do you make stiff mousse?
To make stiff mousse, you will need heavy cream and powdered sugar. In a large mixing bowl, use an electric mixer fitted with a whisk attachment to whip the heavy cream on medium-high speed until soft peaks form. Then add the powdered sugar and whisk until stiff peaks form. Remove ¼ of the whipped cream and whisk into the cooled chocolate ganache until smooth and combined.
Why do they call mousse mousse?
Mousse is a type of dessert that originated in France in the 18th century. The word mousse translates to "foam" in French, which describes the airy texture of this type of dessert. Mousse is typically made with eggs, cream, and sugar, and can be flavored with chocolate, fruit, or other various flavors.
So why do they call it mousse? Well, as mentioned before, the word mousse comes from the French word for foam. This is because mousse has a light and airy texture that resembles foam. When you take a bite of mousse, it should literally melt in your mouth – this is what makes it so unique and delicious!
If you're looking to try making mousse at home, there are tons of recipes available online.
What do you mean by mousse?
A mousse is a savory or sweet dish with the consistency of a dense foam. It is made by puréeing a chief ingredient and mixing it with stiffly beaten egg whites, whipped cream, or both. Mousses are almost always served cold. Sweet mousses may be served frozen.
What does mousse au chocolat mean?
Mousse au chocolat is a chocolate mousse. Mousse is a French word meaning "foam", and mousse au chocolat is made by whipping egg whites and cream to create a foamy texture, into which melted chocolate is folded. It can be served as a dessert on its own, or used as an ingredient in cakes and other desserts.
The earliest known recipe for chocolate mousse was published in 1892 by the French chef Auguste Escoffier in his book Le Guide Culinaire. Since then, it has become one of the most popular desserts in France, and around the world. There are many variations of chocolate mousse, including those made with dark chocolate, milk chocolate, or white chocolate. Some recipes also include coffee, liqueurs, or spices such as cinnamon or nutmeg.
While there are many different ways to make chocolate mousse, the basic ingredients are always the same: eggs, cream, and chocolate. The ratio of these ingredients can vary depending on the desired outcome – more eggs will result in a firmer texture while more cream will produce a softer mousse.
How do I make a chocolate mousse pie?
To make a chocolate mousse pie, you will need:
– 1 package (3.4 ounces) instant chocolate pudding mix – 1/2 cup unsweetened cocoa powder – 1 unbaked 9-inch pie crust – 2 cups cold milk – 1 cup whipped topping, thawed – Chocolate shavings for garnish (optional) Instructions:
1. Combine the instant pudding mix and unsweetened cocoa powder in a large bowl. Whisk the instant pudding mix and cocoa together to remove any lumps.
2. Pour the filling into your prepared pie crust and spread out into an even layer.
3. Tip with whipped topping and chocolate shavings for garnish, if desired.