This Chocolate Mayo Cake is a wonderfully moist and fudgy cake that's made with, you guessed it, mayonnaise! The addition of mayo might sound strange but trust us, it works! This cake is also super simple to make and only requires one bowl.
Ingredients
3 cups all-purpose flour
1 cup granulated sugar
1 cup unsweetened cocoa powder
2 teaspoons baking soda
2 teaspoons baking powder
1/2 teaspoon salt
1 cup mayonnaise (do not use Miracle Whip)
2 eggs, beaten lightly
1 1/4 cups water
Instructions
1. Preheat oven to 350 degrees (175 degrees C). Lightly grease two 9 inch layer pans.
2. Mix flour, baking soda, baking powder, cocoa, and sugar into a large bowl. Stir in mayonnaise. Gradually add water and vanilla and blend until smooth.
3. Pour batter into prepared pans. Bake at 350 degrees F (175 degrees C) for 30 minutes. Cool, remove from pans, and frost with your favorite chocolate frosting
Nutrition Facts
Serving size: 1 slice (1/12 of cake)
Calories: 310
Fat: 14 g
Saturated fat: 2.5 g
Cholesterol: 40 mg
Sodium: 350 mg
Carbohydrates: 44 g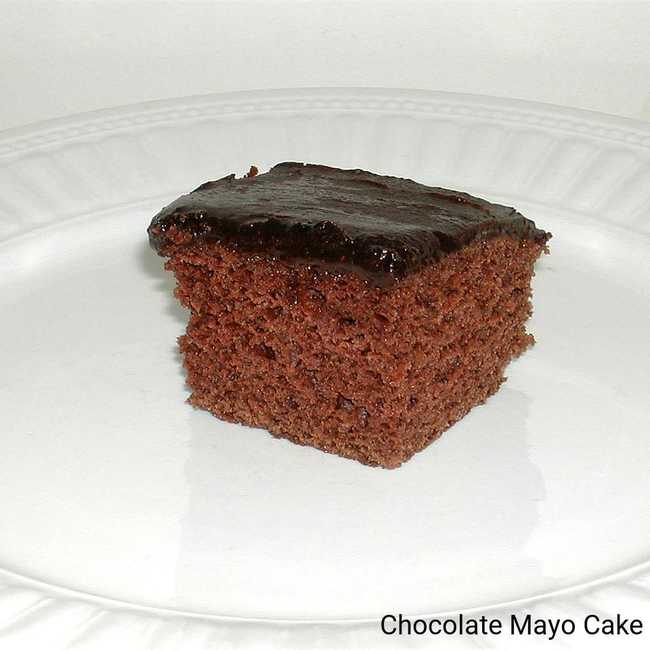 How much mayonnaise do you add to a box cake mix?
Mayonnaise is a common ingredient in many cakes and other desserts. It is often used as an oil or fat replacement, as it helps to make the cake more tender. Additionally, mayonnaise can also help to enhance the flavor of chocolate cakes and other chocolate desserts.
While there are no hard and fast rules about how much mayonnaise to add to a box cake mix, a good starting point is two tablespoons. This amount will help to make your cake more moist and flavorful, without being overly greasy or oily. You can always add more or less mayonnaise depending on your personal preferences.
What goes on a chocolate mayonnaise cake?
A chocolate mayonnaise cake is a type of cake that contains chocolate and mayonnaise in the batter. The resulting cake is moist and rich, with a deep chocolate flavor.
Mayonnaise is not an ingredient that you typically see in cakes, but it works well in this recipe to create a moist and flavorful cake. Be sure to use a good quality chocolate for the best results. This cake is best served at room temperature or slightly warm, so that the chocolate flavor can really shine through.
How do I make a cake more moist?
The answer to making a cake more moist is actually pretty simple – use cake flour, add sour cream, and make sure your butter is at room temperature. You can also add a touch of baking powder or baking soda to help with the rise. Finally, don't over-mix and don't over-bake. A little oil can also help to keep things moist. If you find your cake is too dry after it's baked, you can always brush it with some simple syrup or another liquid (like milk) to give it a boost of moisture.
Can you use mayonnaise in cake?
Yes, you can use mayonnaise in cake! Mayonnaise is a great substitute for fat or oil in cake recipes. It adds moisture, richness and flavor to your cake. There are many different brands of mayonnaise available, so be sure to choose one that you like the taste of. You can also add other flavors to your mayonnaise to enhance the flavor of your cake.
What does mayo do to a cake?
Mayonnaise is a common ingredient in many cake recipes. Made from eggs and oil, mayonnaise adds moisture to the cake batter, resulting in a more moist and flavorful cake. In addition, mayonnaise can help to gussy up a boxed cake mix, making it taste more like homemade.
So, what does mayo do to a cake? Simply put, it makes the cake more moist and flavorful.