Delicious Autumn Salad Recipe With Butternut Squash
I love this Autumn Salad with Butternut Squash! It's a great way to celebrate the changing of the seasons and enjoy the bounty of the harvest. I've been making this salad for years now, and each time I make it, I'm reminded of how much I enjoy the mix of flavors. The roasted squash adds an extra layer of sweetness, while the crunchy walnuts and tart cranberries provide a delicious balance. It's the perfect dish to bring to a potluck or a family gathering, and is sure to be a hit. Plus, it's so easy to whip up! So, let's get started!
Autumn Salad with Butternut Squash Recipe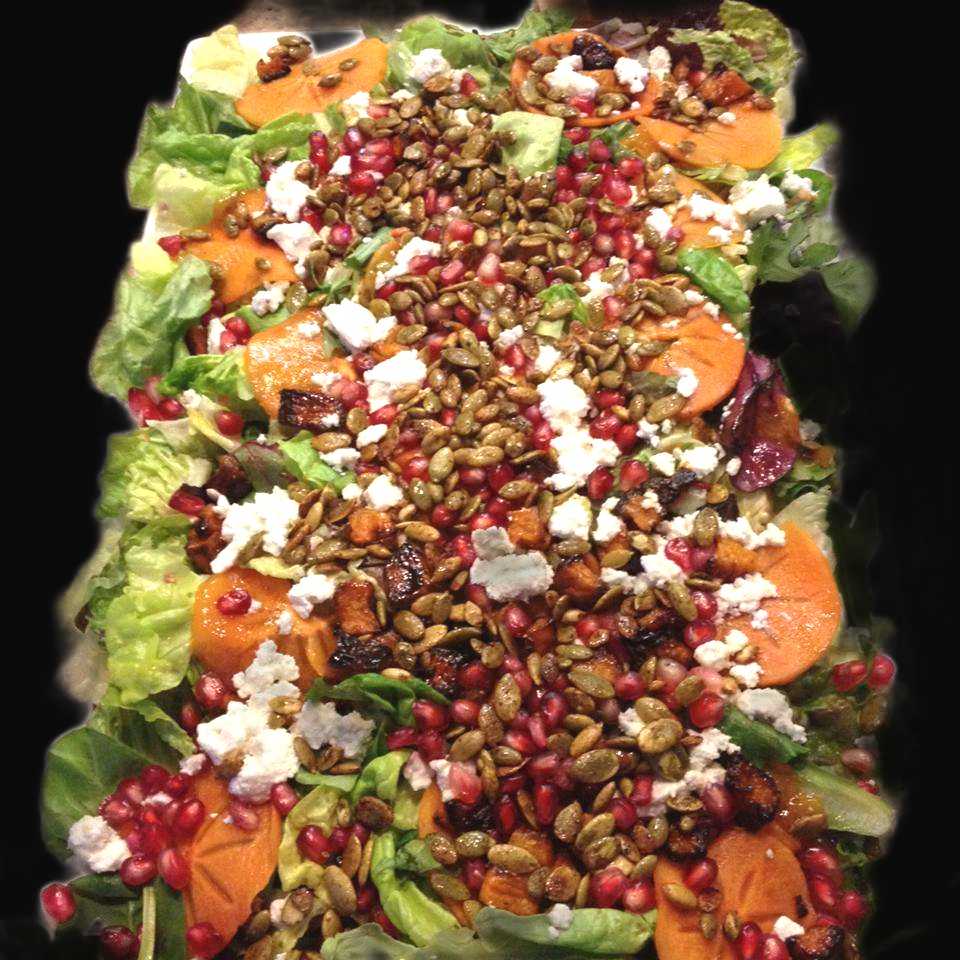 Ingredients
1 butternut squash
3 tablespoons olive oil
3 tablespoons balsamic vinegar
1 teaspoon honey
1/2 teaspoon dried oregano
1/2 teaspoon dried thyme
1/4 teaspoon sea salt
1/4 teaspoon ground black pepper
2 cloves garlic, minced
2 tablespoons toasted pumpkin seeds
4 cups mixed baby greens
1/4 cup crumbled feta cheese
Instructions
Preheat oven to 400 degrees F.
Peel and cube the butternut squash and spread onto a baking sheet.
Drizzle the olive oil, balsamic vinegar, honey, oregano, thyme, salt, pepper, and garlic over the squash.
Toss everything together to coat the squash.
Place the baking sheet in the oven and roast for 25 minutes, stirring once or twice while cooking.
Take the squash out of the oven and let it cool slightly.
Toast the pumpkin seeds in a dry skillet over medium-high heat, stirring often, until golden brown.
In a large bowl, combine the baby greens, feta cheese, roasted squash, and toasted pumpkin seeds.
Drizzle with balsamic vinegar and olive oil, sprinkle with sea salt and ground black pepper, and toss to coat.
Serve the Autumn Salad with Butternut Squash warm or chilled and enjoy!
Nutrition Facts
Calories: 119 Kcal
Fat: 6.2g
Carbohydrates: 12.8g
Fiber: 2.6g
Protein: 2.9g
Sodium: 190mg
What makes this autumn salad so special?
You're going to love this autumn salad because it's packed with so many delicious flavors! This salad is made with fresh butternut squash, tangy feta cheese, sweet cranberries, crunchy walnuts, and a light citrusy vinaigrette. The combination of all these flavors in one bowl is simply amazing. Not to mention, it's incredibly easy to make.
The butternut squash is roasted with a touch of maple syrup and rosemary, which adds a lovely depth of flavor. The feta cheese provides a salty contrast to the sweetness of the squash and cranberries. The walnuts add a wonderful crunch to the salad, and the citrus vinaigrette pulls all the flavors together.
This salad is a great way to enjoy the flavors of autumn. It's also a great source of vitamins and minerals, including vitamin A and vitamin C. Plus, it's a light and nutritious meal that's sure to leave you feeling energized and satisfied.
How does the butternut squash add flavor and texture to the salad?
The butternut squash adds a unique and delicious flavor to this Autumn Salad! Its sweetness and nutty notes pair perfectly with the other ingredients in the salad. Plus, its firm texture provides a nice crunch to the dish.
What tips can you provide for making the perfect autumn salad?
If you want to make the perfect autumn salad, use these tips to make the most out of the flavors of the season!
Start with a hearty base by using ingredients like kale, arugula, spinach, or romaine lettuce.
Add roasted vegetables like butternut squash or sweet potatoes for a touch of sweetness.
Mix in some crunchy toppings, like toasted nuts, dried cranberries, or pomegranate seeds.
Enhance the flavors with a simple dressing of olive oil, balsamic vinegar, and a pinch of salt and pepper.
Don't forget some cheese for an extra layer of flavor. Feta, goat cheese, or Parmesan make great additions.
Finish off your salad with a sprinkle of herbs like parsley, basil, or dill.
What are some of the health benefits of eating an autumn salad?
Eating an autumn salad can be beneficial to your health in a number of ways!
Autumn salads are packed with fruits and vegetables that are in season during the fall season, such as apples, beets, carrots, and butternut squash. All of these fruits and vegetables are loaded with essential vitamins and minerals.
Eating a salad made with these seasonal items can provide your body with a good source of fiber, which aids digestion and can help keep you feeling fuller for longer.
The combination of crunchy vegetables, sweet fruits, and nutty squash can provide your body with a variety of antioxidants that can help prevent cell damage and help your body fight off diseases.
These autumn salads are also low in calories, making them a great snack or meal that won't add extra fat to your diet.
Eating an autumn salad can also be a great way to get in your recommended daily servings of fruits and vegetables, which can help boost your immune system.
Finally, eating an autumn salad is a great way to get creative with your meals and add some variety to your diet.
What other ingredients can be used to complement the butternut squash?
You can really get creative with your autumn salad by adding other ingredients to complement the butternut squash! For a punch of color and sweetness, add pomegranate seeds and dried cranberries. For some crunch, top it off with chopped nuts or roasted pumpkin seeds. You could also add some earthy flavor with mushrooms, or some freshness with a sprinkle of chopped parsley. If you're looking for a bit of tang, try adding feta or goat cheese. The possibilities are endless! With a few simple ingredients, you can create an autumn salad that's bursting with flavor.
What are some creative ways to serve an autumn salad?
You don't need to settle for a boring bowl of lettuce for your autumn salad! There are plenty of creative ways to make a unique and delicious autumn salad that will have your family and friends talking. Here are some of our favorite ideas.
To up the flavor in your autumn salad, add some roasted butternut squash. Roasting brings out the natural sweetness of the squash, and it pairs perfectly with other autumnal ingredients like dried cranberries, walnuts, and feta cheese. You can also try adding a few pumpkin seeds or some crumbled bacon for a touch of smokiness.
Another way to make an interesting autumn salad is to add some fruit. Try adding pear slices, dried apricots, or apple slices for a hint of sweetness. Or for a tart flavor, add some dried cranberries or pomegranate arils.
Don't forget about the dressing! An autumn salad needs a dressing that is just as flavorful. Try a homemade apple cider vinaigrette for a light and tangy flavor. Or for a heartier dressing, opt for a creamy butternut squash dressing.
Finally, top your autumn salad with a sprinkle of fresh herbs. Sage, rosemary, and thyme all add a delicious earthy flavor and will make your salad look inviting.
So don't be afraid to try something new with your autumn salad! With a few simple ingredients and a little creativity, you can make a unique and delicious salad that your guests will love.
How can you modify this recipe to make it vegan-friendly?
You can easily modify this Autumn Salad with Butternut Squash to make it vegan-friendly! Simply substitute the goat cheese with a vegan alternative such as vegan feta or vegan cream cheese, and replace the honey with maple syrup or agave nectar. To add more vegan protein, you can add cooked quinoa, chickpeas, lentils, or nuts. You can also switch up the vegetables to add more variety – try adding roasted Brussels sprouts, cauliflower, or asparagus. Finally, for the dressing, opt for a vegan-friendly version such as a balsamic vinaigrette or a tahini-based sauce. Experiment with different flavors and textures and enjoy your vegan-friendly Autumn Salad with Butternut Squash.