Sweet And Sour Citrusy Snickerdoodles
I've been baking snickerdoodles for years, but these Zesty Lemon Snickerdoodles are unlike anything I've ever tried before! The tart and refreshing lemon flavor combined with the classic sweet and chewy snickerdoodle cookie just works so well together. They're the perfect balance of sweet and tangy, with just a hint of spice. These cookies will be the hit of any party and are sure to be a crowd-pleaser. Give them a try today and see for yourself!
Zesty Lemon Snickerdoodles Recipe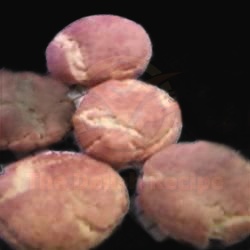 Ingredients
2 ½ cups all-purpose flour
1 teaspoon baking soda
½ teaspoon baking powder
¼ teaspoon salt
1 teaspoon ground cinnamon
¼ teaspoon ground nutmeg
½ cup (1 stick) butter, softened
1 ½ cups granulated sugar
2 large eggs
2 tablespoons freshly squeezed lemon juice
2 teaspoons finely grated lemon zest
2 teaspoons vanilla extract
¼ cup granulated sugar mixed with 1 teaspoon ground cinnamon for rolling
Instructions
Let's make some delicious Zesty Lemon Snickerdoodles!
Preheat your oven to 350 degrees F and line a baking sheet with parchment paper.
In a medium bowl, whisk together the flour, baking soda, baking powder, salt, cinnamon, and nutmeg.
In a large bowl, use a hand mixer to beat together the butter and sugar until light and fluffy. Add in the eggs, one at a time, until fully incorporated.
Beat in the lemon juice, lemon zest, and vanilla extract until combined.
Slowly add in the flour mixture and mix until combined.
Place the ¼ cup sugar and 1 teaspoon of cinnamon in a small bowl and mix together.
Using a 1-tablespoon scoop, scoop out some dough and roll it into a ball. Roll the ball in the cinnamon-sugar mixture and place it on the baking sheet. Repeat with the remaining dough.
Bake for 12-13 minutes. Let cool for 13 minutes before enjoying.
Yum! These Zesty Lemon Snickerdoodles will be the star of your dessert table! Enjoy!
Nutrition Facts
Calories: 240
Fat: 8.6g
Saturated Fat: 5.1g
Cholesterol: 40mg
Sodium: 190mg
Carbohydrates: 34.2g
Fiber: 1g
Sugar: 18.8g
Protein: 3.3g
What makes lemon snickerdoodles the perfect summer treat?
Lemon Snickerdoodles are the perfect summer treat because they bring together the zesty citrus flavor of lemons with the classic cinnamon-sugar taste of snickerdoodles. The combination of flavors creates a unique and refreshing twist that is perfect for warm summer days. Plus, they are simple to make and can be enjoyed by the whole family.
The zesty citrus flavor of lemons adds a delicious zing to the traditional snickerdoodle cookie. The lemon zest and juice combined with the classic cinnamon-sugar mix gives the cookie a balanced flavor that can't be beat. The sweet and sour combination of lemons and sugar is a match made in heaven and will keep you coming back for more.
Lemon Snickerdoodles are also very easy to make. All you need are a few simple ingredients like butter, sugar, eggs, flour, lemon juice and zest, and cinnamon-sugar mix. Combine all the ingredients together, roll them into balls, and bake them to perfection. In just a few minutes, you'll have the perfect summer treat that everyone can enjoy.
Lemon Snickerdoodles are the perfect summer treat that can be enjoyed by the whole family. The zesty citrus flavor of lemons combined with the classic cinnamon-sugar taste of snickerdoodles creates a unique and refreshing treat that is ideal for warm summer days. Plus, they are simple to make and will be a hit with everyone.
How does the zesty lemon flavor make snickerdoodles even more delicious?
The zesty lemon flavor in snickerdoodles makes them even more delicious because it adds a subtle and refreshing citrus taste that enhances the classic snickerdoodle flavor.
Here's why zesty lemon snickerdoodles are so delicious:
The zesty lemon flavor adds an extra layer of sweetness that complements the cinnamon and sugar coating.
It balances out the richness of the dough, giving it a light and airy texture.
The lemon flavor adds a hint of tartness that provides a nice contrast to the sweetness.
The lemon gives the snickerdoodles a unique and delicious flavor that is unlike any other cookie.
What tips do you have for baking the perfect batch of lemon snickerdoodles?
Start off with the best ingredients. Use high quality butter, unbleached flour, and pure lemon extract for maximum flavor.
Make sure you cream the butter and sugar together for at least four minutes until light and fluffy. This will give the cookies a creamy texture.
Consider adding a few tablespoons of freshly grated lemon zest to the batter for an extra zesty bite.
Don't be afraid to use plenty of cinnamon-sugar on the outside of the cookies. Roll the dough balls in the mixture until they're generously coated.
For chewy snickerdoodles, bake the cookies for 8-10 minutes at 375°F. For crunchier cookies, bake them for an extra minute or two.
Let the cookies cool completely before serving.
How can you customize the recipe for your own unique take on lemon snickerdoodles?
You can customize your lemon snickerdoodles to make them your own! To do this, you can experiment with different ingredients, baking times, and flavoring additions. Here are a few ideas to get you started:
Add some finely chopped citrus zest to the cookie dough for an extra zing of flavor.
Swap out the white sugar for brown sugar to give the cookies a richer, caramel-like flavor.
For a crunchier texture, increase the baking time by a few minutes.
Stir some finely chopped or dried herbs into the cookie dough, such as rosemary or thyme.
Drizzle the baked cookies with a citrus glaze made from lemon juice, sugar, and butter.
These are just a few ideas to get you started. Get creative and have fun! With a few simple adjustments, you can turn a basic recipe into something unique and delicious.
What interesting and unexpected ingredients can you use in your lemon snickerdoodles?
If you're looking to take your lemon snickerdoodles to the next level, you're in luck! There are a few unexpected ingredients that can be added to these classic cookies to make them even more delicious. From subtle hints of spice to unexpected flavors like rosemary, these ingredients will bring balance, complexity, and a unique twist to your lemon snickerdoodles.
One interesting ingredient that you can add to your lemon snickerdoodles is ground ginger. The warmth and slight sweetness of ground ginger pairs perfectly with the zesty lemon flavor. Just a pinch is all you need to add a subtle depth to your cookies.
You can also add fresh rosemary to your lemon snickerdoodles for a unique and delicious flavor. The herbal notes of rosemary will bring a delightful complexity to the tart lemon flavor and the sweetness of the snickerdoodle.
For a bit of spicy heat, add a pinch of cayenne pepper to your lemon snickerdoodles. The heat will be balanced by the sweetness of the cookie and the tart citrus flavor.
Finally, try adding a hint of cardamom to your lemon snickerdoodles. The warm and slightly sweet flavor of cardamom will add an interesting complexity to the cookies.
So don't be afraid to experiment with your lemon snickerdoodles. With a few interesting and unexpected ingredients, you can create a unique and delicious twist on this classic cookie.