Fresh And Flavorful: Warm Zucchini-Basil Salad
I love the freshness of summer in a dish, and this Warm Zucchini-Basil Salad captures that perfectly. This salad is one of my favorite recipes to make and enjoy during the warmer months. It's a simple dish that utilizes the best of the season's produce. The zucchini and basil really shine in this recipe, and the addition of a tangy vinaigrette brings all the flavors together.
Warm Zucchini-Basil Salad Recipe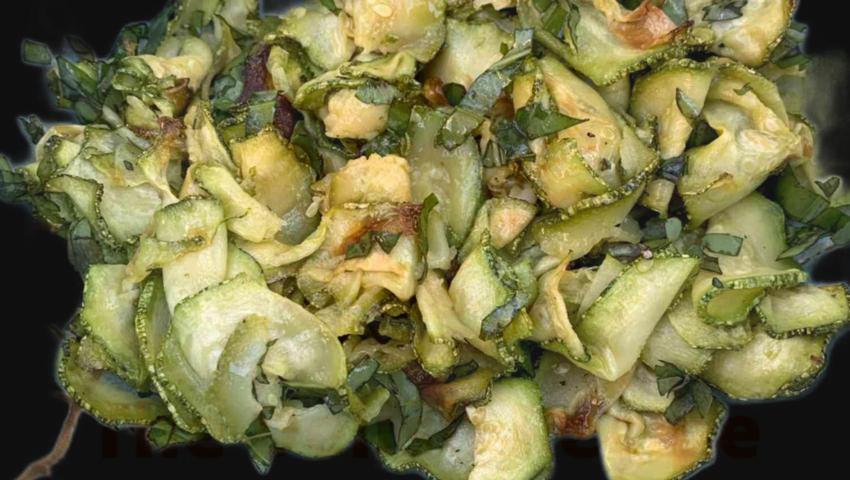 Ingredients
1. 2 zucchini, thinly sliced
2. 2 tablespoons extra-virgin olive oil, or more to taste
3. 1 pinch salt and ground black pepper to taste
4. 2 tablespoons finely chopped fresh basil, or more to taste
Instructions
Preheat oven to 350 degrees Fahrenheit.
Thinly slice the zucchini and spread them out on a baking sheet.
Drizzle the zucchini with the extra-virgin olive oil and sprinkle with salt and pepper.
Bake the zucchini for 20 minutes, or until lightly browned and tender.
Remove the zucchini from the oven and transfer to a serving bowl.
Add the chopped fresh basil to the warm zucchini and toss to combine.
Serve the warm zucchini-basil salad immediately. Enjoy!
Nutrition Facts
Serving size: 1/4 of the recipe; Calories: 88; Fat: 7g; Cholesterol: 0mg; Sodium: 75mg; Carbohydrates: 4g; Protein: 1g; Fiber: 1g.
Ideas for customizing a warm zucchini-basil salad
Customizing a warm zucchini-basil salad can be as simple as adding some grilled chicken or shrimp for a protein boost, or as creative as swapping out the basil for some added flavor. Here are some ideas for giving your warm zucchini-basil salad a unique twist.
Swap the basil for other herbs like dill, cilantro, or parsley.
Use different types of cheese such as feta, goat, or blue.
Add some chopped nuts on top for an added crunch.
Use a variety of zucchini such as yellow squash, or a combination of zucchini and squash.
Add some diced bell peppers for a colorful addition.
Top with grilled chicken or shrimp for a protein boost.
Add some chopped olives or capers for a salty kick.
Sprinkle with some toasted bread crumbs for extra flavor.
Add a drizzle of olive oil or balsamic vinegar for more flavor.
0. Use a mix of fresh and roasted vegetables for a unique texture.
With these ideas, you can easily customize your warm zucchini-basil salad to give it a unique twist.
Benefits of eating a warm zucchini-basil salad
Eating a warm zucchini-basil salad offers a variety of health benefits.
It is a source of essential vitamins and minerals, such as Vitamin A, Vitamin C, and magnesium.
This salad is also rich in dietary fiber, which is important for maintaining healthy digestion.
The ingredients in this dish also provide anti-inflammatory properties that can help reduce inflammation in the body.
The zucchini and basil are both high in antioxidants, which help fight against cell damage and keep the body healthy.
Eating a warm zucchini-basil salad is a great way to get your daily dose of vegetables and can help you maintain a balanced diet.
The warm temperature of the dish helps to make the vegetables more digestible and can even help increase absorption of some of the nutrients.
This salad is also a great source of plant-based protein, which can help to keep you full longer and reduce cravings.
Eating a warm zucchini-basil salad is also a great way to boost your immune system, as the vitamins and minerals found in this dish help to protect your body from disease.
Tips for cooking a perfect warm zucchini-basil salad
Choose the freshest zucchini you can find: Zucchini is the star of the show, so make sure to select the freshest, firmest zucchini you can find.
Slice the zucchini thinly: Slice the zucchini into thin discs, no thicker than 1/4-inch.
Blanch the zucchini: Bring a large pot of salted water to a boil. Boil the zucchini slices for 1-2 minutes, or until they are just tender. Strain the zucchini and rinse with cold water to stop the cooking process.
Saute the zucchini: Heat 1 tablespoon of olive oil in a large skillet over medium-high heat. Add the blanched zucchini slices and sauté for 2-3 minutes, or until golden brown.
Add the other ingredients: To the zucchini, add 1/4 cup of toasted pine nuts, 1/4 cup of grated Parmesan cheese, 2 tablespoons of chopped fresh basil, 1 tablespoon of freshly squeezed lemon juice, and 1 teaspoon of honey.
Plate and serve: Place the warm zucchini-basil salad on a plate and top with the remaining basil and Parmesan cheese.
Health benefits of ingredients used in a warm zucchini-basil salad
Zucchini: Zucchini is a low-calorie, nutrient-rich vegetable that is high in vitamin C, vitamin K, and manganese. It also contains fiber, potassium, and other essential vitamins and minerals. Eating zucchini can help boost immunity, promote healthy skin and bones, and reduce inflammation.
Basil: Basil is a fragrant herb that is packed with antioxidants and has anti-inflammatory properties. It is also high in vitamins A, C, and K, and provides a range of other health benefits, such as helping to reduce cholesterol levels, improve digestion, and support heart health.
Olive oil: Olive oil is a healthy fat that is high in antioxidants and may help reduce inflammation. It can also help lower cholesterol levels, reduce the risk of heart disease, and promote healthy skin.
Garlic: Garlic is a flavorful ingredient that is packed with vitamins and minerals. It is high in vitamins C and B6, as well as manganese, selenium, and other essential nutrients. Eating garlic can help boost the immune system, reduce inflammation, and lower blood pressure.
Salt: Salt is an essential mineral that helps the body to stay hydrated and it also helps to regulate blood pressure. Eating the right amount of salt can help maintain the body's electrolyte balance, which is important for overall health.
How to serve a warm zucchini-basil salad for a crowd
Prepare a large batch of the salad mixture before guests arrive. Toss together cubed zucchini, diced red onion, and fresh basil leaves in a large bowl.
Place the salad in a large baking dish and top with shredded Parmesan cheese and freshly cracked black pepper.
Preheat the oven to 350°F.
Bake the salad for 15 to 20 minutes, or until the zucchini is tender and the Parmesan cheese is melted.
Serve the warm salad immediately with crusty French bread.