Easy Thai Beef Curry Recipe – Delicious, Flavorful And Quick To Make
I love trying new recipes and exploring different flavors, so when I came across this recipe for Thai Beef Curry, I had to give it a try. This dish is packed with flavor and is full of a wonderful array of spices and herbs. When I made this recipe for the first time, I was pleasantly surprised by just how delicious it was! The rich and flavorful curry sauce, the tender beef, and the combination of herbs and spices all come together perfectly to create a meal that's truly worth savoring.
Thai Beef Curry Recipe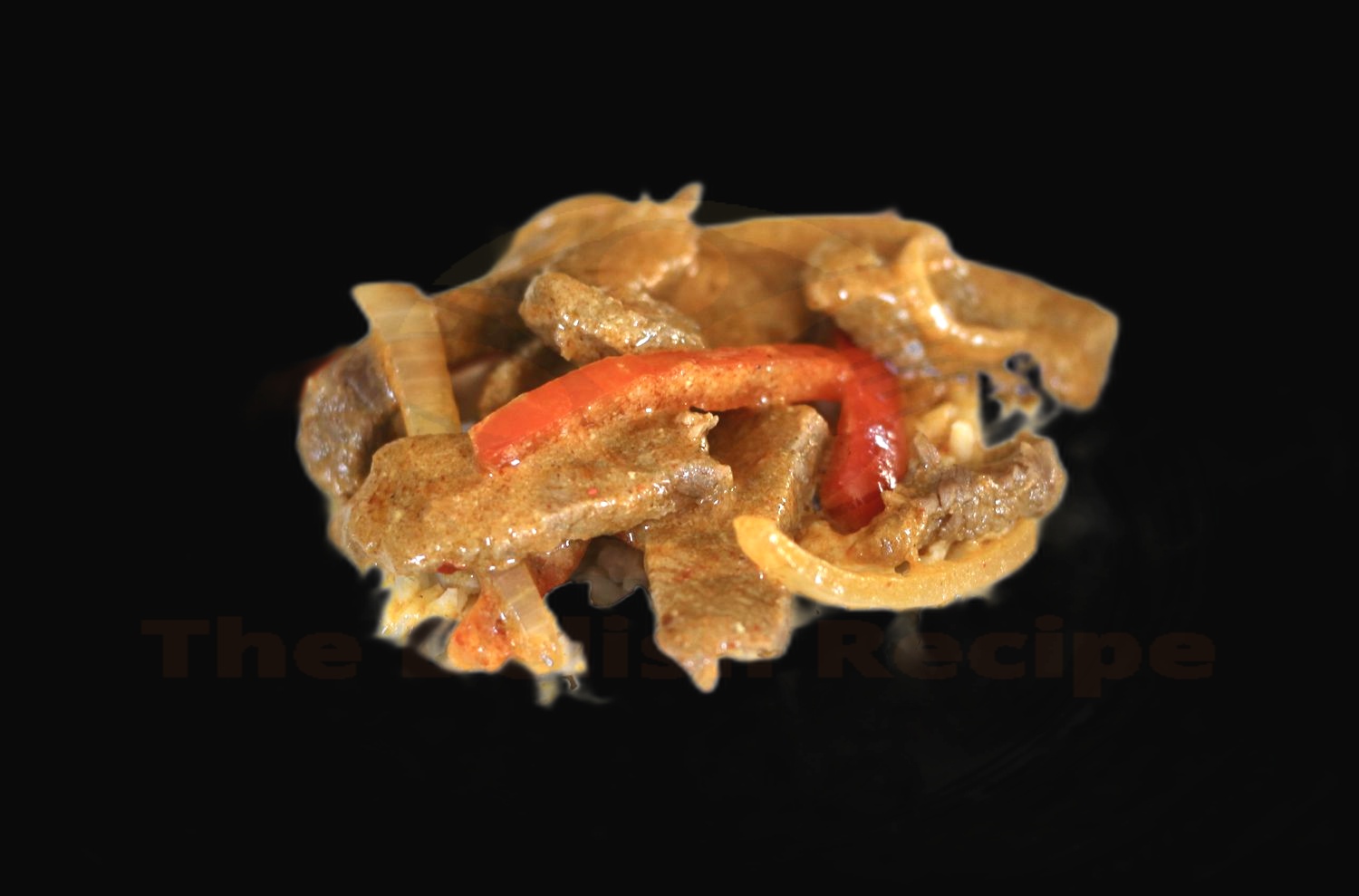 Ingredients
1 tablespoon vegetable oil
1 lb. sirloin steak, cut into thin strips
1 small onion, chopped
3 cloves garlic, minced
1 tablespoon fresh ginger, grated
1 red bell pepper, sliced
1 cup coconut milk
2 tablespoons red curry paste
2 tablespoons fish sauce
1 tablespoon brown sugar
1 tablespoon lime juice
1 teaspoon ground coriander
1 teaspoon ground cumin
2 tablespoons chopped fresh cilantro
2 cups cooked jasmine rice, for serving
Instructions
Let's get cooking! Begin by heating the vegetable oil in a large pan over medium-high heat.
When the oil is hot, add the steak strips and cook for about 5 minutes, stirring occasionally, until the steak is browned.
Add the onion, garlic, ginger, and red bell pepper. Cook for another 5 minutes, stirring occasionally, until the vegetables are softened.
Now it's time to add the delicious flavors! Pour in the coconut milk, red curry paste, fish sauce, brown sugar, lime juice, coriander, and cumin. Stir to combine everything.
Reduce the heat to low and simmer for 45-60 minutes, stirring occasionally, until the sauce is thickened and the steak is tender.
Add in the cilantro and stir it in.
Serve the Thai beef curry over cooked jasmine rice. Enjoy!
Nutrition Facts
Calories: 590
Fat: 35g
Carbohydrates: 34g
Protein: 35g
Sodium: 890mg
Cholesterol: 80mg
Fiber: 4g
What is thai beef curry and why is it so popular?
Thai beef curry is a delicious dish that is widely popular for its mix of bold flavors and fragrant aromas. This curry is an ideal blend of tender beef, coconut milk, and a tantalizing blend of Thai spices like garlic, ginger, lemongrass, and red curry paste. It's an incredibly easy dish to make, and its unique combination of flavors makes it perfect for entertaining. Plus, it's incredibly healthy, as all of its ingredients are packed with vitamins, minerals, and antioxidants.
What are some of the key ingredients that make up thai beef curry?
When it comes to Thai beef curry, one of the key ingredients you'll need is a good quality red curry paste. This paste is made up of a range of flavorful ingredients like chili, galangal, lemongrass, kaffir lime, garlic, and shallot. Once you have the paste, you'll need to add some coconut milk and fish sauce to create the classic Thai flavor. If you want to give your curry a bit of heat, you can also add some chili peppers. Finally, don't forget to add some fresh vegetables like bell peppers, carrots, and bamboo shoots to give the dish some texture and color.
What are some tips and tricks for achieving the perfect thai beef curry?
Are you looking to make the perfect Thai beef curry? Here are some tips and tricks to help you achieve the tastiest results!
Start with great ingredients – the freshest beef, Thai curry paste, and the best quality coconut milk you can find.
Use a wok or large deep skillet for cooking up your Thai beef curry. The high sides will help keep your curry from splashing.
Make sure your beef is cut into small, thin pieces so it will cook quickly and evenly.
When adding the curry paste, don't be afraid to add more than the recipe calls for. You can always adjust the heat later.
Add the coconut milk last and let it simmer to bring out the full flavors of the dish.
Taste your Thai beef curry as it cooks and adjust seasonings as needed.
Serve with freshly cooked rice or noodles for a delicious meal.
How is thai beef curry usually served and what types of dishes can it be used in?
Thai beef curry is usually served over steamed jasmine rice, but it can also be used in other dishes. For example, it can be used to top off a bowl of noodles, in a burrito, or as a filling for tacos. It can also be served with a side of veggies like broccoli, cauliflower, or carrots. The possibilities are endless!
Thai beef curry is a delicious, flavorful dish that has a unique blend of spices – including ginger, garlic, lemongrass, and chili peppers. The combination of these ingredients gives the curry a unique and flavorful taste, making it the perfect accompaniment for many dishes.
If you're looking for a delicious and unique way to enjoy beef curry, try adding it to a stir fry. The combination of the curry and the veggies creates a flavorful and colorful dish that's sure to please. You can also use it as a topping for a bowl of noodles or as a filling for a wrap or burrito.
For a more traditional way of serving Thai beef curry, try pairing it with steamed jasmine rice. This combination is a favorite among Thai food lovers, as it combines the flavors of the curry with the slight sweetness of the jasmine rice. You can also serve the dish with a side of vegetables, like broccoli, cauliflower, or carrots.
No matter how you serve it, Thai beef curry is sure to be a hit. Its unique blend of spices and flavors make it the perfect accompaniment to many dishes.
What makes thai beef curry so delicious and flavorful?
Thai beef curry is one of the most flavorful dishes you'll ever taste! The spice blend of lemongrass, galangal, garlic, and chili peppers creates a bold and aromatic flavor that is balanced perfectly with coconut milk and fish sauce to give it a creamy sweetness. The combination of ingredients results in a complex and savory dish that can be enjoyed by everyone.
The key to making a delicious Thai beef curry is finding the right balance of spices. Lemongrass and galangal are essential for giving the curry a unique flavor and aroma. Garlic, chili peppers, and cilantro provide a level of heat and spiciness. Fish sauce adds a salty depth of flavor, and coconut milk serves as a creamy base that helps round out the other flavors.
Another important factor in making a flavorful Thai beef curry is the freshness of the ingredients. Freshly ground spices are always best, as they have the most flavor and aroma. Using fresh herbs and vegetables will also ensure that you get the most out of your dish.
Finally, the last step to making a delicious Thai beef curry is to let it sit for a few hours before serving. This helps the flavors really come together and makes the dish more flavorful and fragrant.
All in all, Thai beef curry is a flavorful and delicious dish that can be enjoyed by everyone. The combination of spices and fresh ingredients creates a unique and aromatic flavor that is sure to please even the pickiest of eaters.