Deliciously Soft And Spicy Mini Gingerbread Muffins With Sugar And Spice
I have to admit, I was a little hesitant to try this recipe for Sugar 'n Spice Mini Gingerbread Muffins. I've never been a huge fan of gingerbread, and I wasn't sure how it would work in a muffin. But after one bite, I was hooked! These mini muffins are sweet, spicy, and bursting with flavor. I can't get enough of them!
Sugar 'n Spice Mini Gingerbread Muffins Recipe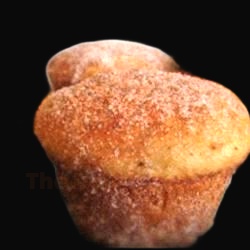 Ingredients
1/2 cup all-purpose flour
1/2 teaspoon baking powder
1/4 teaspoon baking soda
1/4 teaspoon ground cinnamon
1/8 teaspoon ground nutmeg
1/8 teaspoon ground cloves
1/4 cup dark brown sugar
1/4 cup molasses
1/4 cup vegetable oil
1 large egg
1/4 cup chopped crystallized ginger
Instructions
Preheat oven to 350°F.
Combine flour, baking powder, baking soda, cinnamon, nutmeg, and cloves in a medium bowl.
In a separate bowl, whisk together dark brown sugar, molasses, vegetable oil, and egg.
Gradually add dry ingredients to wet ingredients, stirring until just combined.
Fold in chopped crystallized ginger.
Grease a mini muffin tin, then spoon batter into the wells, filling each about 3/4 full.
Bake for 15-20 minutes, or until a toothpick inserted into the center of a muffin comes out clean.
Let cool in the tin for 5 minutes, then transfer to a cooling rack to cool completely.
Enjoy your delicious Sugar 'n Spice Mini Gingerbread Muffins!
Nutrition Facts
Calories: 153 kcal
Fat: 7.5 g
Saturated Fat: 0.7 g
Trans Fat: 0 g
Cholesterol: 16 mg
Sodium: 112 mg
Carbohydrates: 20.2 g
Fiber: 0.9 g
Sugar: 12.3 g
Protein: 2.1 g
What's so special about these sugar 'n spice mini gingerbread muffins?
What's so special about these Sugar 'n Spice Mini Gingerbread Muffins? Well, these little bites of deliciousness have all the best parts of traditional gingerbread—the sweet molasses and warm spices—but in an easy-to-make and easy-to-eat muffin form! Plus, they're made with whole wheat flour and heart-healthy olive oil, so you can feel good about treating yourself, too.
But that's not all! These mini muffins are also incredibly cute and versatile. You can eat them plain, top them with icing, or fill them with cream cheese or jam. You can also use them to make mini gingerbread houses or a layer cake. The possibilities are endless!
Plus, these mini muffins are great for parties and get-togethers. They're the perfect size for snacking, and they're sure to be a hit. So, if you're looking for a unique and delicious treat, you can't go wrong with Sugar 'n Spice Mini Gingerbread Muffins. They're a sweet and special treat that everyone will love.
What's the best way to make these delicious muffins?
The best way to make these delicious Sugar 'n Spice Mini Gingerbread Muffins is to follow this easy recipe! You'll need only a few ingredients and it's simple enough that even novice bakers can make these delicious treats. To start, preheat the oven to 350°F and line a 12-cup mini muffin tin with paper liners. In a large bowl, whisk together the flour, baking soda, ginger, cinnamon, and salt. In a medium bowl, mix together the melted butter, brown sugar, and molasses until combined. Then, add the eggs and stir until everything is evenly combined.
Next, begin adding the dry ingredients to the wet ingredients and mix until just combined. Fill each muffin cup with 2 tablespoons of batter and bake for 10-12 minutes or until a toothpick inserted in the center of the muffin comes out clean. Finally, let the muffins cool for 10 minutes before transferring them to a wire rack.
How do these muffins bring that special holiday feeling?
These Sugar 'n Spice Mini Gingerbread Muffins bring that special holiday feeling to your kitchen with a combination of classic holiday flavors and the cozy, comforting smell of fresh-baked gingerbread. Here are a few reasons why they are such a great way to get into the holiday spirit:
Spicy, Warm Gingerbread Flavor: With the perfect mix of ground ginger, cinnamon, and nutmeg, these muffins bring all the classic flavors of gingerbread to your kitchen.
Sweet, Delicious Sugar Topping: Topped with a sweet sugar-cinnamon mixture, these muffins will satisfy your sweet tooth and bring a festive touch to your holiday baking.
Perfectly Mini Size: They are perfectly bite-sized, making them ideal for serving at holiday parties, or even just as a special treat for your family.
Enjoyable and Easy to Make: These muffins come together in a snap, so you can quickly and easily bring the holiday spirit to your kitchen.
What other ingredients can be added to make these mini gingerbread muffins even tastier?
These mini gingerbread muffins are already delicious, but there are plenty of tasty ingredients that can be added to make them even more scrumptious! For a bit of crunch, try stirring in some chopped walnuts or pecans. If you want a hint of sweetness, try adding some dried cranberries or chopped dates. You can also sprinkle some mini chocolate chips or butterscotch chips on top of each muffin before baking.
How can you make sure these mini gingerbread muffins stay fresh and delicious?
If you want to make sure your Sugar 'n Spice Mini Gingerbread Muffins stay fresh and delicious, the key is to store them properly! To ensure that your muffins last, it's important to keep them in an airtight container. Place the muffins in a single layer and store in a cool, dry place like a pantry or cupboard. Avoid storing them in the refrigerator, as this can cause them to dry out and lose their flavor. If you are planning on keeping them for more than a few days, you can also store them in the freezer. Make sure they are in an airtight, freezer-safe container and they will last up to three months.