This sugar free cake is not only delicious, but also easy to make. You will need a few simple ingredients that you probably already have in your kitchen. This cake is perfect for those who are trying to avoid sugar or are on a low-sugar diet.
Ingredients
1 1/2 cups raisins
3 cups water
2 eggs
3 tablespoons liquid sweetener (honey, agave nectar, etc)
3/4 cup vegetable oil
1 teaspoon vanilla extract
1 teaspoon baking soda
1/2 teaspoon salt
1 1/2 teaspoons ground cinnamon
1/4 teaspoon ground nutmeg or allspice (optional) // I would add a bit more of this for flavor! up to 1 tsp.
2 cups whole wheat pastry flour OR all-purpose flour // i like the texture of WWP but you could use APF
1 cup chopped walnuts or pecans // optional – if you don't want nuts you could add an extra 1/2 cup of applesauce or mashed banana OR 1 cup dried fruit like cherries, cranberries, chopped apricots, etc.
1 cup unsweetened applesauce
Instructions
1. Preheat oven to 350 degrees F (175 degrees C). Grease and flour one 10 inch bundt or tube pan.
2. In a saucepan combine raisins with water and cook until the water is absorbed, cool.
3. Combine eggs, applesauce, vegetable oil, vanilla, and liquid sweetener. Mix well. Sift flour, baking soda, salt, ground cinnamon, and ground nutmeg into egg mixture. Stir until just combined then mix in raisins and chopped nuts to the batter.
4. Pour batter into prepared pan then bake at 350 degrees F (175 degrees C) for one hour in oven..
Nutrition Facts
Serving size: 1/12 of recipe (1 slice)
Calories: 220
Fat: 11 g
Saturated fat: 2.5 g
Unsaturated fat: 8.5 g
Trans fat: 0 g
Cholesterol: 35 mg
Sodium: 360 mg // I would reduce this to 1/2 tsp salt or less since there is some in the flour already!
Potassium: 150 mg // raisins are a good source of potassium! You could also add a mashed banana for extra potassium.
Carbohydrates: 26 g // mostly from the raisins, applesauce and flour – whole wheat pastry flour has more fiber than all purpose so it will be a bit higher in carbs but lower on the glycemic index. Added dried fruit would increase carbs as well. Nuts have healthy fats and protein but also carbs so if you use them, that will increase the carb count too. Adding zucchini or carrots would decrease carbs slightly while adding nutrients and moisture!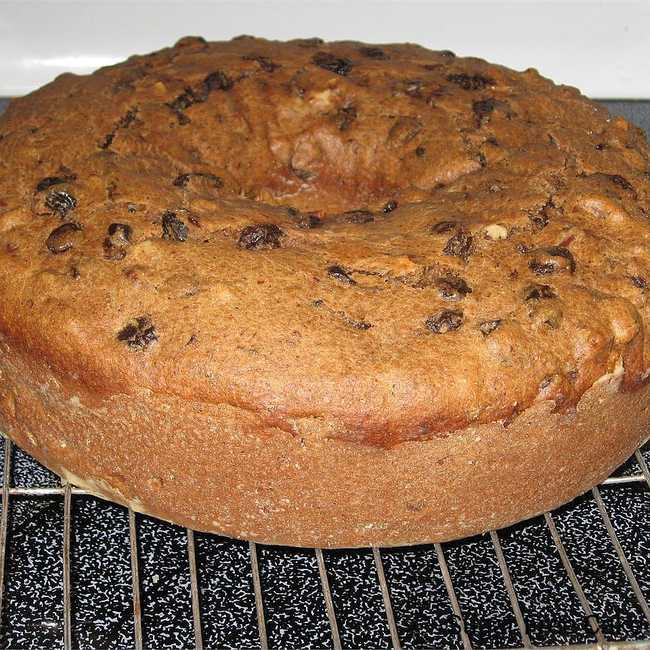 What cake mixes are sugar free?
There are a few different brands of sugar free cake mix on the market. Pillsbury and Duncan Hines both make sugar free cake mixes, as well as Keto and Co., Swerve, Generic, and ZenSweet. All of these brands use alternative sweeteners such as stevia or monk fruit extract to keep the calorie and sugar content low.
Pillsbury's sugar free cake mix is available in two flavors: devil's food and classic yellow. Each box contains enough mix for one 8-inch cake. The ingredients list for the devil's food flavor includes water, cocoa powder, maltodextrin, baking soda, gums (cellulose gum, xanthan gum), natural flavoring, salt, sodium caseinate (a milk protein), splenda granulated sweetener (sucralose), sucralose. The classic yellow flavor has a similar ingredient list with the addition of cornstarch and vanilla extract.
Duncan Hines' keto friendly classic yellow cake mix only contains 10 net carbs per serving. It is gluten free and made with zero sugar added. The ingredients include almond flour, coconut flour, baking powder (sodium acid pyrophosphate, sodium bicarbonate), salt ,monk fruit extract (erythritol).
Keto and Co.'s Cake Batter comes in two flavors: chocolate fudge brownie and golden butter poundcake. It only requires adding water to the mix before baking. The chocolate fudge brownie flavor has 5 net carbs per serving while the golden butter poundcake has 3 net carbs per serving.
Are sugar-free cakes OK for diabetics?
When it comes to desserts, people with diabetes have to be careful about what they eat. Too much sugar can cause spikes in blood sugar levels, which can be dangerous for diabetics. That's why many people opt for sugar-free cakes instead.
Sugar-free cakes are made with special ingredients that help to keep the blood sugar levels stable. Some of these ingredients include artificial sweeteners, natural sweeteners, and fiber. Artificial sweeteners such as sucralose and aspartame are safe for diabetics to consume because they don't cause spikes in blood sugar levels. Natural sweeteners like stevia and xylitol are also safe for diabetics, and they're actually good for you! Fiber is another ingredient that helps to stabilize blood sugar levels. It's found in foods like oats, beans, and fruits.
Does Pillsbury make a sugar free white cake mix?
Pillsbury does not make a sugar free white cake mix. However, there are other brands that do make sugar free white cake mixes. For example, Betty Crocker makes a sugar free white cake mix that is available on Amazon.
There are a few things to keep in mind when baking with a sugar free cake mix. First of all, you will need to use an alternative sweetener in place of the sugar. This can be something like stevia or xylitol. Secondly, you may need to adjust the amount of liquid called for in the recipe, as sugar free cakes tend to be more dense than those made with regular flour and sugar. Finally, it's important to watch your baking time carefully – sometimes sugar free cakes can take longer to bake through than traditional recipes.
Is sugar free cake good for diabetics?
A sugar free cake is a great dessert option for people with diabetes. Sugar substitutes can make a cake taste deliciously detectable with no added sugar. This means that people with diabetes can enjoy a delicious and sweet treat without having to worry about their blood sugar levels.
There are many different types of sugar substitutes available on the market, so it is important to choose one that is suitable for people with diabetes. Some sugar substitutes can cause spikes in blood sugar levels, so it is important to check with a doctor or dietitian before consuming them.
Overall, a sugar free cake is an excellent dessert option for people with diabetes. It allows them to enjoy a sweet treat without having to worry about their blood sugar levels.
Is sugar free cake mix OK for diabetics?
No, sugar free cake mix is not OK for diabetics. Foods made with sugar free sweeteners generally contain refined flours and little fiber, which are not great for diabetes. Plus, sweets of any kind tend to create the desire for more, which can be problematic for people trying to manage their blood sugar levels.