Roasted Tomatillo Salsa With A Kick!
I've been a fan of Mexican food for as long as I can remember, and one of my favorite recipes is for spicy roasted tomatillo salsa. This salsa has an amazing blend of flavors that always leaves me wanting more. The combination of roasted tomatillos, jalapeno peppers, and cilantro creates a unique, zesty taste that pairs perfectly with chips, tacos, and burritos. Plus, it's incredibly easy to make and comes together in just minutes! So if you're looking for a delicious and flavorful salsa, give this spicy roasted tomatillo salsa a try.
Spicy Roasted Tomatillo Salsa Recipe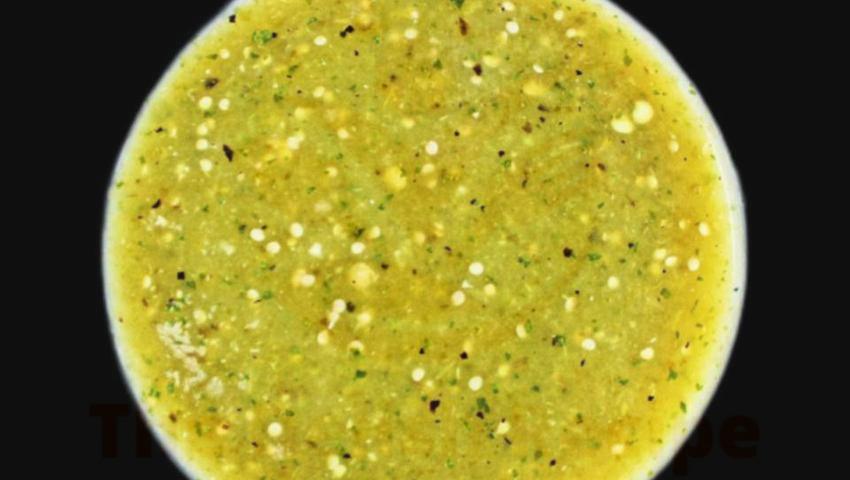 Ingredients
1. 8 fresh tomatillos, husks removed
2. ½ medium yellow onion, quartered
3. 1 jalapeno pepper
4. 1 serrano pepper (Optional)
5. 3 cloves garlic, unpeeled
6. ½ cup cilantro leaves
7. 1 lime, juiced
8. 1 tablespoon kosher salt
9. ½ tablespoon freshly ground black pepper
10. 1 cup water
11. Cooking spray
Instructions
Preheat oven to 400 degrees F.
Remove the husks from the tomatillos and place them in a large bowl.
Quarter the onion and add it to the bowl with the tomatillos.
Cut the jalapeno and serrano peppers into small pieces, and add them to the bowl.
Place the unpeeled garlic cloves in the bowl.
Add the cilantro leaves to the bowl.
Squeeze the juice of one lime into the bowl and stir the ingredients together.
Add the salt and pepper, and stir to combine.
Spray a baking sheet with cooking spray.
Spread the tomatillo mixture on the baking sheet and roast in the oven for 20 minutes.
After 20 minutes, remove the baking sheet from the oven and transfer the roasted tomatillo mixture to a blender.
Add 1 cup of water to the blender and blend the mixture until it is smooth.
Taste and adjust the seasoning if needed.
Transfer the salsa to a serving bowl and enjoy.
Nutrition Facts
Serving size: 1/4 cup
Calories: 25
Fat: 0g
Carbohydrates: 6g
Sugar: 2g
Protein: 1g
Sodium: 10mg
How can spicy roasted tomatillo salsa be used to elevate dishes?
Spicy roasted tomatillo salsa can be used to elevate dishes in a variety of ways. It adds a unique layer of flavor and spice to anything it is added to, while keeping the dish light and refreshing. This salsa can be used as a topping or marinade, either on its own or mixed with additional ingredients like garlic, cilantro, and peppers. It can also be used to create flavorful sauces or soups, or even used to create a delicious dip for chips. Additionally, it can be used as a cooking liquid in tacos and other Mexican dishes for an extra kick of flavor. No matter how it is used, spicy roasted tomatillo salsa is sure to add a delicious and unique flavor to any dish.
What are the health benefits of spicy roasted tomatillo salsa?
Spicy roasted tomatillo salsa has a variety of health benefits, including:
Boosting immune system: The capsaicin in chiles has antioxidant, antiviral, and antibacterial properties, which can help boost your immune system.
Improving digestion: Spicy roasted tomatillo salsa contains capsaicin which can help stimulate the digestive system, aiding in digestion and relieving digestive issues.
Lowering blood pressure: The capsaicin in the chiles helps reduce blood pressure by improving the body's ability to regulate cholesterol and triglyceride levels.
Reducing inflammation: The antioxidants found in tomatillos and chiles are known to reduce inflammation in the body, helping to ease joint pain and other ailments.
Increasing metabolism: The capsaicin in spicy roasted tomatillo salsa also helps to boost metabolism and burn more calories.
How does the flavor of spicy roasted tomatillo salsa compare to other types of salsa?
Spicy roasted tomatillo salsa has a unique flavor compared to other types of salsa. It has a smoky flavor from the roasted tomatillos, as well as a spiciness from the peppers and other spices.
Tomatillo salsa has a tart and tangy flavor, which is balanced out by the smoky taste of the roasted tomatillos. The spiciness of the salsa varies depending on the type of peppers used and how much heat is added.
Compared to other types of salsa, spicy roasted tomatillo salsa has a richer flavor. The roasted tomatillos provide an intense flavor, while the peppers and spices add a bit of heat.
The flavor of spicy roasted tomatillo salsa is more complex and deeper than other types of salsa, such as pico de gallo or salsa verde. The smoky and spicy flavors are an excellent combination that adds depth and complexity to the salsa.
What tips and techniques should be used to make the perfect spicy roasted tomatillo salsa?
Start with fresh tomatillos – the fresher they are, the better the salsa will taste. Keep in mind that tomatillos should be firm and bright green in color.
Roast the tomatillos in a hot skillet until they are charred and soft.
Add some heat by adding jalapenos, poblanos, or habaneros.
Include some sweetness by adding onions and garlic.
Balance the flavors by adding cilantro and lime juice.
Use a blender to puree the mixture until it reaches the desired consistency.
Taste and adjust the seasoning with salt and pepper.
What are the key ingredients and flavors that make up spicy roasted tomatillo salsa?
Spicy roasted tomatillo salsa is an incredibly flavorful condiment that can be used to spice up all kinds of dishes. The key ingredients and flavors that make up this salsa are tomatillos, garlic, jalapenos, cilantro, onions, and lime juice.
Tomatillos are a small green fruit with a tart, acidic flavor. When roasted, they develop a smoky, sweet flavor that is the base of the salsa. Tomatillos are the main ingredient in many Mexican dishes and can be found in almost any grocery store.
Garlic adds a hint of spice and sweetness to the salsa. The garlic is usually roasted along with the tomatillos, but you can also add raw minced garlic for a sharper flavor.
Jalapenos add a nice kick of heat to the salsa. They can be added fresh, canned, or jarred depending on the level of spice you prefer.
Cilantro adds a vibrant and fresh flavor to the salsa. It also helps to cut through the tartness of the tomatillos and the heat of the jalapenos.
Onions add a touch of sweetness and crunch to the salsa. Red onions are usually preferred, but you can also use white onions if you prefer.
Lastly, lime juice adds a bright, citrusy flavor to balance out the other flavors in the salsa. Lime juice is an essential ingredient in many Mexican dishes and it really brings out the flavor of the other ingredients in the salsa.
Together, these ingredients and flavors create a delicious and spicy roasted tomatillo salsa that can be used on tacos, burritos, eggs, and more.