Delicious Spiced Plum Upside-Down Cake Recipe
I have been baking cakes for years, but the Spiced Plum Upside-Down Cake is one of my all-time favorites. As soon as I took my first bite of this moist, flavorful cake, I knew it was going to be a regular in my baking rotation. The combination of the sweet, spiced plums and the buttery, cinnamon-spiced cake is like nothing I've ever tasted before. If you're looking for an easy, yet impressive dessert, this cake is definitely it!
Spiced Plum Upside-Down Cake Recipe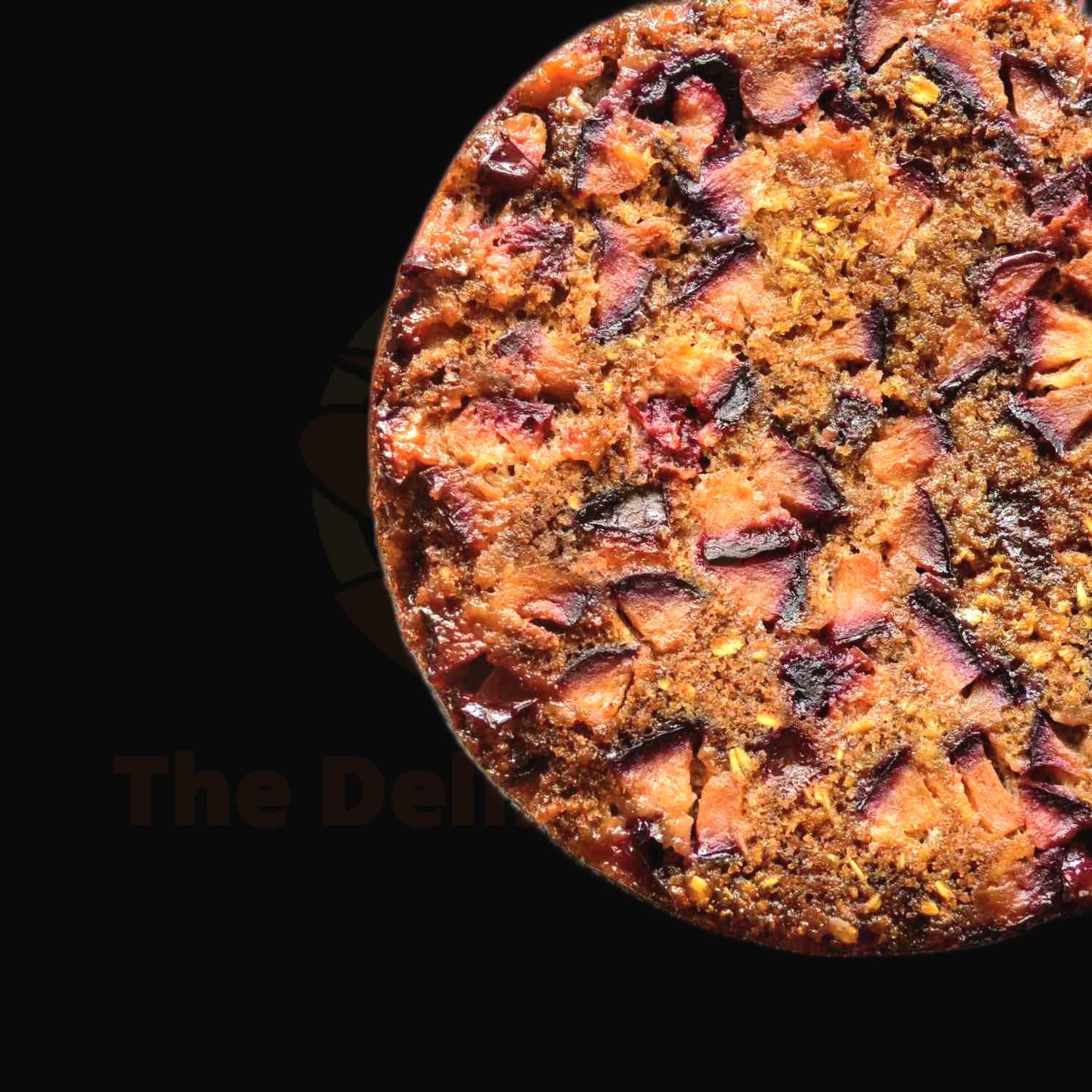 Ingredients
2 tablespoons unsalted butter, plus more for greasing the pan
1/2 cup light brown sugar, packed
2 plums, pitted and cut into 8 wedges each
1 cup all-purpose flour
1 teaspoon baking powder
1/2 teaspoon ground cinnamon
1/4 teaspoon ground nutmeg
1/4 teaspoon baking soda
1/2 teaspoon kosher salt
3/4 cup granulated sugar
1/2 cup vegetable oil
2 large eggs
1 teaspoon pure vanilla extract
1/2 cup buttermilk
Powdered sugar, for dusting (optional)
Instructions
Let's make some Spiced Plum Upside-Down Cake!
First, preheat your oven to 350°F. Grease a 9-inch circular baking pan with butter and set aside.
In a small bowl, combine 2 tablespoons of butter and the light brown sugar and stir until evenly combined. Spread the mixture in the bottom of the prepared pan. Arrange 8 plum wedges in a circular pattern on top.
In a separate bowl, sift together the flour, baking powder, cinnamon, nutmeg, baking soda and salt.
In a third bowl, combine the granulated sugar, vegetable oil, eggs, vanilla extract, and buttermilk and mix until everything is well combined.
Slowly add the dry ingredients to the wet ingredients, stirring as you go.
Pour the cake batter over the plums in the baking pan and spread it out with a spatula.
Bake the cake for 60 minutes, or until a toothpick inserted in the center comes out clean.
Let the cake cool in the pan before inverting it onto a serving plate.
Dust the top of the cake with powdered sugar, if desired.
Your Spiced Plum Upside-Down Cake is now ready to enjoy! Total preparation time is 35 minutes, with an additional 25 minutes of cooking time.
Nutrition Facts
Calories: 442 kcal
Carbohydrates: 58 g
Protein: 6 g
Fat: 21 g
Saturated Fat: 8 g
Cholesterol: 79 mg
Sodium: 221 mg
Potassium: 168 mg
Fiber: 2 g
Sugar: 33 g
Vitamin A: 612 IU
Vitamin C: 5 mg
Calcium: 77 mg
Iron: 2 mg
What kind of flavors make this cake especially delightful?
This Spiced Plum Upside-Down Cake is heavenly! The combination of sweet plums, cinnamon, nutmeg, and brown sugar creates a delightful flavor experience. The plums add a natural sweetness while the spices give the cake a warm and cozy feel. The brown sugar and butter create a caramel-like glaze that adds a unique layer of flavor.
How can one achieve a beautiful, golden crust on the top?
Achieving a beautiful, golden crust on the top of your Spiced Plum Upside-Down Cake is easier than you might think! All you need are a few helpful tips and you'll be on your way to creating a stunning showstopper. Here are some tips for achieving the perfect golden crust on your Spiced Plum Upside-Down Cake:
Preheat your oven to the desired temperature for the recipe before you begin. This will ensure your cake is cooked evenly and the top gets a golden hue.
Make sure to evenly spread the batter and topping over the entire cake pan. This will help the cake cook evenly and avoid any burnt spots.
Watch the cake closely during the baking process and adjust the temperature if necessary. If you notice the top of the cake is baking too quickly and getting too dark, reduce the temperature slightly.
Allow the cake to cool completely before serving. This will help the crust to firm up and give it a golden glow.
What tips and tricks can be used to make sure the cake doesn't stick to the pan?
Baking a delicious Spiced Plum Upside-Down Cake doesn't have to be a hassle! Here are some tips and tricks to make sure your cake doesn't stick to the pan:
Grease and flour the pan: Before adding the cake batter to the pan, make sure to grease and flour the pan to ensure the cake won't stick.
Use parchment paper: Cut a round of parchment paper and place it on the bottom of the pan before adding the cake batter. This is an easy way to ensure that the cake won't stick.
Use a non-stick pan: Using a non-stick pan is a fool-proof way to make sure the cake won't stick. If possible, use a light-colored non-stick pan to avoid over-browning of the cake.
Cool it off: After baking, let the cake cool off in the pan for a few minutes before flipping it over. This will give the cake enough time to set and will help it slide out of the pan more easily.
What unique ingredients make this cake stand out?
This Spiced Plum Upside-Down Cake is delicious and unique thanks to its special blend of flavors. The moist and fluffy cake is made using a combination of ground cardamom and cinnamon to give it a deliciously fragrant aroma. The topping is made with juicy plums which are cooked in a mixture of brown sugar and butter, giving it a sweet and caramelized taste. The combination of the spices, the juicy plums, and the sweet nutty topping creates a delicious balance of flavors that will leave your taste buds in bliss.
What types of occasions is this cake best suited for?
This Spiced Plum Upside-Down Cake is the perfect treat for a variety of occasions! From summer barbecues to holiday gatherings, this cake is sure to be a hit with everyone. With its delicious spiced plum base and fluffy vanilla cake topping, it's an indulgent, yet simple dessert that's sure to be the highlight of any event.
It's perfect for a special family dinner. The sweet and savory flavor combination is sure to please all your guests. And since it's an upside-down cake, it looks as good as it tastes. Plus, the presentation of the spiced plums on the top of the cake will definitely make a statement at the dinner table.
This cake is also great for a summer BBQ. The spiced plums add a unique twist to the classic summer dessert. Everyone will love the flavor, and you won't have to spend all day in the kitchen making it—it's a quick and easy recipe that's sure to be a hit.
Finally, it's an ideal dessert for the holidays. With its festive flavor combination, it's sure to be a standout on the dessert table. And the presentation makes it look like you put a lot of effort into making it, even though it's a simple recipe.
No matter what the occasion, this Spiced Plum Upside-Down Cake is sure to be a crowd-pleaser. It looks as good as it tastes, and it's sure to be a hit at any event.
What types of substitutes can be used if not all the ingredients are available?
If you're missing a few ingredients for your spiced plum upside-down cake, don't worry! There are plenty of substitutes that can help you create a delicious treat. You can substitute the plums with other fruits like apples, peaches, or pears. If you don't have enough fresh fruit, you can also use canned fruit instead. For the spices, you can use allspice or cinnamon in place of the nutmeg. If you don't have any brown sugar, you can use regular white sugar, or even honey or maple syrup. And finally, for the butter, you can use a plant-based alternative like coconut oil or vegan butter.