This Soccer Ball Cake is the perfect dessert for any soccer fan! It is a simple vanilla cake, decorated to look like a soccer ball. It is sure to be a hit at any party or gathering!
Ingredients
1 (18.25 ounce) package yellow cake mix
1 (16 ounce) container vanilla frosting
12 black licorice whips
¾ cup white sugar
2 tablespoons all-purpose flour
2 teaspoons baking powder
1 teaspoon salt
1 cup butter, softened
4 eggs
Instructions
1. Preheat oven to 350 degrees F (175 degrees C). Grease and flour one 2 1/2 to 3-quart ovenproof bowl.
2. Place sugar in a bowl and stir in black food color until desired color is achieved. Set aside.
3. Prepare cake batter according to package directions. Pour batter into the prepared bowl and bake until a skewer inserted in the center comes out clean, about 1 hour and 15 minutes. Let cake cool for 15 minutes in the bowl then inverto let cake cool completely on wire rack..
4 Once cake is completely cool, trim flat side of cake and place on a cake board or serving plate.. Trim edges into a ball shape by using curved knife or serrated knife following natural curve of pan; frost with white frosting5 Next, using a toothpick, draw pentagon top of center of cake; around pentagon, draw 5 hexagons equally spaced apart.. With licorice whips cutinto 1 1/2 inch pieces, outline each shape; fill spaces with sugar colored black
Nutrition Facts
Serving size: 1/12 of a recipe (4.9 ounces).
Calories: 458
Fat: 17 grams
Saturated Fat: 8.3 grams
Unsaturated Fat: 0 grams
Trans Fat: 0 grams
Cholesterol: 82 milligrams
Sodium: 443 milligrams
Carbohydrates: 68.5 grams
Fiber0.7 gram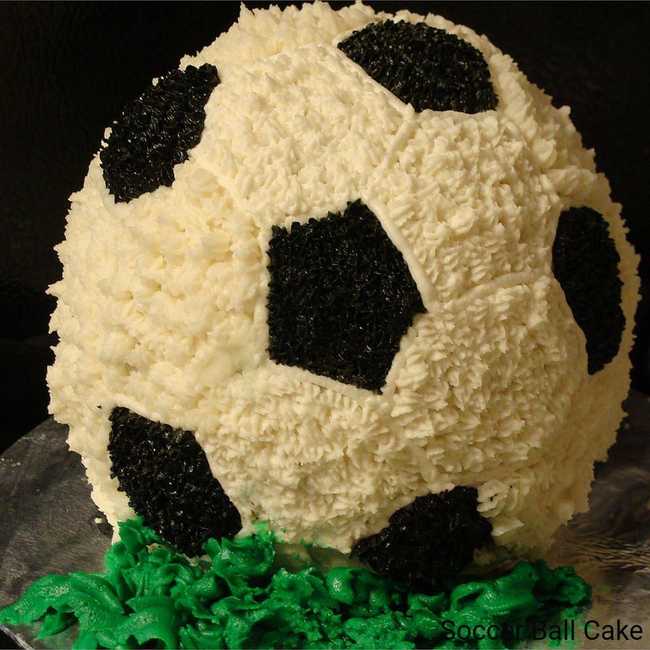 How do you make a ball shaped cake?
A ball shaped cake is made by baking a round or spherical cake and then cutting it into two hemispheres. The halves are then placed on top of each other, with the cut side facing up, to form a ball shape.
There are several ways to bake a round or spherical cake. One method is to use a special pan that is designed in the shape of a sphere or half-sphere. Another method is to bake the cake in a regular round pan and then cut it into two equal rounds using a serrated knife. Once the cakes are cooled, they can be stacked on top of each other and held together with frosting, toothpicks, or dowels inserted through the center of the cake layers.
To decorate a ball shaped cake, you can cover it with fondant or buttercream frosting and then add decorations such as piped designs, edible flowers, or sprinkles. You can also carve designs into the surface of the cake using a sharp knife before adding your chosen decoration.
How do you cut a round cake into a football?
To cut a round cake into a football shape, first slice an inch strip out of the center of the cooled cake. Remove the strip of cake and place the two semi-circles together to form the oval/ellipse/football shape.
How do you make a round ball cake?
When it comes to baking, there are all sorts of different shapes and sizes that you can make your cakes. Round cakes are definitely one of the most popular choices and they can be made in a variety of ways. So, how do you make a round ball cake?
One of the simplest ways to make a round cake is to use a hemisphere pan. This type of pan is half spherical in shape and results in a perfect half-circle when inverted onto a plate. To use this method, simply bake your cake according to the recipe instructions using the appropriate size pan. Once baked, let the cake cool completely before inverting it onto a plate or platter. For an added touch, you can decorate the edges with frosting, sprinkles, or anything else you like!
Another way to make a round cake is by using two regular circular pans. Simply bake your cake according to recipe instructions using two 8-inch or 9-inch pans. Once baked, let the cakes cool completely before removing them from their pans. Place one cooled cake upside down on top of the other cooled cake so that the flat sides are facing up. Use frosting or another adhesive to attach the two halves together then decorate as desired!
So there you have it – two easy ways to make a round ball cake! Whether you're looking for simplicity or want something that's slightly more challenging, either method will give you great results that everyone is sure to love.
How can I decorate my cake like a football?
Looking to show your team spirit with a cake that looks like a football? Here are some easy tips to get you started!
First, you'll need a round cake. You can use any flavor or recipe you like – chocolate, vanilla, marble – it's up to you. Once your cake is baked and cooled, level off the top so it's nice and flat.
Next, using a serrated knife, gently score the top of the cake in a criss-cross pattern, being careful not to cut too deeply. This will give you guidelines for later when you're adding the frosting.
Now it's time to start decorating! Begin by spreading on a layer of green frosting over the entire surface of the cake. You can use store-bought icing or make your own – whichever is easier for you. Then, using a piping bag or zip-top bag with one corner snipped off, pipe white lines over the green frosting in the shape of football stitches. Finally, sprinkle on some edible glitter or confetti for extra sparkle.
How do you make edible soccer balls?
Looking to impress your friends and family with a unique and delicious treat? Why not make edible soccer balls! This fun and easy recipe is sure to be a hit with everyone.
Ingredients: 1 package of Oreos 1 package of white chocolate melts 1 tube of black icing Instructions:
1. Start by crushing the Oreos into fine crumbs using a food processor or blender. If you don't have either of these, you can place the cookies in a zip-top bag and use a rolling pin to crush them. 2. Melt the white chocolate in a microwave-safe bowl or double boiler. If using the microwave, heat in 30 second intervals, stirring between each interval until completely melted. 3. Add the Oreo crumbs to the melted chocolate and mix until well combined. 4.