Mouthwatering Shrimp Tacos – A Delicious Fiesta Of Flavor!
I've been making these delicious Shrimp Tacos for years now and they're always a hit! Crispy, zesty, and bursting with flavor, these tacos are sure to have everyone coming back for more. I love to serve them with a side of homemade guacamole and a spicy salsa, making them the perfect meal for any occasion. Plus, they're so easy to make, you don't have to be a master chef to enjoy them! So, let's get cooking!
Shrimp Tacos Recipe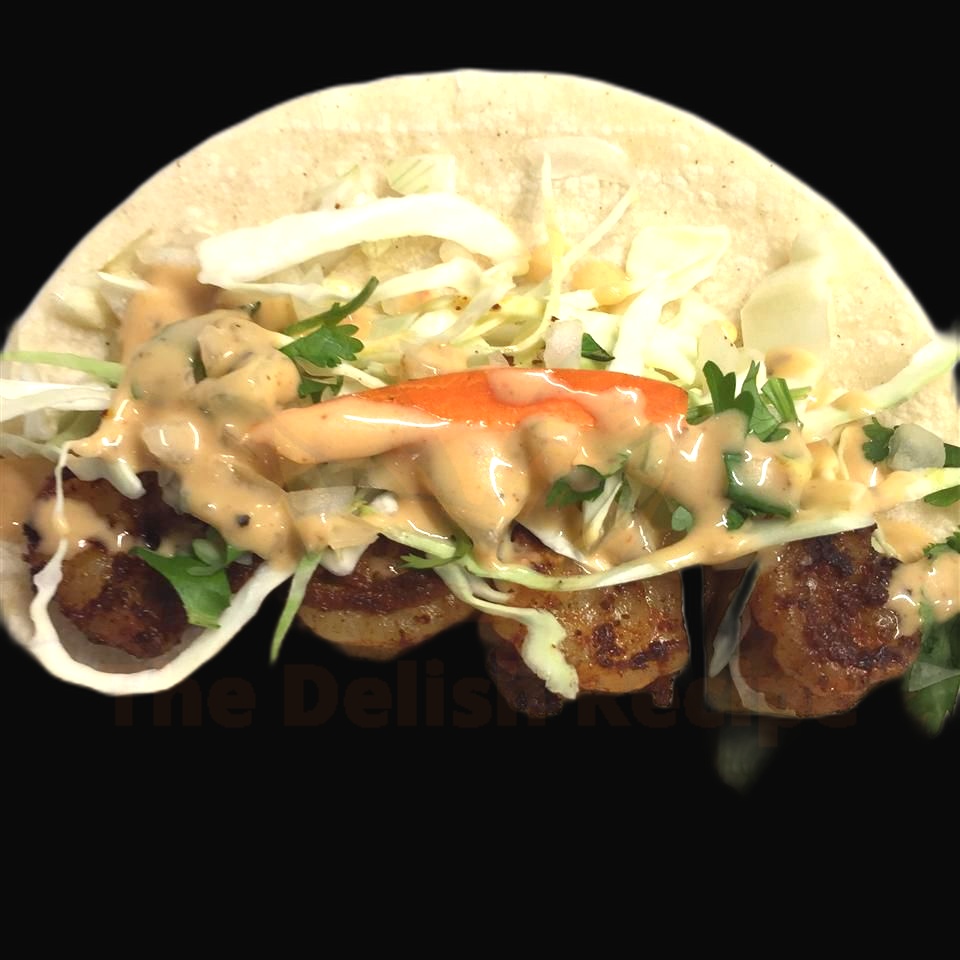 Ingredients
1 lb. shrimp, peeled, deveined and cut into 1 inch pieces
3 tablespoons olive oil
1/4 teaspoon ground cumin
1/4 teaspoon garlic powder
3/4 teaspoon chili powder
1/2 teaspoon smoked paprika
1/2 teaspoon sea salt
Juice of 1 lime
3 small flour tortillas
1/4 cup chopped cilantro
1/4 cup diced red onion
1/2 cup diced tomato
1/4 cup sour cream
1/4 cup guacamole
Instructions
Preheat your oven to 375 degrees F.
In a medium bowl, toss together the shrimp, olive oil, cumin, garlic powder, chili powder, smoked paprika and sea salt.
Spread the shrimp on a baking sheet and cook in the preheated oven for 15-20 minutes, or until the shrimp is cooked through.
While the shrimp is cooking, prepare the tortillas. Heat the tortillas in a skillet over medium-high heat for 1-2 minutes, flipping once, until lightly browned.
Once the shrimp is cooked, assemble the tacos. Place the shrimp in the center of each tortilla, top with cilantro, red onion, tomato, sour cream, and guacamole. Squeeze the lime juice over the tacos.
Serve the tacos warm and enjoy!
Nutrition Facts
Calories: 350
Total Fat: 16g
Saturated Fat: 4g
Cholesterol: 170mg
Sodium: 700mg
Total Carbohydrates: 21g
Dietary Fiber: 4g
Sugars: 5g
Protein: 24g
What makes shrimp tacos a unique and delicious dish?
Shrimp tacos are a unique and delicious dish because of their combination of crunchy, flavorful ingredients. The crunch of the shrimp, combined with the freshness of the lettuce and the tangy flavor of the salsa, provide a unique and tasty experience. The versatility of the dish also adds to its appeal, as it can easily be adapted to different ingredients and flavors. For those looking for a light and satisfying meal, shrimp tacos are a great option, as they are low in fat and high in protein. Additionally, the flavors of shrimp tacos are easy to customize to suit individual tastes, making them a great option for entertaining.
What are the benefits of eating shrimp tacos?
The Benefits of Eating Shrimp Tacos:
Shrimp tacos are a healthy and nutritious meal option. Shrimp is an excellent source of lean protein and contains essential vitamins and minerals.
Shrimp tacos are a great way to get in more seafood into your diet. Eating seafood has been linked to a host of health benefits, such as improved heart health and reduced inflammation.
Shrimp tacos are incredibly versatile and can be enjoyed in a variety of ways. You can customize them with different toppings, sauces, and fillings to suit your taste preferences.
They are easy to make and don't require a lot of time or effort. You can also make them ahead of time and enjoy them as a quick meal or snack.
Shrimp tacos are a great source of flavor. The combination of shrimp, spices, and other ingredients creates a delicious and satisfying meal.
What type of ingredients are required for shrimp tacos?
Shrimp tacos require a few simple ingredients that can be found in most grocery stores. These include shrimp, tortillas, and a variety of vegetables and condiments. Additionally, you may need some cooking oil, salt, and pepper.
When it comes to the shrimp, they should be peeled and deveined before cooking. You can find these already prepared in most stores, or you can do it yourself at home. To cook the shrimp, you can either pan fry or bake them. If pan frying, use a medium-hot pan and heat some oil in it before adding the shrimp. Cook for a few minutes until the shrimp turn pink and opaque.
For the tortillas, you can use either flour or corn tortillas. You can also opt for soft taco shells if desired. If using soft taco shells, make sure to pre-heat them in the oven before filling.
When it comes to the vegetables and condiments, you have a lot of freedom in terms of what you use. Some popular options include shredded lettuce, diced tomatoes, diced onions, cilantro, and lime wedges. You can also add cheese, sour cream, and guacamole.
Once all of the ingredients are prepared, it's time to assemble the tacos. Place some of the shrimp and vegetables on the tortilla, top with some condiments, and fold it up.
What are some creative ways to prepare shrimp tacos?
Shrimp tacos are a delicious, versatile meal that can be made with a variety of ingredients, giving them an enormous amount of potential for creative preparation. Here are some creative ways to prepare shrimp tacos that will make your next taco night a memorable one.
First, consider spicing up your tacos by using different types of shrimp. For example, using both Cajun-spiced and garlic-herb-spiced shrimp will add a unique flavor to your tacos. You can also experiment with different seasonings, like chili powder, paprika, and cumin, to enhance the flavor of the shrimp.
Second, think about adding some heat to your tacos by incorporating spicy ingredients. For instance, adding jalapeño slices or diced habanero peppers to your tacos will give them a nice kick. You can also experiment with different types of hot sauces, like Sriracha or Tabasco, to give your tacos a flavorful kick.
Third, consider adding some fresh vegetables to your tacos to add crunch and color to the dish. For example, diced tomatoes, onions, and peppers will add a nice crunch and vibrant color to your tacos. You can also experiment with other vegetables, like corn, black beans, and even zucchini.
Finally, don't forget to top off your tacos with something special. For instance, you can add a dollop of sour cream or guacamole to balance out the spice of your tacos. You can also experiment with different types of cheeses, like cheddar, Monterey jack, or pepper jack, for a cheesy topping.
Shrimp tacos can be a delicious and creative meal. By experimenting with different types of shrimp, spices, vegetables, and toppings, you can make your tacos truly unique.
What types of side dishes pair best with shrimp tacos?
Shrimp tacos are best accompanied by side dishes that can balance out the flavors of the tacos. This might include a light salad or slaw, fresh corn on the cob, roasted vegetables, or a rice dish.
For a light salad or slaw, consider adding ingredients such as cabbage, shredded carrots, and green onions. A light vinaigrette or yogurt-based dressing will help to balance the flavors of the tacos. Roasted vegetables such as bell peppers, zucchini, and mushrooms can add some crunch and color to the dish. Alternatively, try serving a side of fresh corn on the cob for a summery flavor.
For an added layer of flavor and texture, consider serving a rice dish. This could be a simple Mexican-style rice, a scoop of cilantro-lime quinoa, or a chunky black bean and corn salad. For a light and refreshing side, try a tomato, cucumber, and avocado salad with cilantro and a splash of lime juice.
No matter what side dish you choose, the key is to find something that can balance out the flavors of the tacos. With the right side dishes, shrimp tacos can make a delicious, complete meal.