Zesty Shrimp Remoulade – A Deliciously Refreshing Summer Dish!
If you're looking for an easy, delicious dish that is sure to impress, Shrimp Remoulade is the perfect option! I've been making this recipe for years and it never fails to please. The combination of crisp shrimp, crunchy vegetables, and creamy remoulade sauce is always a hit. Not to mention, this dish can be served hot or cold, so it's a great option for any occasion. Whether you're hosting a dinner party or just want to treat yourself to a delicious meal, Shrimp Remoulade is a surefire way to do it!
Shrimp Remoulade Recipe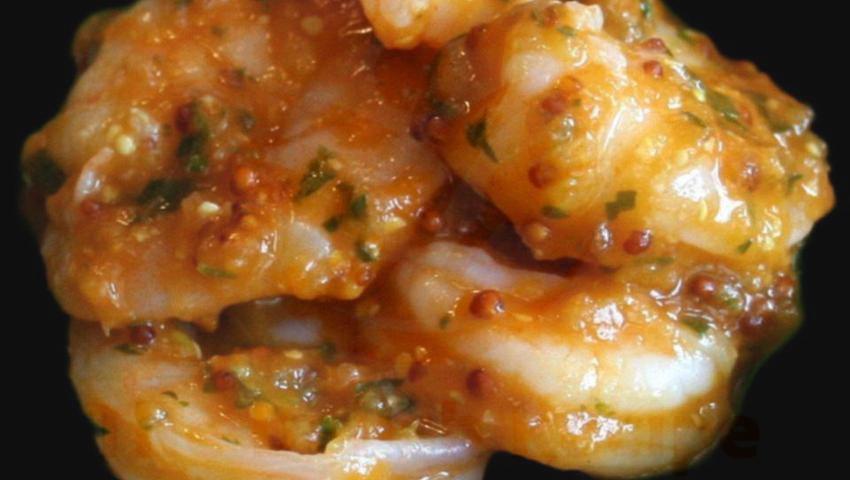 Ingredients
1 pound cooked shrimp, peeled and deveined
1/2 cup mayonnaise
2 tablespoons Dijon mustard
1 tablespoon freshly squeezed lemon juice
2 teaspoons prepared horseradish
1 teaspoon Worcestershire sauce
2 tablespoons chopped parsley
1 tablespoon chopped capers
1 tablespoon minced shallot
1/4 teaspoon cayenne pepper
1/4 teaspoon ground black pepper
1/4 teaspoon garlic powder
2 tablespoons white wine vinegar
Salt, to taste
Instructions
Begin by preparing the remoulade. In a medium-sized bowl, combine the mayonnaise, Dijon mustard, lemon juice, horseradish, Worcestershire sauce, chopped parsley, capers, minced shallot, cayenne pepper, black pepper, garlic powder, and white wine vinegar. Mix all the ingredients together until well combined. Season with salt to taste.
Peel and devein the cooked shrimp.
Place the shrimp in a bowl and pour the prepared remoulade over the shrimp. Mix the shrimp and remoulade together until the shrimp is evenly coated.
Place the shrimp on a platter and serve. Enjoy!
Nutrition Facts
Calories: 451
Total Fat: 39g
Saturated Fat: 5g
Cholesterol: 155mg
Sodium: 621mg
Carbohydrates: 6g
Fiber: 0g
Sugars: 2g
Protein: 20g
What is the origin of shrimp remoulade?
The origin of shrimp remoulade is a classic French dish. It is believed to have originated in the 19th century in New Orleans and is a Creole dish. It is typically composed of cooked shrimp, a creamy mayonnaise-based dressing, and various herbs and spices.
Shrimp remoulade is found on many restaurant menus in the Southern United States, particularly in Louisiana. It is often served as an appetizer or as a side dish. It is also popular in other parts of the country and can often be found on menus at seafood restaurants.
The dish is usually served cold, but it can also be served warm. It is usually served with French bread or with a salad. The creamy and tangy mayonnaise dressing complements the tender shrimp and gives the dish a unique flavor.
The traditional ingredients for shrimp remoulade include mayonnaise, mustard, lemon juice, garlic, capers, paprika, celery seed, Worcestershire sauce, parsley, and hot sauce. However, cooks often add their own unique ingredients to create their own unique versions of the dish.
While shrimp remoulade is a classic French dish, it has been adapted to the Southern United States, becoming a popular dish in the region. It is a flavorful and unique dish that is sure to please any seafood lover.
What are the benefits of eating shrimp remoulade?
The benefits of eating shrimp remoulade include:
A delicious, seafood-based entrée that is easy to make.
A low-calorie, high-protein meal that is packed with flavor.
A variety of vitamins and minerals, including selenium, magnesium, and phosphorus.
Healthy fats from the mayonnaise, which can help with energy production and metabolism.
An abundance of omega-3 fatty acids, which are essential for brain, heart, and eye health.
A versatile dish that can be served with a variety of side dishes.
What tips should cooks keep in mind when preparing shrimp remoulade?
Start by selecting the best quality shrimp you can find. If possible, buy them fresh, not frozen.
Before cooking the shrimp, marinade them in a mixture of olive oil, lemon juice, garlic and herbs for several hours.
Peel and devein the shrimp before cooking.
When ready to cook, fry or sauté the shrimp in butter or olive oil, until they turn pink and are cooked through.
For the remoulade sauce, blend together mayonnaise, mustard, capers, garlic and herbs.
Serve the shrimp with the remoulade sauce and a side of freshly cooked vegetables.
What are the key ingredients used in shrimp remoulade?
Shrimp remoulade is a popular seafood dish, traditionally served cold and made with a creamy dressing. The key ingredients used in shrimp remoulade are mayonnaise, Dijon mustard, creole mustard, horseradish, Worcestershire sauce, lemon juice, garlic, and capers. These ingredients are often combined with other seasonings to create a flavorful dressing for the shrimp.
Mayonnaise serves as the base for the dressing, providing creaminess and body to the remoulade. Dijon and creole mustards provide a pungent and acidic flavor. Horseradish adds a spicy kick, while Worcestershire sauce adds a savory depth. Lemon juice adds tartness and brightens up the flavor. Garlic adds a pungent aroma and flavor, and capers add texture and a salty brininess.
These ingredients are typically combined with some type of oil, such as olive or canola oil, to create a creamy dressing. Some recipes may also call for other seasonings, such as cayenne pepper, paprika, or herbs, to give the remoulade its unique flavor. The dressing is then poured over cooked shrimp and served cold.
Shrimp remoulade is a delicious and easy-to-make seafood dish. The ingredients used in this dish create a flavorful and creamy dressing that pairs perfectly with shrimp. With a few simple ingredients, you can make this classic seafood dish in no time.
What are some creative ways to serve shrimp remoulade?
When it comes to serving up shrimp remoulade, there are plenty of creative options to choose from. Whether you are having a casual get-together or a formal dinner, here are some creative ways to serve shrimp remoulade that will delight your guests:
As an appetizer: Serve small portions of shrimp remoulade on a bed of greens or endive leaves for a light and flavorful appetizer.
As a salad: Combine shrimp remoulade with crisp, colorful vegetables and a light dressing for a delicious and nutritious main course salad.
As a sandwich: Place a generous spoonful of shrimp remoulade on a toasted bun and top with lettuce, tomato, and other favorite toppings for a delicious sandwich.
As a wrap: Layer shrimp remoulade and other favorite ingredients onto a soft tortilla for a delicious, easy-to-eat wrap.
As a dip: Enjoy shrimp remoulade as an appetizer dip with crackers, chips, or fresh vegetables.
No matter how you decide to serve shrimp remoulade, it's sure to be a crowd pleaser. Enjoy experimenting with different ingredients and flavors to find the perfect combination for your next event.