Crimson Fiesta: Salsa Roja Chicken
I'm a big fan of Mexican food and I'm always looking for new recipes to try. Recently, I discovered my new favorite dish: Salsa Roja Chicken! This dish is so flavorful and really packs a delicious punch. It's a perfect combination of spicy and savory, and it's sure to become a favorite in your house. The best part is that it's incredibly easy to make. Trust me – you won't regret trying this recipe!
Salsa Roja Chicken Recipe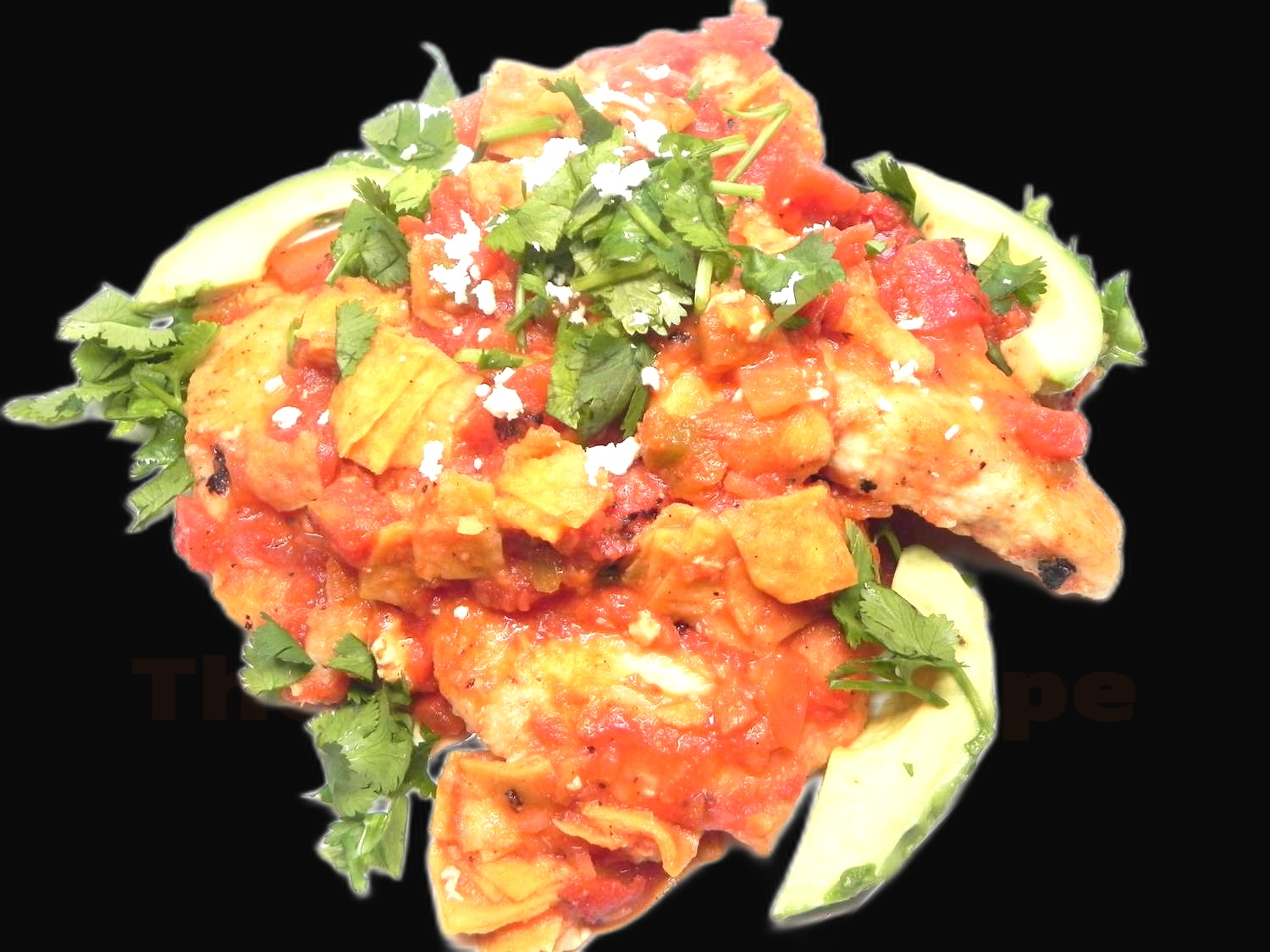 Ingredients
3 boneless, skinless chicken breasts
1 can (10 ounces) diced tomatoes with green chilies
1 tablespoon olive oil
1 teaspoon garlic powder
1 teaspoon chili powder
1 teaspoon cumin
1 teaspoon paprika
1/2 teaspoon oregano
1/4 teaspoon salt
1/4 teaspoon ground black pepper
1/4 cup salsa roja
Instructions
Preheat oven to 375°F.
In a medium bowl, mix together garlic powder, chili powder, cumin, paprika, oregano, salt, and black pepper.
Rub the chicken breasts with the olive oil.
Sprinkle the spice mixture over the chicken breasts.
Place the chicken breasts in a baking dish and bake in the preheated oven for 25 minutes.
Remove the chicken from the oven and top each breast with a spoonful of salsa roja.
Return to the oven and bake for an additional 5 minutes.
Serve the chicken with the diced tomatoes with green chilies. Enjoy!
Nutrition Facts
Calories: 250
Fat: 9g
Carbohydrates: 8g
Protein: 32g
Sugar: 2g
Sodium: 420mg
What is salsa roja chicken and where does it come from?
Salsa Roja Chicken is a popular Mexican dish made from chicken cooked in a spicy red sauce. The main ingredients in the sauce are tomatoes, garlic, onions, and chiles, giving it a rich and flavorful taste. The dish originated in Mexico and is now enjoyed around the world, often served with tacos, burritos, or enchiladas.
What are the key ingredients of salsa roja chicken?
The key ingredients of Salsa Roja Chicken include tomatoes, onions, garlic, jalapeños, cilantro, lime juice, and salt. This traditional Mexican dish is a savory blend of flavors that is sure to satisfy any appetite.
Tomatoes are a key ingredient in Salsa Roja Chicken as they provide a base for the sauce. The tomatoes can be fresh or canned, depending on the desired flavor. Onions and garlic are added for a hint of sweetness, while jalapeños provide a bit of heat. Cilantro gives the dish a bright, fresh flavor, while lime juice adds a tangy note. A pinch of salt ties all the flavors together.
To make Salsa Roja Chicken, start by sautéing the tomatoes, onions, and garlic in oil until they are lightly browned. Then add the jalapeños, cilantro, and lime juice and simmer for a few minutes. Finally, season with salt and let it cool before serving. The dish can be served with tortillas, rice, or simply over its own.
Salsa Roja Chicken is an easy dish to make and a great way to add a little bit of Mexican flavor to any meal. The combination of the key ingredients creates a delicious dish that is sure to please.
What benefits can be gained from eating salsa roja chicken?
Eating Salsa Roja Chicken can provide a range of health benefits.
It is a good source of lean protein, providing around 18g per 3 ounce cooked serving. This helps to support muscle growth and development, as well as maintain a healthy weight.
The chicken is also packed with essential vitamins and minerals, including B vitamins, phosphorus, zinc, and selenium. These are important for a range of bodily functions, such as providing energy, supporting the immune system and aiding in metabolism.
As well as providing a range of vitamins and minerals, Salsa Roja Chicken is low in saturated fat and cholesterol, making it a healthier choice for those looking to manage their heart health.
The dish is also a great source of dietary fiber, which helps to keep the digestive system healthy by promoting regular bowel movements.
Finally, eating Salsa Roja Chicken can provide anti-inflammatory benefits due to the presence of capsaicin, a compound found in peppers. This can help reduce inflammation and pain, as well as lower the risk of certain chronic diseases.
What are the best tips for making salsa roja chicken at home?
The Best Tips for Making Salsa Roja Chicken at Home:
Start with a quality, flavorful chicken. Opt for chicken thighs for the best results and flavor.
Marinate the chicken in a mixture of olive oil, lime juice, garlic, chili powder, oregano, cumin, and salt for at least two hours.
Sear the chicken in a skillet over medium-high heat.
To make the salsa roja, combine fire-roasted tomatoes, onions, garlic, jalapeños, and fresh cilantro in a food processor or blender.
Add the salsa roja to the skillet and simmer for 10-15 minutes until the chicken is cooked through.
Serve the salsa roja chicken with warm flour or corn tortillas, fresh cilantro, and lime wedges.
How is salsa roja chicken different than other mexican dishes?
Salsa Roja Chicken is different from other Mexican dishes in that it is a mix of several ingredients that create a unique and complex flavor. The base of the dish is a red salsa made from dried chilies and a variety of spices, which gives it a deep, smoky flavor. In addition to the salsa, this dish also includes chicken, vegetables, and cheese, all cooked together in a single skillet. The combination of these ingredients creates a hearty dish that is both spicy and flavorful. The end result is a dish that is full of vibrant, spicy flavors that are sure to tantalize the taste buds.
What are some ideas for serving salsa roja chicken?
Salsa Roja Chicken is a flavorful and delicious dish that can easily be served in a variety of ways. Here are some ideas for serving Salsa Roja Chicken:
Serve it as a main dish: Salsa Roja Chicken can be served as the main entree. It pairs well with rice, tortillas, and a variety of vegetables.
Use it as a filling for tacos or burritos: The flavorful Salsa Roja Chicken can be used as a filling for tacos or burritos. It can also be used as a topping for nachos or quesadillas.
Make a Salsa Roja Chicken salad: Chop up some Salsa Roja Chicken and add it to a bed of lettuce, tomatoes, and other vegetables. Top it off with a tangy vinaigrette.
Serve it as an appetizer: Cut up the chicken and serve it on small skewers as an appetizer.
Make a Salsa Roja Chicken sandwich: Slice up some of the chicken and place it on a bun with lettuce, tomatoes, and other vegetables.
Use it as a topping for pizza: Add some Salsa Roja Chicken to your favorite pizza for a flavorful twist.
These are just a few ideas for serving Salsa Roja Chicken. Experiment with different recipes and ingredients to find a dish that you and your family will enjoy.