This rhubarb cherry pie is the perfect summer dessert! The tartness of the rhubarb pairs perfectly with the sweetness of the cherries, and the flaky pie crust is irresistible. This recipe is easy to follow and yields a delicious pie that will be sure to impress your guests.
Ingredients
2 cups chopped rhubarb, 1 (21 ounce) can cherry pie filling, 3/4 cup white sugar, 2 tablespoons cornstarch, 1 recipe Pastry for double-crust pie (9 inches), 1 tablespoon butter
Instructions
1) Preheat oven to 400 degrees Fahrenheit.
2) In a large bowl, mix together chopped rhubarb, cherry pie filling, sugar and cornstarch. Let stand for 15 minutes.
3) Pour mixture into an unbaked 9-inch pie crust.
4) Dot with butter then cover with another layer of pie crust. Crimp or flute edges as desired.
5) Brush top of pie lightly with milk then sprinkle with sugar.
6) Bake in preheated oven for 40 to 45 minutes or until golden brown and bubbly.
Nutrition Facts
Calories: 171
Fat: 5 g
Saturated fat: 2 g
Unsaturated fat: 3 g
Carbohydrates: 32 g
Sugar: 17 g
Fiber: 1.5 g
Protein: 2.4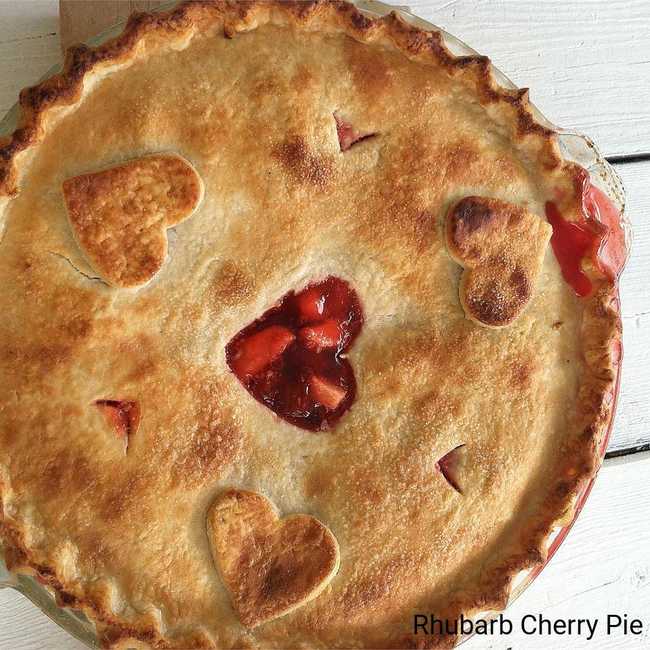 Do you drain frozen rhubarb before making pie?
If you are using frozen rhubarb to make pie, be sure to defrost and drain it before following the recipe instructions. If you don't drain the rhubarb, extra water will seep out during cooking and make for a soggy crust.
How do you prepare rhubarb for pie?
Rhubarb is a versatile ingredient that can be used in pies, jams, and even cocktails. To prepare rhubarb for pie, start by cutting away any tough, woody, or bruised parts of the stalks. Wash the stalks thoroughly and scrub with a vegetable brush. You don't need to peel peak-season rhubarb, but by midsummer the stalks tend to be tough and fibrous, so you might need to peel them to make them tastier.
Once your rhubarb is prepped, it's time to get cooking! Rhubarb pie is a classic dessert that is perfect for summertime gatherings. To make a delicious rhubARB Pie: ১) Preheat oven to 375 degrees F (190 degrees C). ২) In a large bowl mix together: 1/2 cup white sugar 2 tablespoons all-purpose flour 1 teaspoon ground cinnamon 1/4 teaspoon salt 4 cups chopped fresh or frozen rhubarb 3 tablespoons butter ৩) Pour mixture into an 8 inch pie dish. ৪) For the topping: In a small bowl combine: 1 cup white sugar 1/3 cup all-purpose flour 1 tablespoon butter Mix together until crumbly then sprinkle over top of rhubarb mixture in pie dish. ৫) Bake at 375 degrees F (190 degrees C) for 50 minutes or until crust is golden brown.
How do you drain frozen rhubarb?
When you are ready to use frozen rhubarb, it is important to thaw it correctly so that it will be the right consistency for your recipe. The best way to thaw frozen rhubarb is on the kitchen counter in a sieve over a bowl. This allows any excess liquid to drain off and prevents the rhubarb from becoming too mushy. You will notice that after thawing, the rhubarb will appear to have "shrunk". This is normal and simply means that some of the water has been released during thawing. Once thawed, you can use the rhubarb as desired in your recipe.
Do you peel rhubarb for pie?
There is no definitive answer to whether or not you should peel rhubarb for pie. Some people find that peak-season rhubarb does not need to be peeled, while others find that the stalks can be tough and fibrous by midsummer and prefer to peel them for a tastier pie. Ultimately, it is up to the individual cook to decide whether or not to peel the rhubarb according to their own preferences.
How do you drain rhubarb?
To drain rhubarb, first blanch it in boiling water for a few minutes. Then use a slotted spoon to remove the rhubarb from the boiling water and immediately plunge it into ice water. Chill for 1 minute (2 minutes for high-altitude cooking), then drain.