This recipe for Orange Sponge Cake is light, fluffy, and bursting with fresh citrus flavor. Made with just a few simple ingredients, this cake is perfect for any occasion.
Ingredients
3 eggs
1 cup white sugar
1 tablespoon orange zest
1 ½ cups all-purpose flour
2 teaspoons baking powder
6 tablespoons orange juice
Instructions
1. Preheat oven to 325 degrees F (165 degrees C). Grease and flour one 9 inch round pan.
2. Separate the eggs while cold, then bring to room temperature.
3. Beat egg yolks, sugar and grated orange rind until light and fluffy. Mix flour and baking powder together. Alternately add flour mixture and orange juice to the egg yolk mixture.
4 In a separate large CLEAN bowl, with a CLEAN whisk or beaters, beat egg whites to stiff peaks, and fold into batter gently but thoroughly .
5 Pour batter into prepared pan and bake at 325 degrees F (165 degrees C) for 50 to 60 minutes or until cake tester comes out clean when inserted in center of cake.. Let cool 10 minutes before removing from pan
Nutrition Facts
Calories: 260
Fat: 1.5 g
Saturated Fat: 0.5 g
Cholesterol: 100 mg
Sodium: 300 mg
Carbohydrates: 56 g
Fiber: 1 g
Sugar: 34 g
Protein: 7g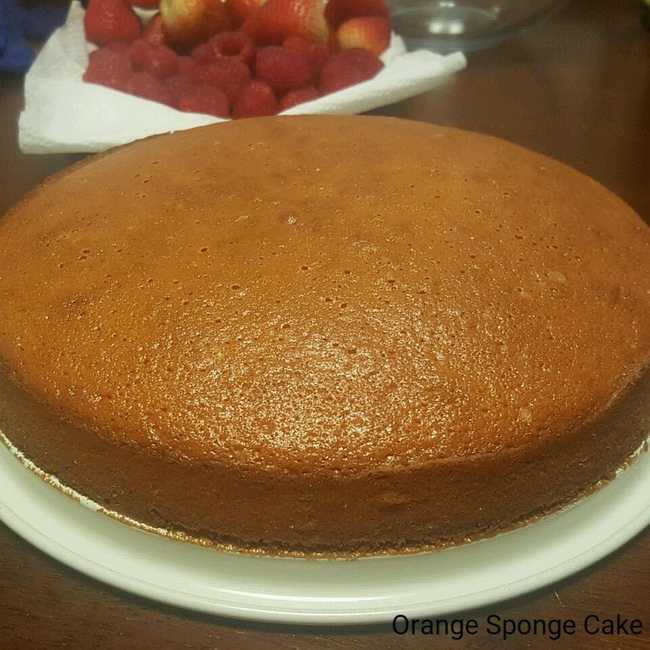 What are the 4 types of sponge cakes?
There are four main types of sponge cake: genoise, chiffon, Bûche de Noël, and angel food cake. Genoise is a traditional French sponge cake that is made with flour, sugar, eggs, and butter. It has a light and fluffy texture and can be flavored with various extracts or liqueurs. Chiffon cakes are similar to genoise but are made with vegetable oil instead of butter. They are often used in Angel Food Cake recipes. Bûche de Noël is a holiday sponge cake that is shaped like a log and filled with cream or chocolate ganache. Angel food cake is an American sponge cake that contains no fat and gets itslift from whipped egg whites. It is often served with fruit or frosting.
What are the 5 types of cakes?
There are many types of cakes, but the five most popular are yellow butter cake, pound cake, red velvet cake, carrot cake, and sponge cake.
Yellow buttercake is a type of sheet cake that is often served at birthday parties. It is made with yellow buttercake mix and topped with chocolate frosting and rainbow sprinkles.
Pound cake is a dense and heavy cake that is made with a pound of each ingredient (butter, sugar, eggs, and flour). It can be flavored with vanilla or lemon and often has a glaze or frosting on top.
Red velvet cake is a type of chocolate Cake that gets its name from its reddish-brown color. It is traditionally made with cocoa powder, buttermilk, and vinegar. Red food coloring was originally used to achieve the desired color but has since been replaced by natural ingredients like beet juice or hibiscus flowers. The Cake is typically iced with either cream cheese frosting or ermine frosting.
Carrot cake is a type of spice Cake that contains carrots in the batter as well as other spices like cinnamon and nutmeg. It usually has cream cheese frosting on top.
Sponge Cake generally refers to any light & fluffy Cake made with beaten eggs & no chemical leaveners like baking powder or soda. genoise A genoise sponge Cake , sometimes called just "genoise" ,is one particular kind of Sponge Cake which uses clarified butter in the batter for added flavor & richness. chiffon Chiffon Cakes are similar to Sponge Cakes in both texture & ingredients , however they also contain vegetable oil which makes them even more tender & moist than regular sponges.
What are the top 5 cake flavors?
The top 5 cake flavors according to a recent poll are:
1. Chocolate Cake 2. Red Velvet Cake 3. Vanilla Cake 4. Lemon Cake 5.
How do you make an orange cake?
There are many ways to make an orange cake, but one of the most popular and delicious methods is as follows. First, you will need to gather your ingredients. You will need 1 cup of all-purpose flour, 1 teaspoon baking powder, 1/2 teaspoon baking soda, 1/4 teaspoon salt, 3/4 cup sugar, 2 tablespoons grated orange peel, 6 tablespoons butter (at room temperature), 2 eggs (at room temperature), and 3/4 cup fresh orange juice.
Preheat your oven to 350 degrees Fahrenheit. Next, combine the flour, baking powder, baking soda and salt in a bowl and mix together well. In a separate bowl or stand mixer, cream together the sugar and butter until light and fluffy. Add in the eggs one at a time until fully incorporated. Slowly add in the dry ingredients alternately with the orange juice until everything is combined evenly.
Pour the batter into an 8-inch cake pan that has been greased or lined with parchment paper and bake for about 35 minutes or until a toothpick inserted into the center comes out clean.
What is the difference between a sponge cake and a chiffon cake?
There are a few key differences between sponge cakes and chiffon cakes. Sponge cakes rely solely on beaten egg whites for leavening, while chiffon cakes contain both baking powder and oil. This gives chiffon cakes a lighter, fluffier texture than sponge cakes. Chiffon cake batter is also made by separating the egg yolks and whites and then whipping the whites to stiff peaks before folding in the yolks; this results in a cake with lots of air pockets, which helps it to rise well during baking.