O' Henry Bars are a rich, fudgy dessert that is perfect for satisfying any sweet tooth. They are made with a buttery shortbread crust, chocolate chips, and walnuts, and are topped with a silky chocolate frosting. These bars are sure to please any crowd, and will leave you wanting more!
Ingredients
1 cup rolled oats
1/2 cup packed brown sugar
1/4 cup butter
1/8 cup white corn syrup
1/2 cup semisweet chocolate chips
3/8 cup peanut butter
Instructions
1. Preheat oven to 350 degrees F (180 degrees C).
2. Mix the oats, brown sugar, butter or margarine, and white corn syrup.
3. Pat into a 10 x 15 inch pan.
4. Bake for 10 to 15 minutes. Do not over bake.
5. Melt chocolate chips and peanut butter together either in a microwave-safe bowl or saucepan set over low heat on the stovetop.
6. Spread the melted chocolate mixture over baked crust while hot out of the oven..
7 Cut into bars right away using a sharp knife – this will be easier to do before the chocolate has time to harden too much/set completely
Nutrition Facts
Serving Size: 1 bar
Calories: 210
Total Fat: 11 g
Saturated Fat: 5 g
Cholesterol: 20 mg
Total Carbohydrates: 25 g
Fiber: 2 g
Protein: 4 g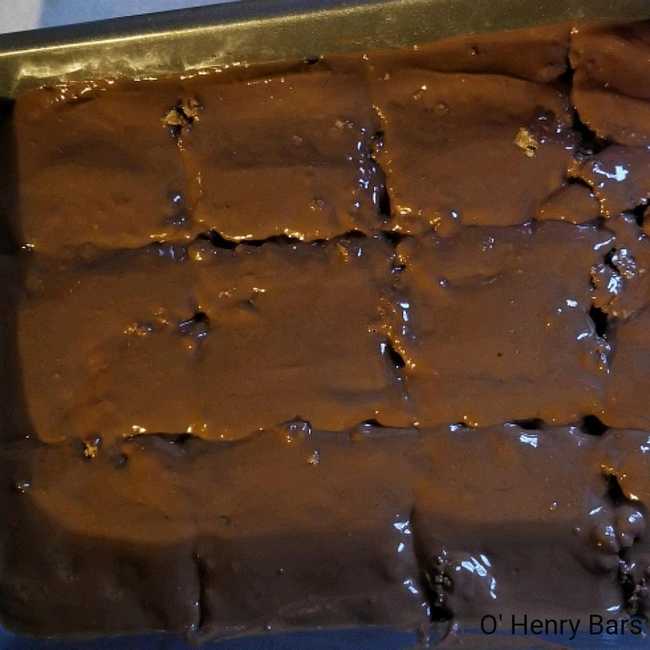 Who invented the Oh Henry bar?
The Oh Henry bar is a chocolate candy bar made by Nestle. It was introduced in 1920 and was named after the then-popular vaudeville performer, Oh Henry Williams.
Oh Henry Williams was a popular comedian and singer in the early 1900s. He was known for his catchphrase, "Oh, Henry!" which he would often shout during his performances. Nestle decided to name their new candy bar after him as a way to capitalize on his popularity.
The Oh Henry bar consists of a peanut butter center covered in chocolate. It is one of Nestle's most popular candy bars and can be found in stores all over the world.
How do you make Oh Henry squares?
To make Oh Henry squares, you will need:
1 cup butter 1 cup sugar 2 eggs 1 teaspoon vanilla extract 1 1/2 cups all-purpose flour 3/4 cup cocoa powder 1 teaspoon baking powder 1/4 teaspoon salt
Instructions:
Preheat oven to 350 degrees F (175 degrees C). Grease and flour an 8×8 inch baking dish.
In a medium saucepan, melt butter over low heat. Remove from heat and stir in sugar until dissolved. Stir in eggs and vanilla extract. Add flour, cocoa powder, baking powder, and salt; mix well. Pour batter into prepared dish.
Do they still make O. Henry's?
O. Henry's candy bars are no more. The rights to the Oh Henry! bar were sold by Nestlé to Ferrara Candy Company in 2018, and Ferrara discontinued the bar in 2019 without notice. Thus, there is currently no place of production for O. Henry's candy bars.
Was the Oh Henry candy bar named after Hank Aaron?
No, the Oh Henry! candy bar was not named after legendary baseball player Henry "Hammerin' Hank" Aaron. The candy bar was created in 1920 by Williamson Candy Co., and its name is owed to happenstance.
Do they still make O'Henry bars?
As of 2019, Oh Henry candy bars are no longer being manufactured. Nestlé sold the rights to the Oh Henry! bar to Ferrara Candy Company in 2018, and Ferrara discontinued production of the candy bar without notice in 2019.