Delicious Lemon Crinkle Cookies Recipe
I have been making Lemon Crinkle Cookies for many years now, and they are always a hit at family gatherings. The zesty lemon flavor, combined with the crunchy yet chewy texture, make this a perfect treat for any occasion. Plus, the cookie's bright yellow color always adds a cheerful vibe to any event. So if you're looking for a delicious, crowd-pleasing cookie to add to your dessert table, these Lemon Crinkle Cookies are just the ticket!
Lemon Crinkle Cookies Recipe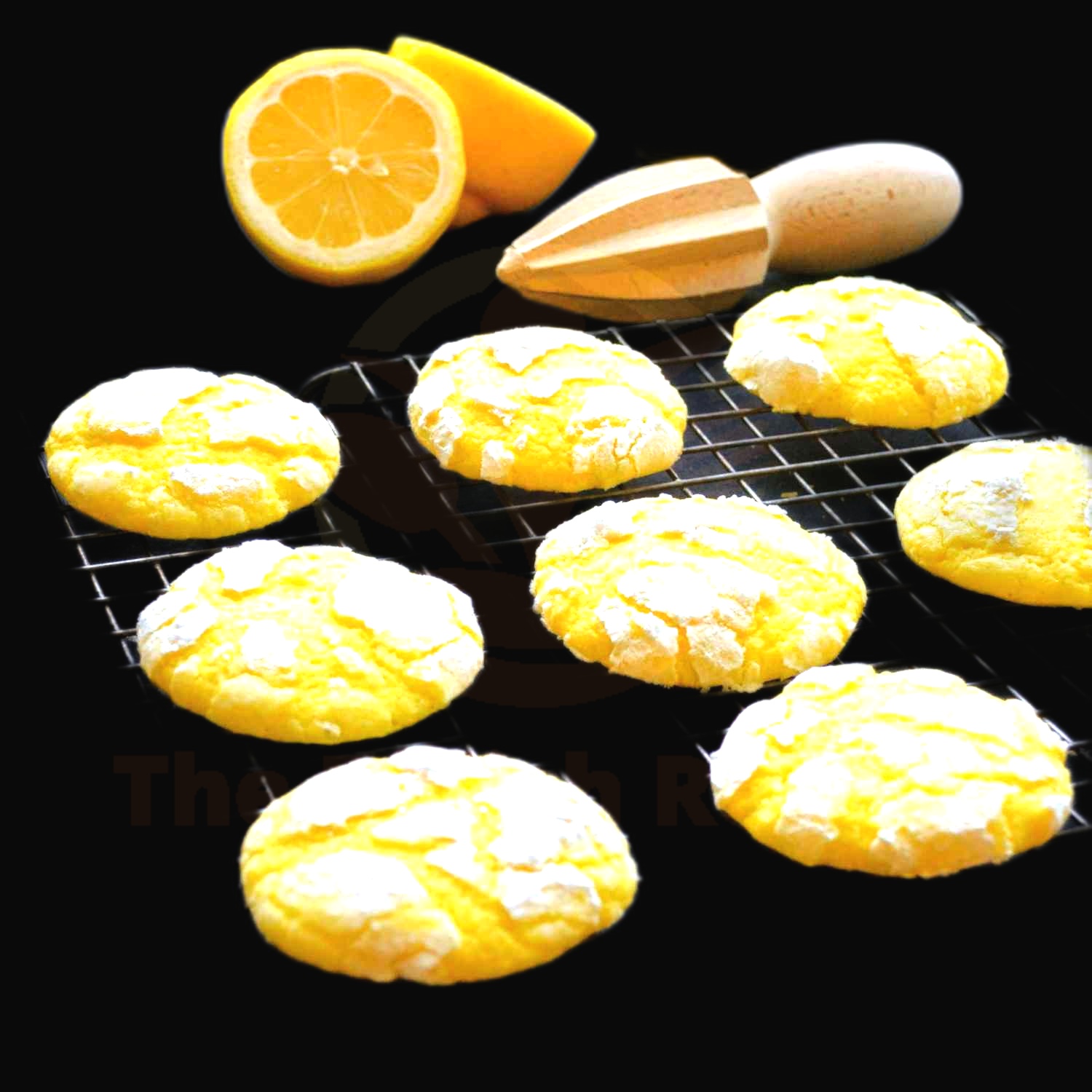 Ingredients
1 cup all-purpose flour
1/2 teaspoon baking soda
1/4 teaspoon salt
1/2 cup butter, softened
3/4 cup granulated sugar
1 large egg
1 teaspoon vanilla extract
1 tablespoon grated lemon zest
2 tablespoons fresh lemon juice
1/4 cup powdered sugar
Instructions
Preheat your oven to 350°F and line a baking sheet with parchment paper.
In a medium bowl, combine the all-purpose flour, baking soda, and salt.
In a larger bowl, cream together the butter and granulated sugar until light and fluffy.
Beat in the egg, vanilla extract, lemon zest, and lemon juice until thoroughly combined.
Gradually add the dry ingredients to the wet ingredients, mixing until just combined.
Place the powdered sugar in a shallow bowl.
Scoop out 1 teaspoon of dough and roll into a ball. Dip the ball into the powdered sugar and roll until evenly coated.
Place the coated cookie dough balls onto the prepared baking sheet, leaving at least 1 inch of space between them.
Bake the cookies for 10-12 minutes, or until lightly golden around the edges.
Let the cookies cool for 5 minutes on the baking sheet before transferring them to a cooling rack to cool completely.
Enjoy your delicious Lemon Crinkle Cookies!
Nutrition Facts
Calories: 210
Total Fat: 9g
Saturated Fat: 5g
Trans Fat: 0g
Cholesterol: 30mg
Sodium: 130mg
Total Carbohydrate: 29g
Dietary Fiber: 1g
Sugars: 16g
Protein: 3g
What makes lemon crinkle cookies special?
Lemon crinkle cookies are special because they are the perfect balance of tart, sweet and crumbly goodness. Not only are they delicious, but they also have a unique texture and beautiful presentation. The tartness of the lemon zest complements the sweetness of the cookie, and the crinkles that form when the cookies are baked make them look like little snowballs. Plus, they are incredibly easy to make, so you can impress your friends and family with homemade cookies that look like you bought them from a bakery.
What are the key ingredients to make lemon crinkle cookies?
The key ingredients to make delicious lemon crinkle cookies are sugar, butter, flour, baking powder, salt, eggs, fresh lemon juice, and grated lemon zest. With these eight ingredients, you can make a flavorful and chewy cookie that is perfect for any time of year.
To begin, you will need to cream together the butter and sugar. This helps to give these cookies a light and fluffy texture. After that, you will add the eggs, and mix in the dry ingredients – flour, baking powder, and salt. To give the cookies their signature lemon flavor, mix in the lemon juice and the grated lemon zest.
Once everything is combined, scoop out the cookie dough and form it into balls. Roll the balls in some granulated sugar and then place them onto a lined baking sheet. Bake the cookies in the oven for about 12-15 minutes and then let them cool on the baking sheet.
You can enjoy the delicious lemon crinkle cookies as-is, or you can pair them with a scoop of ice cream.
What are some tips to make the perfect lemon crinkle cookies?
Preheat your oven to 350°F.
Beat together 1 cup of butter and 1 ½ cups of sugar until light and fluffy.
Add in 2 eggs and the zest of 1 lemon.
Slowly mix in 2 ¾ cups of flour, ½ teaspoon of baking powder, and ¼ teaspoon of salt.
Roll the dough into 1-inch balls and roll them in a mixture of 1/4 cup of sugar and 1 tablespoon of lemon zest.
Place the balls on baking sheets lined with parchment paper.
Bake for 12-15 minutes, or until the edges are golden brown.
Allow the cookies to cool on the baking sheet for a few minutes before transferring them to a wire rack.
What flavor combinations make lemon crinkle cookies even more delicious?
Lemon crinkle cookies are already delightfully delicious, but if you're looking to take them to the next level of yumminess, there are some fantastic flavor combinations that are sure to tantalize your tastebuds! Here are some of the most delicious pairings to make your lemon crinkle cookies even more delicious:
Lemon and Coconut: This classic combination is a perfect match for lemon crinkle cookies. The sweet coconut elevates the tartness of the lemon and adds just the right amount of crunch.
Lemon and Blueberry: The tartness of the lemon is perfectly balanced with the sweetness of the blueberry. The cookies will be filled with a burst of fruity flavor and the two colors will make for a beautiful presentation.
Lemon and White Chocolate: The creamy white chocolate pairs perfectly with the tartness of the lemon and adds an extra layer of sweetness to the cookies.
Lemon and Ginger: The spicy kick of the ginger is the perfect complement to the tartness of the lemon. The combination is sure to make your lemon crinkle cookies stand out from the crowd.
Regardless of which flavor combination you choose, your lemon crinkle cookies are sure to be a hit. So get creative and have fun experimenting with different flavor combinations.
How can you make lemon crinkle cookies even more fun?
Adding a little bit of extra pizzazz to your lemon crinkle cookies is a great way to make them extra special. Here are some fun ideas to make your lemon crinkle cookies even more delicious and enjoyable!
Add a little bit of zest to your cookies. Grate some of the zest from the lemon over the top of the cookie dough before baking for a zesty, citrusy flavor.
Jazz up the cookie dough. Add different flavors, such as melted white chocolate, white chocolate chips, macadamia nuts, or even some dried cranberries.
Roll the cookie dough in different ingredients. Roll the cookie dough balls in chopped nuts, shredded coconut, or sprinkles before baking for a fun and decorative touch.
Use a variety of lemons. Try different types of lemons, such as Meyer lemons, to give your cookies a unique flavor.
Try adding a glaze. Prepare a simple glaze with lemon juice and powdered sugar and drizzle over the cookies once they have cooled.
These are just a few ideas for making your lemon crinkle cookies even more fun and delicious. With a little bit of creativity and experimentation, you can create a unique and flavorful treat that your family and friends will love.