These cookies are a classic Italian treat that is perfect for any occasion. They are made with anisette extract, which gives them a unique flavor that is both sweet and slightly licorice-like. These cookies can be enjoyed on their own or with a cup of coffee or tea.
Ingredients
4 cups all-purpose flour
1 cup white sugar
½ cup milk
2 eggs
1 tablespoon baking powder
¾ cup vegetable oil or butter, melted and cooled slightly
1 tablespoon anise extract
1 teaspoon vanilla extract
1 cup confectioners' sugar, sifted
2 tablespoons hot water
Instructions
1. Preheat oven to 375 degrees F (190 degrees C).
2. In large bowl, mix flour, baking powder and white sugar. Make a well in the center and add oil, milk, 1 tablespoon anise extract, and eggs. Mix together until dough is sticky.
3. Oil fingers and pinch off dough in 1 inch pieces. Roll into a ball and place on a lightly greased cookie sheet, 1 inch apart, flatten top slightly. Bake for 8 minutes . Dip cookies in Icing while warm .
4 To Make Icing: Blend in 1 teaspoon anise extract and enough hot water to 1 cup confectioner's sugar to form a smooth icing .
Nutrition Facts
Serving size: 1 cookie
Calories: 124
Total fat: 7 g
Saturated fat: 2 g
Cholesterol: 15 mg
Total carbohydrates: 14 g
Protein: 2 g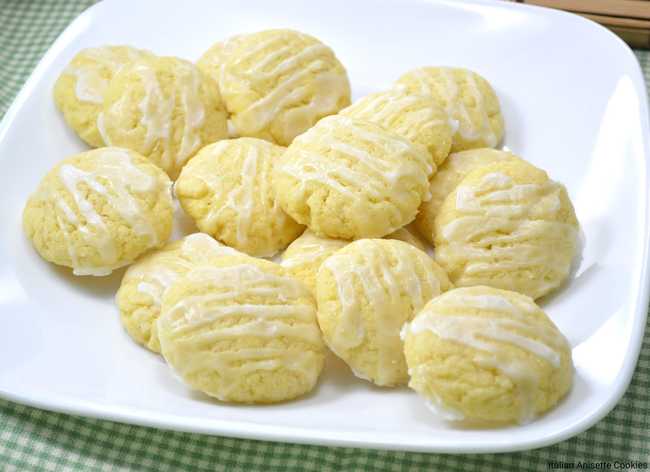 How long do springerle cookies keep?
Springerle cookies are a traditional German cookie that is often made around Christmas time. They are made with a special mold that imprints a design onto the cookie, and they are typically flavored with anise. Springerle cookies can be enjoyed fresh or aged, and they will keep for 2-3 months when stored in an airtight container.
Aging Springerle Cookies
If you want to age your Springerle cookies, simply store them in an airtight container in a cool, dark place. The flavors of the cookies will develop over time, and they will become more intense the longer they are stored. Aging springerle cookies is a matter of personal preference, so try them after 1 month, 2 months, or even 3 months to see how you like them best.
Fresh Springerle Cookies
Fresh springerle cookies are also delicious, and their flavor is more delicate than aged cookies. If you prefer fresh springerles, simply bake them and enjoy within 2-3 days. Store any leftover cookies in an airtight container to keep them fresh for as long as possible.
Can you freeze springerle cookies?
No, you should not freeze springerle cookies. Although they can be frozen after baking, this is not recommended due to the change in taste and texture. Springerle cookies are best enjoyed fresh out of the oven.
What are the different types of Italian cookies?
There's nothing quite like a platter of freshly-baked Italian cookies. Whether you're enjoying them with a cup of coffee or tea, or simply snacking on them on their own, these delicious treats are sure to please. But what exactly are Italian cookies? Here's a look at some of the most popular types.
Chocolate-Pistachio Biscotti: These flavorful biscotti are made with chocolate and pistachio nuts. They're perfect for dipping in coffee or tea, and make a tasty snack on their own as well.
Biscotti Regina: These traditional biscotti are flavored with anise oil and covered in sugar. They're often enjoyed as part of an after-dinner digestive aid, but can also be enjoyed any time of day.
Anginetti: Also known as "Italian Knot Cookies," these bite-sized cookies are made with lemon juice and zest, and coated in a sweet glaze. They make a perfect addition to any cookie platter.
Baci di Dama: Literally translated to "Lady's Kisses," these delicate cookies consist of two hazelnut meringue halves sandwiching a chocolate ganache filling. They're irresistible!
Orange-Ricotta Cookies: As the name suggests, these soft and fluffy cookies are made with ricotta cheese and fresh oranges – giving them a unique flavor that's impossible to resist. Enjoy them plain or dipped in chocolate for an extra special treat! Espresso Florentines: If you love espresso, then you'll love these rich Florentines – which are basically thin wafers made with espresso powder, almonds, candied fruit, and honey.
How do you store Italian anise cookies?
Italian anise cookies are a delicious and traditional treat. They are often made during the holidays, but can be enjoyed year-round. When made correctly, they are crisp and have a wonderful flavor. Anise is a common ingredient in Italian cooking, and these cookies are no exception.
The key to storing Italian anise cookies so that they retain their flavor and texture is to keep them in an airtight container. This will prevent the cookies from becoming stale or absorbing any unwanted flavors from other foods in your pantry or fridge. If you plan on keeping them for more than a few days, it is best to store them in the freezer. Just make sure to take them out of the freezer a few hours before you want to enjoy them so that they can thaw properly.
How do you make Italian Jeanette cookies?
Italian Jeanette cookies are a delicious and easy to make treat. The key to making them is to preheat your oven to 350 degrees, and mix all of the ingredients together thoroughly – the dough will be a bit sticky, so just roll it into 1 inch balls. Then bake the cookies for 8-11 minutes and let them cool for about 2-3 minutes before transferring them to wax or parchment paper. Once they're on the paper, simply mix confectioners' sugar and milk together until it's runny and drizzle it over the top of the cookies.