A delicious fall treat, iced pumpkin cookies are perfect for any occasion. Made with real pumpkin puree and spices, these cookies are soft, chewy, and full of flavor. A simple icing made with powdered sugar and milk makes them even more irresistible.
Ingredients
2 ½ cups all-purpose flour
1 teaspoon baking powder
1 teaspoon baking soda
2 teaspoons ground cinnamon
½ teaspoon ground nutmeg
½ teaspoon ground cloves
½ teaspoon salt
½ cup butter, softened
1 ½ cups white sugar
1 cup canned pumpkin puree
1 egg
1 teaspoon vanilla extract
For the frosting:
2 cups confectioners' sugar
3 tablespoons milk
1 tablespoon melted butter
1 teaspoon vanilla extract
Instructions
1. Preheat oven to 350 degrees F (175 degrees C).
2. Combine flour, baking powder, baking soda, cinnamon, nutmeg, ground cloves, and salt; set aside.
3. In a medium bowl, cream together the 1/2 cup of butter and white sugar. Add pumpkin, egg, and 1 teaspoon vanilla to butter mixture 4. beat until creamy 5.Mix in dry ingredients 6 Drop on cookie sheet by tablespoonfuls 7 flatten slightly 8 Bake for 15 to 20 minutes in the preheated oven 9 Cool cookies 10 then drizzle glaze with fork 11
To Make Glaze: 12 Combine confectioners' sugar 13 milk 3 tablespoons 14 melted butter 1 tablespoon 15 vanilla extract 1 teaspoon 16 Add milk as needed 17 to achieve drizzling consistency 18
Nutrition Facts
– Servings: 24
– Amount per serving
– Calories: 106.4
– Total Fat: 3.9 g
– Saturated Fat: 2.4 g
– Polyunsaturated Fat: 0.2 g
– Monounsaturated Fat: 1.1 g
– Cholesterol: 16 mg
– Sodium: 133 mg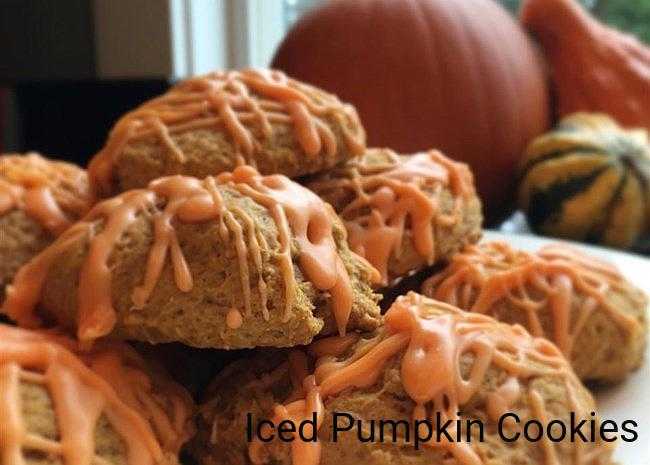 What goes good in pumpkin cookies?
There are a lot of different ingredients that can be added to pumpkin cookies to make them even more delicious. One great option is to add some maple syrup, which will give the cookies a lovely sweetness. Milk or orange juice can also work well, and adding an orange peel to the dough will give it a fantastic pumpkin flavor.
If you want your pumpkin cookies to be extra special, you can fold in 1 and 1/2 cups of chocolate chips, white chocolate chips, chopped nuts, or dried cranberries after you mix together the wet and dry ingredients. This way, every bite will be packed with flavor and texture.
How do you keep pumpkin cookies from getting soggy?
When it comes to keeping pumpkin cookies fresh, the key is all in the packaging. Specifically, you want to make sure that you are using an airtight container and that you are layering the cookies with wax paper. This will prevent the cookies from sticking together and will help to keep them from getting soggy.
One common mistake people make when storing pumpkin cookies is stacking them on top of each other. This can cause the cookies to become squished and soggy, so it's important to avoid doing this. Instead, layer the cookies in the container with wax paper in between each layer. This will allow them to stay fresh and delicious for longer.
What kind of frosting goes on pumpkin cookies?
Pumpkin cookies are best with a cream cheese frosting. You can either spread the frosting on top of the cookies, or drizzle it over them. If you want to add an extra bit of flavor, sprinkle some pumpkin pie spice or cinnamon on top of the frosting.
What kind of icing goes on pumpkin cookies?
Pumpkin cookies are best enjoyed with a delicious cream cheese frosting. Simply bake your cookies for 15 to 20 minutes, or until they are cooked through and bounce back slightly if you touch them. Then transfer to a wire rack to cool until they reach room temperature. Finally, frost or drizzle with cream cheese frosting, and sprinkle with an extra pinch of pumpkin pie spice or cinnamon if you'd like.
Does cream cheese frosting go on pumpkin cookies?
Pumpkin cookies are a classic fall treat, and they're even better when topped with cream cheese frosting! This rich and creamy frosting is the perfect finishing touch to these soft and moist cookies, and it's sure to be a hit with everyone who tries them.