If you love oatmeal cookies, these honey oatmeal cookies are a must-try! They are packed with flavor and have a perfect texture – not too soft and not too crumbly. The addition of honey gives them a lovely sweetness that is perfectly balanced by the oats.
Ingredients
1 cup honey
1 egg
¾ cup shortening
¼ cup water
1 teaspoon vanilla extract
3 cups rolled oats
1 ½ cups all-purpose flour or whole wheat pastry flour for a healthier option
½ teaspoon baking soda
Instructions
1. Preheat oven to 350 degrees F (175 degrees C).
2. Beat together shortening, honey, egg, water, and vanilla until creamy.
3. Add combined remaining ingredients; mix well.
4. Drop by rounded teaspoonfuls onto greased cookie sheet. Bake at 350 degrees F (175 degrees C) for 12 to 15 minutes
Nutrition Facts
Serving size: 1 cookie
Calories: 140
Fat: 7 g
Saturated fat: 2.5 g
Unsaturated fat: 4.5 g
Trans fat: 0 g
Cholesterol: 15 mg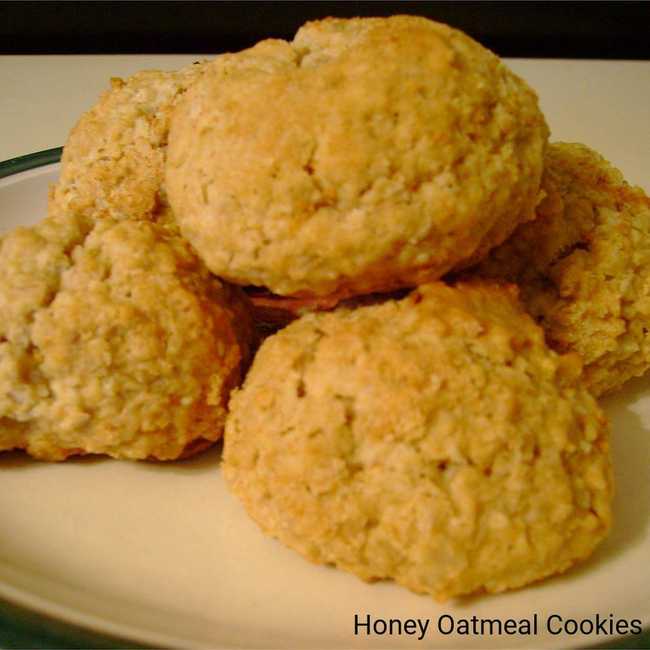 Can you make cookies using honey?
Yes, you can make cookies using honey! I've tested this out with both clover honey and wildflower honey and love the flavors of both. Be sure to use a good quality honey for best results.
Butter is another key ingredient in cookies, and just like all of my other cookie recipes, I recommend using cold, unsalted butter. This will help to create a delicious, chewy texture in your cookies.
Finally, cornstarch is another great addition to make chewy cookies.
How do you add flavor to sugar cookies?
There are a few different ways that you can add flavor to sugar cookies. One way is to try different flavorings in the dough. If you're making your own sugar cookie dough, you could try a different extract, like almond, peppermint, or citrus. Another way to add flavor is to add finely grated fresh citrus zest. This will add flecks of color and a nice pop of flavor to your cookies.
What can I make with oatmeal and honey?
Oatmeal and honey are two of the most popular breakfast foods. They are both healthy and delicious, and they can be combined in a variety of ways to create different dishes.
One of the simplest ways to enjoy oatmeal and honey is to simply cook the oats in water or milk, then add a few slices of banana and a drizzle of honey on top. This makes for a quick and easy breakfast that is packed with nutrients.
If you want something heartier, you can try adding some chopped nuts or dried fruit to your oatmeal before cooking it. This will give it more flavor and texture, making it more filling. You can also top it with yogurt or cottage cheese for an even richer meal.
Oatmeal doesn't have to be limited to breakfast either. It can also be used in baked goods such as muffins, cookies, or breads. Honey can also be used as a natural sweetener in these recipes. Just remember that if you're using honey instead of sugar, you'll need to use less since honey is sweeter than sugar.
What does adding honey to cookies do?
Adding honey to cookies does several things. First, it makes them slightly sweeter than if sugar were used. Second, it acts as a humectant, meaning it helps the cookies retain moisture so they don't become dry and crumbly.
Honey is actually a great all-natural sweetener for baked goods. Not only does it add sweetness, but it also has properties that help keep baked goods moist. That's why you often see recipes that call for adding honey to cakes or other desserts that tend to dry out quickly.
So if you want your cookies to be perfectly soft and chewy, add a bit of honey to the dough! Your taste buds will thank you.
Can I make sugar cookies with honey?
Yes, you can make sugar cookies with honey! This cookie recipe will give you soft, chewy cookies with slightly crisp golden edges. You'll fall in love with these thick, melt-in-your-mouth honey sugar cookies.