Delightfully Delicious Heart-Shaped Cookies
I love baking these heart-shaped cookies! Every time I make them, people tell me they are the best cookies they have ever tasted. After trying them myself, I completely agree. The combination of the sweet sugar cookie dough and the crunchy, chewy texture is amazing. Plus, you can customize them with any type of sprinkle, candy, or frosting that you want. These cookies are sure to be a hit no matter where you serve them – perfect for celebrations, get-togethers, or just a special treat!
Heart-Shaped Cookies Recipe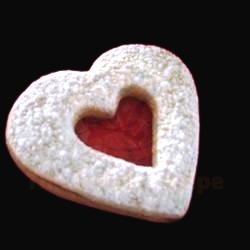 Ingredients
2 ½ cups all-purpose flour
½ teaspoon baking powder
½ teaspoon baking soda
½ teaspoon salt
2 sticks (1 cup) butter, softened
1 cup granulated sugar
1 large egg
1 teaspoon vanilla extract
Red food coloring
Instructions
Preheat oven to 350°F.
In a medium bowl, whisk together the all-purpose flour, baking powder, baking soda, and salt.
In a large bowl, cream together the butter and sugar with an electric mixer until fluffy.
Add the egg and vanilla extract and mix until fully combined.
Add the flour mixture to the wet ingredients and mix until a soft dough forms.
Add a few drops of red food coloring and mix until the desired color is reached.
Roll the dough out onto a lightly floured surface and cut out desired heart shapes with a cookie cutter.
Place the cookies onto a parchment-lined baking sheet, leaving a few inches in between each cookie.
Bake for 12-15 minutes, or until the cookies are lightly golden brown.
Allow the cookies to cool completely before serving. Enjoy!
Nutrition Facts
Calories: 882
Total Fat: 47g
Saturated Fat: 29g
Cholesterol: 135mg
Sodium: 1610mg
Carbohydrates: 106g
Fiber: 2g
Sugar: 57g
Protein: 10g
Why are heart-shaped cookies the perfect treat for valentine's day?
Heart-shaped cookies are the perfect treat for Valentine's Day because they are a delicious and thoughtful way to show your love. With their sweet and classic shape, heart-shaped cookies are an undeniable symbol of love that is sure to make any special Valentine smile.
Heart-shaped cookies come in all sorts of delicious flavors, shapes, and sizes. Whether you choose to make them yourself or pick them up from your favorite bakery, there's a heart-shaped cookie out there that's just right for you and your special someone. They're also a great way to show your love to family, friends, and co-workers—just a small token to let them know you care.
What's more, heart-shaped cookies can be easily personalized for your Valentine. Decorate them with your favorite icing or candy, or add a special message such as "Be Mine" or "Love You" for an extra special touch. You can even add a bit of sparkle with edible glitter or sprinkles!
Heart-shaped cookies are a classic treat for any Valentine, and they're sure to bring a smile to their face.
How can you decorate heart-shaped cookies to make them extra special?
There are so many ways to make your heart-shaped cookies extra special! Whether you are looking to decorate them for a special occasion or just to show someone you care, there are so many different options. Here are just a few ideas to get you started.
Glitter and Sprinkles: You can never go wrong with a bit of sparkle. You can use edible glitter and sprinkles of different colors to add some extra pizzaz to your cookies.
Icing and Decorative Toppings: If you are feeling creative, why not try some icing and decorative toppings? You can use different colored icing to create a fun pattern and then add some fun toppings to bring it all together.
Chocolate Drizzle: If you are a chocolate lover, then you will love this idea. Just melt some chocolate and drizzle it over your heart-shaped cookies for an extra special touch.
Use Stencils: If you are looking for something a little more intricate and detailed, you can try using stencils. You can find some fun and unique stencils online or you can make your own.
No matter what you choose, these are just a few ideas to get you started.
What are some tips for baking the perfect heart-shaped cookie?
Start with the right cookie dough. Choose a cookie dough that is thick yet pliable and will hold its shape during baking. If you're feeling adventurous, you can always make your own cookie dough from scratch.
Cut out a heart shape. Roll out the dough on a flat surface and use a cookie cutter or a knife to cut out the heart shape. You can even use an upside-down bowl and trace it to create the perfect heart shape.
Place the cookie dough on a baking sheet. Use a silicone baking mat if possible as it will help the dough keep its shape. If you don't have a silicone mat, use parchment paper instead.
Preheat the oven. Preheat the oven to the temperature indicated on the cookie dough packet or recipe instructions.
Bake the cookies. Place the cookie dough in the oven and bake for the time indicated. Keep an eye on the cookies as they bake and remove them from the oven when they are lightly golden.
Cool the cookies. Once the cookies have been removed from the oven, leave them to cool for a few minutes before transferring them to a cooling rack.
What are some creative ways to package and present heart-shaped cookies?
Show your loved ones you care this Valentine's Day with creative packaging and presentation of heart-shaped cookies! From easy and unique options that can be quickly assembled to more elaborate ideas, there are plenty of ways to add a special touch to your heart-shaped cookies.
For an easy and eye-catching presentation, try designing an edible bouquet! Arrange heart-shaped cookies in a vase or mason jar and add a few fresh flowers for a beautiful display. You can also try putting the cookies in a tin, adding a personalized label, and tying it up with a special ribbon.
If you're feeling adventurous and creative, you can make your own decorated gift box. Cut a piece of cardstock into the shape of a heart and decorate with ribbon, lace, and glitter. Fill the box with the cookies, wrap it in cellophane, and tie a special ribbon around it. You can also try making a heart-shaped cookie cake by layering heart-shaped cookies with icing and decorations.
For an extra special touch, try writing a special message on each cookie with an edible marker. You can also decorate the cookies with fondant and icing or make your own cookie tags with frosting and sprinkles.
What are some unique ingredients to make heart-shaped cookies stand out?
When it comes to baking heart-shaped cookies for a special occasion, the sky's the limit when it comes to ingredients! To make your heart-shaped cookies stand out from the rest, why not get creative and incorporate unique and unexpected ingredients into the dough? From the classic peanut butter and chocolate chips to the more exotic matcha and ginger, there are plenty of ingredients to play around with.
Here are some unique ingredients that you can use to give your cookies a tasty twist:
Peanut Butter & Chocolate Chips: The classic flavor combination of peanut butter and chocolate chips is a safe bet for heart-shaped cookies. The combination of smooth and creamy peanut butter with the sweet and crunchy chocolate chips is a classic that never fails to please.
Red Velvet: Red velvet is a popular flavor choice for heart-shaped cookies. The hint of cocoa, the cream cheese frosting, and the signature red color all make for a delicious and beautiful cookie.
Matcha: Matcha powder is a type of green tea that is gaining popularity for its health benefits and unique flavor. Incorporating matcha powder into your cookie dough will give it a delicate, earthy flavor and gorgeous green color.
Ginger: For a more unexpected flavor, why not add a pinch of ginger powder to your cookie dough? The spicy and sweet notes of ginger will give your heart-shaped cookies an extra zing and make them stand out from the crowd.
What are some fun activities you can do with heart-shaped cookies?
Planning a Valentine's Day celebration? Looking for a way to get creative with heart-shaped cookies? Look no further! There are plenty of fun activities you can do with these festive treats that your friends and family will love.
One of the simplest activities with heart-shaped cookies is to decorate them. Gather some icing, sprinkles, and other fun decorations and let your imagination go wild! Make sure to have enough decorations on hand so that everyone can get creative and make their own unique cookie designs.
Another fun activity to do with heart-shaped cookies is to make a game out of them. Try breaking the cookies up into even pieces and having everyone guess how many cookies are in the pile. Whoever guesses closest wins the pile and gets to take them home!
You can also use heart-shaped cookies to make a craft. Try cutting the cookies into different shapes and sizes and use them to make a mosaic. Or, use the cookies to create a festive Valentine's Day banner. The possibilities are endless!
With these fun activities, heart-shaped cookies can be a great addition to your Valentine's Day celebrations! So, get creative and have some fun with these delicious treats.
How can you make heart-shaped cookies with kids to create a memorable valentine's day experience?
Let's make some Valentine's Day memories this year with heart-shaped cookies! Baking with kids is a great way to spend time together and have fun. Plus, kids of all ages can get involved in the process, making it a great way to bond with them. Here are some tips and tricks to help you create a memorable Valentine's Day experience with heart-shaped cookies!
First, choose a simple cookie recipe that kids can easily help with. This could be a classic sugar cookie recipe, an oatmeal cookie recipe, or something else depending on your family's preferences. Make sure you have all the ingredients and tools ready before you start baking.
Next, let the kids help you shape the cookies into hearts. Depending on their age and skill level, you can either let them roll out the dough and use a cookie cutter or you can shape the cookies into a heart by hand. If you're using a cookie cutter, let the kids use a rolling pin to roll out the dough, then use the cookie cutter to cut out the heart-shaped cookies.
Once the cookies are shaped, you can decorate them with icing, sprinkles, and other fun decorations. Let the kids get creative and express themselves with their decorations. You can even make it a contest to see who can make the most creative cookie!
Now you have some heart-shaped cookies that the kids can help you make! Enjoy the cookies with some hot cocoa or tea and have a special Valentine's Day with your family. It's a great way to create some memorable experiences with your kids and to bond with them.