Cheesy Comfort: Green Chile Chicken Casserole
Growing up in the Southwest, I have always loved the mix of flavors and spices that come together in dishes like Green Chile Chicken Casserole. It is a classic comfort food in my family, as it combines all of our favorite ingredients.
The creamy chicken and cheese are combined with the slightly spicy green chiles and taco seasoning, making this dish packed with flavor.
This casserole is easy to prepare and is always a hit when I serve it at family gatherings. So, if you're looking for a delicious and warming meal, try my Green Chile Chicken Casserole!
Green Chile Chicken Casserole Recipe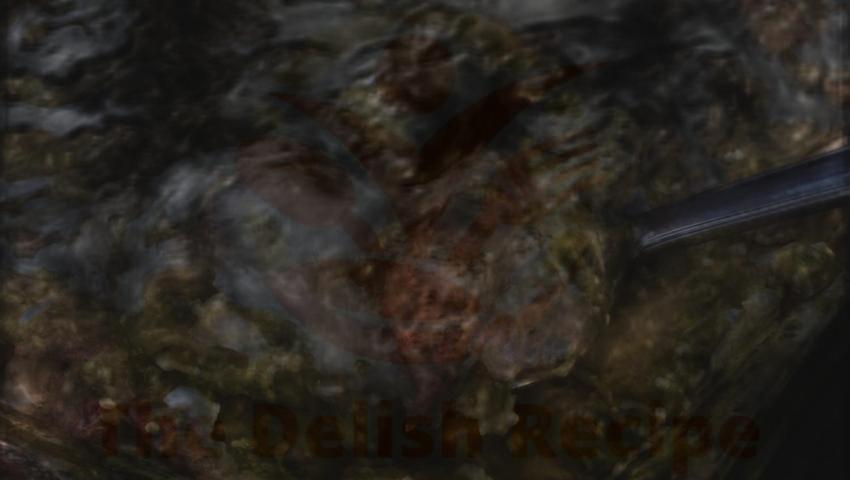 Ingredients
3 boneless, skinless chicken breasts, cut into cubes
1 teaspoon olive oil
1/4 teaspoon garlic powder
1/4 teaspoon onion powder
1/4 teaspoon ground cumin
1/4 teaspoon chili powder
1/2 cup green salsa
1 cup chicken broth
1 (4 ounce) can diced green chilies
1/2 cup sour cream
1 cup shredded Monterey Jack cheese
1/4 cup sliced green onions
2 cups cooked white rice
Instructions
Preheat your oven to 350 degrees Fahrenheit.
In a large skillet over medium-high heat, heat the olive oil.
Add the cubed chicken breasts, garlic powder, onion powder, cumin, and chili powder to the skillet and cook for 8-10 minutes or until the chicken is cooked through.
In a large bowl combine the cooked chicken, green salsa, chicken broth, diced green chilies, sour cream, Monterey Jack cheese, and green onions.
Spread the mixture into a greased 9×13 baking dish.
Place the cooked white rice on top of the chicken mixture.
Bake in the preheated oven for 40 minutes.
Let the casserole stand for 5 minutes before serving.
Enjoy!
Nutrition Facts
Serving Size: 1/8 of a 9×13 dish
Calories: 250
Fat: 10g
Carbohydrates: 16g
Protein: 21g
Sodium: 300mg
Cholesterol: 50mg
What ingredients make up the casserole?
The Green Chile Chicken Casserole is made up of a few ingredients, including chicken, green chiles, cream of chicken and cream of mushroom soups, and a mix of shredded cheese.
This flavorful and comforting casserole is quick and easy to make. To begin, preheat the oven to 350 degrees. Then, in a large bowl, combine the two cans of cream soups, one can of green chiles, and one cup of shredded cheese. Once everything is mixed together, add the shredded chicken and stir gently.
Next, pour the mixture into a 9 x 13 baking dish and spread it evenly. Sprinkle the remaining cheese over the top and bake uncovered for 25 minutes or until the cheese has melted and the casserole is bubbling.
The Green Chile Chicken Casserole is a delicious meal that can be served with a side of rice or a green salad. It's easy to make and can be a great addition to any meal. With its combination of ingredients, it's sure to be a hit with the whole family.
What benefits does green chile chicken casserole offer?
Green Chile Chicken Casserole offers numerous benefits, including:
High Nutritional Value: Packed with nutrient-rich ingredients like chicken, cheese, and vegetables, this casserole is a great way to get your daily dose of vitamins and minerals.
Easy to Make: This casserole takes minimal time and effort to prepare and cook, making it a great option for busy weeknights.
Low Cost: Most of the ingredients required to make this casserole are widely available, making it an affordable meal option.
Versatility: This casserole can be modified and adapted to fit any dietary needs or preferences, making it a great choice for those with dietary restrictions.
Flavorful: The combination of green chiles, cheese, and chicken create a flavorful dish that will satisfy even the pickiest of eaters.
What flavors combine to make this dish unique?
Green Chile Chicken Casserole is a flavorful and unique dish that combines tangy spices and savory Mexican flavors. The main flavors used in this dish are green chiles, lime juice, cumin, garlic, and onion. Together, these ingredients give the casserole a unique flavor that is both bold and bright.
The tanginess of the lime juice pairs perfectly with the smokiness of the cumin, creating a complex and interesting flavor profile. The green chiles add a spicy kick to the dish, while the garlic and onion provide a savory base. All of these flavors combine to create a delicious and unique flavor that can't be found in any other dish.
Overall, Green Chile Chicken Casserole is a flavorful and unique dish that is sure to please. With its combination of bold and bright flavors, it is the perfect dish to serve at any gathering.
What is the best way to prepare the casserole?
The best way to prepare a Green Chile Chicken Casserole is to layer the ingredients in the order listed in the recipe. Start with a layer of cooked chicken, then layer the diced green chiles, diced onion, and garlic. Next, pour in the chicken broth and cream of chicken soup before topping with a layer of shredded cheese. Finally, cover with a layer of crushed tortilla chips and bake in the oven.
When layering the ingredients, it's important to spread them evenly for a tasty, well-cooked dish. To ensure that the chicken is cooked through, it's best to start with pre-cooked chicken or cook it ahead of time. The diced onion and garlic should be sautéed before adding to the casserole for a more flavorful dish.
For a healthier version of the dish, use low-fat cream of chicken soup, reduced-fat cheese, and whole grain tortilla chips. If desired, other vegetables, such as diced bell peppers or corn, can be added. For a spicier casserole, add more diced green chiles to taste.
Once the casserole is assembled, bake it in the oven at 350°F for 40-45 minutes or until it is hot and bubbly. Once done, let the casserole cool for a few minutes before serving.
What sides pair well with green chile chicken casserole?
When it comes to green chile chicken casserole, there are a variety of sides that pair well with it. Some of the best options for accompanying this dish include a fresh green salad, roasted vegetables, cooked grains such as quinoa or brown rice, roasted potatoes, and a variety of pieces of bread and rolls.
A fresh green salad is a great way to add a burst of flavor and nutrition to the dish. Try adding some crunchy vegetables, such as carrots, peppers, and cucumbers, as well as some leafy greens like spinach, kale, or arugula. Add a light vinaigrette dressing to give the salad a bright flavor.
Roasted vegetables are a perfect side to green chile chicken casserole. Try roasting some sweet potatoes, bell peppers, and onions in the oven with a little olive oil, salt, and pepper. The roasted vegetables will bring out the flavors of the casserole and add a boost of nutrition.
Cooked grains such as quinoa or brown rice bring a nutty flavor to the dish and bulk it up to make it more filling. Try adding some herbs or spices to the grains to bring out their flavor.
Roasted potatoes are a classic side for many dishes, and they go great with green chile chicken casserole. Try roasting them in the oven with a little olive oil, salt, and pepper.
Bread and rolls are another great option for pairing with this casserole. Try adding some crusty sourdough bread or a variety of rolls. This will help to soak up the delicious sauce of the casserole and make it even more enjoyable.
How can you customize the casserole for a unique flavor?
One way to customize the flavor of a green chile chicken casserole is by changing the type of cheese used. Replace the traditional cheddar with a sharp provolone, pepper jack, or smoked gouda for a more intense flavor. Additionally, adding diced jalapenos or poblanos to the casserole will give it a spicy kick.
Another way to customize the casserole is to change the seasoning. Instead of salt and pepper, try adding a combination of garlic, chili powder, smoked paprika, and cumin. This will give the casserole a smoky Mexican-style flavor.
Finally, for added texture, consider adding some nuts or seeds, such as toasted pine nuts, sliced almonds, or sunflower seeds. These will add crunch and nutty to the dish.
By making a few simple changes to the ingredients, you can create a unique and flavorful green chile chicken casserole. Experiment with different ingredients and seasonings to create a dish that you and your family will love.