Grandma'S Deliciously Moist Pound Cake
I have to admit that I have a sweet tooth, but my absolute favorite dessert is my grandma's pound cake. Growing up, I remember the sweet aroma of Grandma's pound cake wafting through the house. The best part was that she would always make an extra-large cake so that I had a snack for later. Every bite was like a little piece of heaven, with the perfect balance of sweetness and buttery flavor. I'm so excited to be able to share her recipe with you today!
Grandma's Pound Cake Recipe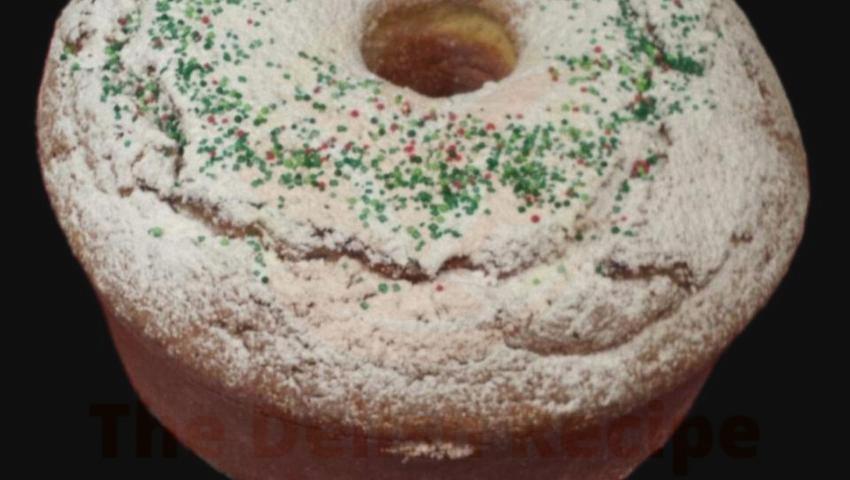 Ingredients
3/4 cup all-purpose flour
1/2 teaspoon baking powder
1/4 teaspoon salt
1/2 cup butter, softened
1 cup granulated sugar
2 eggs
1 teaspoon vanilla extract
1/2 cup whole milk
Instructions
Preheat your oven to 350°F. Grease a 9×5 inch loaf pan with nonstick cooking spray or butter.
In a medium bowl, sift together the flour, baking powder, and salt.
In a separate bowl, use an electric mixer to cream together the butter and sugar until light and fluffy.
Add the eggs one at a time, mixing well after each addition.
Stir in the vanilla extract.
Alternate adding the flour mixture and the milk to the creamed butter and sugar, mixing well after each addition.
Pour the batter into the prepared loaf pan and bake in the preheated oven for 40-50 minutes, or until a toothpick inserted into the center of the cake comes out clean.
Let the cake cool in the pan for 5 minutes before turning it out onto a wire rack to cool completely.
Enjoy your Grandma's Pound Cake!
Nutrition Facts
Serving Size: 1 slice
Calories: 320
Fat: 12g
Saturated Fat: 7g
Cholesterol: 70mg
Sodium: 290mg
Carbohydrates: 46g
Fiber: 0.5g
Sugar: 25g
Protein: 4g
What is the history of grandma's pound cake?
Grandma's Pound Cake has a long and rich history, dating back to the early 1800s. In fact, the recipe was so popular that it was included in many cookbooks of the era. It is believed to have been invented by a French woman living in the United States, who was looking for a way to use up leftover butter and eggs. The cake was given the name "Pound Cake" due to the fact that it contained a pound of each of its four main ingredients: butter, eggs, sugar, and flour.
The cake was traditionally made in a large mold or ring pan, which would then be inverted onto a plate and eaten plain or with a dusting of powdered sugar. In the mid-1800s, the cake began to be served with various flavored custards and fruits, increasing the cake's popularity. By the late 1800s, the cake had become a staple of Southern cuisine, with variations of the recipe appearing in cookbooks throughout the region.
Today, Grandma's Pound Cake is still a beloved dessert, with many variations of the original recipe. It is typically served with fresh fruit or a dollop of cream, and can be enjoyed as a breakfast cake, afternoon snack, or dessert. No matter how it is served, Grandma's Pound Cake is sure to bring back fond memories of simpler times.
What makes grandma's pound cake unique?
Grandma's Pound Cake is unique for its dense, moist texture and its classic vanilla flavor. This is achieved through the use of a combination of butter, sugar, eggs, and vanilla extract, which give the cake its signature flavor and texture. In addition, Grandma's Pound Cake is often made with a combination of all-purpose and cake flour, which gives it a lighter texture than other pound cakes. Another distinguishing factor of Grandma's Pound Cake is its thick, crunchy crust, which is created with a special technique that involves brushing the top of the cake with melted butter and sugar and then baking it until it is golden brown. Grandma's Pound Cake is a favorite among family and friends, making it a timeless classic.
What are the key ingredients for making grandma's pound cake?
The key ingredients for making Grandma's Pound Cake are butter, sugar, eggs, flour, baking powder, and milk.
The combination of these ingredients creates a moist, buttery cake with a light, fluffy texture. The butter gives the cake its smooth texture and rich flavor, while the sugar adds sweetness. The eggs provide structure and help bind the ingredients together. The flour and baking powder give the pound cake a light, airy consistency. Finally, the milk adds moisture and enhances the flavor.
When combined, these ingredients create a classic recipe that has been around for generations. Grandma's Pound Cake is one of those recipes that is sure to become a family favorite. With its simple ingredients and easy instructions, it is a great way to show your loved ones that you care.
Making Grandma's Pound Cake is easy and requires no special skills. All you need to do is mix the ingredients together and bake. While it may be tempting to add extras like nuts or fruits, it is best to stick to the original recipe. Grandma's Pound Cake is a classic dessert, and any additions may take away from its traditional flavor.
Whether you are a novice baker or an experienced one, Grandma's Pound Cake is sure to impress. With its classic flavor and moist texture, it will be a hit at your next gathering.
What variations can be made to grandma's pound cake?
When it comes to Grandma's Pound Cake, the possibilities for variations are nearly endless! This classic recipe can be easily adapted to many different flavors and ingredients, from sweet to savory, and from familiar to exotic. Here are some of the most popular variations that can be made to Grandma's Pound Cake:
Fruit Variations: Adding fresh or dried fruit is a great way to add more flavor and texture to the pound cake. Try adding blueberries, cherries, cranberries, raisins, apples, or mango for a sweet and fruity twist.
Spice Variations: Spices such as cinnamon, nutmeg, and cloves can be added to the batter to give the cake a warm and cozy flavor. You can also add a pinch of cardamom or ginger for a more exotic taste.
Chocolate Variations: Chocolate chips, cocoa powder, and melted chocolate can all be added to the cake for a rich and decadent flavor.
Nuts Variations: Chopped walnuts, pecans, and almonds are a great way to add crunchy texture and nutty flavor to the pound cake.
Liquor Variations: For an adults-only twist, try adding a bit of your favorite liquor. Rum, brandy, and whiskey are all popular additions.
No matter what variation you choose, you can be sure that Grandma's Pound Cake will be as delicious as ever. With a few simple ingredients and a little creativity, you can transform this classic recipe into something truly special.
How can you serve grandma's pound cake?
Serving Grandma's pound cake is easy and can be done in several different ways. One of the simplest ways is to simply cut the cake into slices and serve it with a scoop of vanilla ice cream. This classic combination is sure to please any crowd! Another popular way to serve Grandma's pound cake is to top it with fresh berries and a dollop of whipped cream. This delicious topping makes the perfect accent to the rich and buttery pound cake. Finally, for a little extra sweetness, you can drizzle a glaze over the cake. This easy-to-make glaze adds a delightful flavor and texture to the cake.
No matter which way you choose to serve Grandma's pound cake, it is sure to be a hit! With its classic flavor and wonderful texture, this cake will quickly become a favorite. So don't be afraid to whip up a batch of Grandma's pound cake and serve it in any of the above ways.