Doubletree Hotel's Cookies
This recipe is for the Doubletree Hotel's signature cookies. These cookies are soft and chewy, with a hint of lemon flavor. They are perfect for an afternoon snack or after dinner dessert.
Ingredients
1½ cups unsalted butter
1½ cups white sugar
¾ cup packed brown sugar
4 eggs
3 cups all-purpose flour
¾ cup rolled oats
2½ teaspoons vanilla extract
1 teaspoon lemon juice
¾ teaspoon baking soda
1 teaspoon salt
¼ teaspoon ground cinnamon
3 cups semisweet chocolate chips (or other chocolate, like dark or milk) OR 1 1/2 cups chopped nuts (walnuts, pecans, almonds, etc.)
Instructions
In a large bowl, cream together the butter and sugars until light and fluffy. Add the eggs one at a time, beating well after each addition. Stir in the lemon juice and vanilla extract.
In a separate bowl, whisk together the dry ingredients. Gradually add this to the wet mixture, stirring until well blended. fold in the chocolate chips or nuts (or both!).
Scoop out dough by the 1/4 cupful or 2 ounce scoop onto parchment paper-lined baking sheets, spacing them 2 to 3 inches apart. Bake at 350 degrees Fahrenheit for 13 to 15 minutes, or until lightly browned around the edges. Let cool on the baking sheet for a minute or two before removing to wire racks to cool completely.
Nutrition Facts
Serving size: 1 cookie
Calories: 190
Fat: 11 g
Saturated fat: 7 g
Unsaturated fat: 4 g
Trans fat: 0.5 g
Carbohydrates: 23 g
Sugar: 15 g
Fiber: 1.5g
Protein 2.5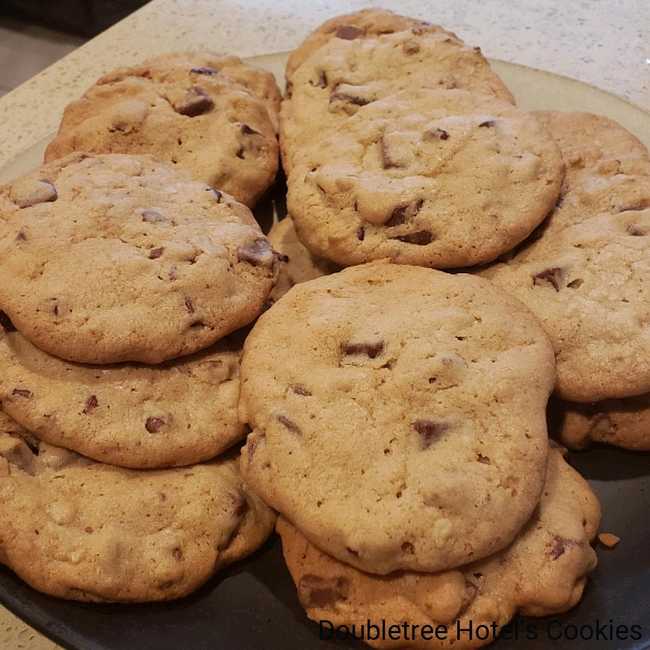 Do DoubleTree hotels still have cookies?
Yes, DoubleTree hotels still have cookies! You can buy a tin of our signature chocolate chip cookies to enjoy with friends and family. We've got a cookie with your name on it.
What kind of cookies are DoubleTree?
The DoubleTree brand is most commonly associated with hotels, but they also have a line of gourmet cookies. The chocolate chip cookies from DoubleTree are some of the best on the market, and for good reason.
These cookies are made with real butter and brown sugar, giving them a rich flavor that other chocolate chip cookies lack. In addition, theDoubleTree chocolate chip cookies use Ghirardelli chocolate chips, which are widely considered to be some of the best in the world. This combination of high-quality ingredients results in a delicious cookie that is sure to satisfy any sweet tooth.
If you're looking for a truly exceptional chocolate chip cookie, look no further than DoubleTree. These delicious treats are sure to leave you wanting more.
Does DoubleTree Hilton have cookies?
Yes, DoubleTree Hilton has cookies! Every cookie is baked fresh daily at each hotel, in order to make them taste as fresh and delicious as possible. DoubleTree cookies are baked on site every day at all of their properties, so you can always enjoy a delicious treat.
How often can you get cookies at DoubleTree?
You can get cookies at DoubleTree every day, but the 12 Days of Cookies event is a special time when you can get them for free. This seasonal event takes place from December 13 to December 24, and during this time you can get one free cookie per day.
How do you get free cookies at DoubleTree?
There are days where every DoubleTree hotel gives out a complimentary cookie to anyone who stops by, whether or not they're a guest. These days include National Chocolate Chip Day and National Chocolate Chip Cookie Day, which fall on May 15 and August 4, respectively.
To get free cookies at DoubleTree on these days, simply stop by any location and ask for a complimentary cookie. You do not need to be a guest of the hotel to receive one, nor do you need to purchase anything.