This delicious pumpkin bread is perfect for a fall treat! It is moist and flavorful, and has just the right amount of sweetness. This bread is also very easy to make, so it is perfect for busy weeknights or weekends.
Ingredients
3 ¼ cups all-purpose flour, 3 cups brown sugar, 2 teaspoons baking soda, 1 ½ teaspoons salt, 1 teaspoon ground ginger, 1 teaspoon ground cinnamon, 2 cups solid pack pumpkin puree, ⅔ cup water or milk of choice, 1 cup vegetable oil or melted butter, 4 eggs beaten well OR ¾ cup applesauce and 2 tablespoons flaxseed meal mixed with 6 tablespoons warm water , ½ cup chopped walnuts plus more for garnish on top
Instructions
1. Preheat oven to 350 degrees F (175 degrees C). Grease and flour three 7 x 3 inch pans.
2. Measure flour, sugar, baking soda, salt, and spices into a large bowl. Stir to blend.
3. Add pumpkin puree, water or milk of choice, vegetable oil or melted butter, eggs beaten well OR applesauce and flaxseed meal mixed with warm water , and chopped walnuts to the bowl containing the dry ingredients from step 2 . Beat until well combined .
4. Pour batter into prepared pans from step 1 . Bake for approximately 1 hour .
Nutrition Facts
Calories: 2200
Fat: 100 g
Saturated fat: 15 g
Cholesterol: 300 mg
Sodium: 3400 mg
Carbohydrates: 310 g
Fiber: 10 g
Sugar: 210 g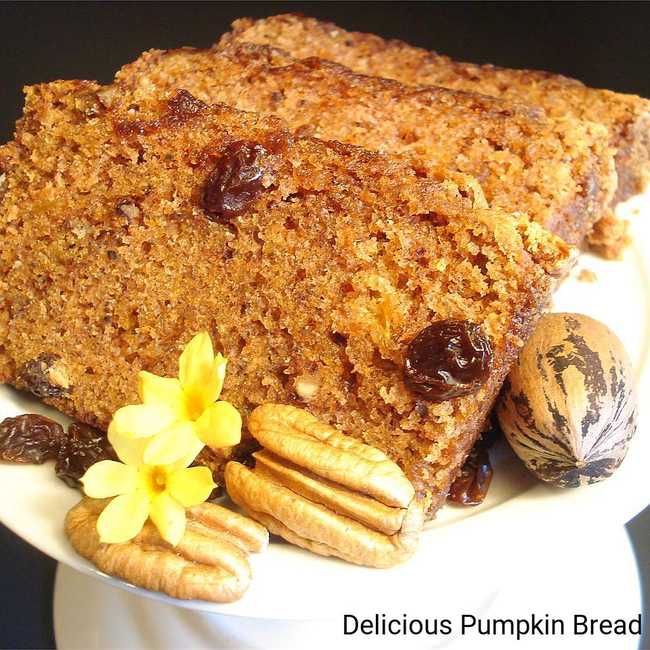 What can I add to canned pumpkin to make it taste better?
When it comes to canned pumpkin, many people find that it can be a bit bland and lack flavor. This is why adding some spices to the mix can often help to make it taste better. A good spice blend to start with is ⅓ cup ground cinnamon, 1½ tablespoons ground ginger, 1 tablespoon ground nutmeg, 1½ teaspoons ground cloves, and 1½ teaspoons ground allspice. Simply mix these together and add them to your canned pumpkin according to taste. You may find that you need to experiment a bit to get the perfect balance of flavors, but this spice blend is a great place to start.
Why is my pumpkin bread gummy?
If your pumpkin bread is gummy, it's likely because you've added too much fruit purée to the batter. When making quick breads like banana or pumpkin bread, the goal is to incorporate as much fruit purée as the batter can handle. Too much will throw off the ratio of wet to dry ingredients, and you may not have enough flour to absorb that moisture. This can lead to a gummy bottom on your quick breads.
There are a few things you can do to avoid this problem. First, make sure you're using a recipe that specifically calls for fresh pumpkin puree – not canned pumpkin pie filling, which already has sugar and other spices added to it. Second, be precise with your measurements and don't add more than the recipe calls for. And finally, if you find that your batter is looking a little too wet after adding the fruit purée, simply add a little more flour until it reaches the desired consistency.
What can I mix with canned pumpkin?
There are many things you can mix with canned pumpkin to create delicious and healthy dishes. Here are some of our favorites:
Pumpkin Spice Cookie Dough Dip – This dip is perfect for fall gatherings or as an after-school snack. Simply combine canned pumpkin, cookie dough, spices, and milk to create a thick and creamy dip that everyone will love.
No-Bake Pumpkin Pie Bites – These bite-sized treats are perfect for satisfying your sweet tooth without overindulging. Combine graham cracker crumbs, canned pumpkin, sugar, and spices to create the filling, then top with whipped cream or marshmallows for a truly decadent treat.
Pumpkin Overnight Oats – Start your day off right with this healthy and flavorful breakfast option. Simply combine rolled oats, canned pumpkin, milk (dairy or non-dairy), honey or maple syrup, and spices in a jar before going to bed. In the morning, give it a good stir and enjoy!
Pumpkin Scones – These scones are moist and fluffy on the inside with a crispy outside crust – perfect for Fall! Combine flour, baking powder, salt, butter (or vegan margarine), sugar, canned pumpkin puree', eggs (or flaxseed meal), vanilla extract ,and cinnamon in a bowl. Mix until well combined then bake at 400 degrees Fahrenheit for 12-15 minutes. Serve with coffee or tea for the ultimate cozy experience. Creamy Pumpkin Pasta – This rich and creamy pasta dish is perfect for cooler weather evenings.
How long do you bake pumpkin bread?
Pumpkin bread is a quick bread that is typically made with pumpkin puree, spices, flour, sugar, eggs, and butter. It can be baked in a variety of ways, including in a loaf pan, bundt pan, or muffin tin. The baking time for pumpkin bread will vary depending on the size and type of pan you use.
For a standard loaf pan, the bake time should be between 65-75 minutes. You'll know the bread is done when a cake tester comes out clean. Once the bread is out of the oven, let it cool in the pan for about 10 minutes before turning it out onto a wire rack to cool completely.
If you're using a bundt pan or muffin tin, the bake time will be shorter – around 30-45 minutes for bundt cakes and 20-30 minutes for muffins. As always, use a cake tester to check for doneness. Let the cakes or muffins cool in their respective pans for about 10 minutes before transferring to a wire rack to finish cooling.
What kind of nuts go best in pumpkin bread?
Chopped pecans or chopped walnuts are the two most common types of nuts used in pumpkin nut bread. While both types of nuts add a delicious crunch to the bread, they each have their own distinct flavor that can enhance the taste of the pumpkin bread in different ways.
Pecans have a rich, buttery flavor that complements the sweetness of the pumpkinbread perfectly. If you want your pumpkin bread to have a classic, traditional flavor, then chopped pecans are definitely the way to go. Walnuts, on the other hand, have a slightly bitter taste that provides a nice contrast to the sweetness of the bread. If you're looking for something with a little more complexity and depth of flavor, then chopped walnuts are probably your best bet.
So which kind of nut is best for pumpkin bread? Ultimately, it comes down to personal preference.