Chocolate Pizzelles are a delicious, thin and crispy Italian cookie that is made with chocolate. They are perfect for any occasion and make a great addition to your holiday cookie platter!
Ingredients
4 eggs, 1 cup unsweetened cocoa powder,
1 cup granulated sugar,
1/2 teaspoon ground cinnamon,
1/4 teaspoon salt,
2 tablespoons baking powder,
1 cup (2 sticks) unsalted butter melted and cooled slightly,
3/4 cup finely ground hazelnuts or walnuts,
2 cups all-purpose flour
Instructions
1. In a large bowl, whisk together eggs, sugar, and salt until light.
2. Melt butter and stir into the egg mixture.
3. Sift together cocoa powder, baking powder, and cinnamon. Stir into the egg mixture until well combined.
4. Fold in hazelnuts or walnuts last.
5. Place 1 teaspoon of batter onto each imprint on the pizzelle iron. Close the iron and bake for 30 seconds before removing to cool on racks
Nutrition Facts
Serving size: 1 pizzelle
Calories: 120
Fat: 8 g
Saturated fat: 3.5 g
Unsaturated fat: 4.5 g
Trans fat: 0 g
Cholesterol: 55 mg
Sodium: 90 mg
Carbohydrates: 11 g
Fiber : 1 g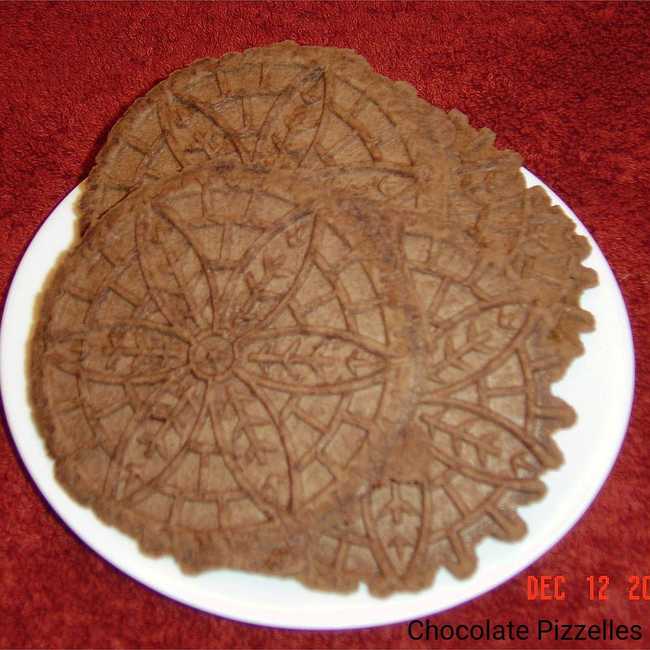 What does pizzelle mean in English?
Pizzelle is an Italian word that literally means "twisted" or "curled." Pizzelle are thin, crisp waffle cookies that are made using a special iron. The iron imprints a design on the cookie as it cooks, which can be simple or elaborate depending on the iron used. Pizzelles have a long tradition in Italian cooking and are often served at weddings and other celebrations.
In English, the word "pizzelle" typically refers to these traditional Italian cookies. However, it can also be used to describe any type of twisted or curled cookie.
What does a pizzelle taste like?
A pizzelle is a thin, Italian waffle cookie that is typically flavored with anise extract or anise seed. This gives the cookies a taste that is similar to black licorice. Pizzelles are often served as part of a dessert platter or with coffee.
Are pizzelles considered cookies?
Pizzelles are a classic Italian cookie made with anise and baked in a pizzelle maker. Pizzelles have a crispy, flaky texture and are often flavored with anise or other spices. While they may be made in different shapes and sizes, pizzellles are typically round or oblong cookies with ridged patterns on their surface.
So, are pizzelles considered cookies? Technically speaking, yes – pizzelles are classified as cookies. However, because of their unique flavor and texture, some people consider them to be more like biscotti than traditional cookies.
How would you describe a pizzelle?
A pizzelle is a thin, crisp Italian cookie that is baked in an iron and resembles a waffle. It is often flavored with anise, which gives it a distinctive licorice-like taste. Pizzelles are typically enjoyed as a dessert or snack, and can be served plain or with various toppings such as chocolate or fruit.
Pizzelles are made from a simple batter of eggs, sugar, butter (or oil), flour, and baking powder. The batter is usually flavoured with anise seeds or extract, although other variations such as vanilla or lemon are also common. Once the batter is mixed, it is spooned onto the hot pizzelle iron and cooked until golden brown.
Pizzelles can be stored in an airtight container for several weeks and are often served at Christmas time in Italy. They can be enjoyed plain or topped with whipped cream, chocolate sauce, fruit preserves, or simply dusted with powdered sugar.
What do pizzelles taste like?
Pizzelles are a traditional Italian cookie that is made with anise extract or anise seed. This gives them a flavor that is similar to black licorice. Some people also add other flavors to their pizzelles, such as lemon or vanilla. Overall, they are a very sweet and flavorful cookie.