A Garden Of Delights: Cauliflower Antipasto Salad
I remember the first time I made Cauliflower Antipasto Salad for my family. I was so excited to make something different, something that was a little healthier than the meals I usually prepared. The combination of the fresh cauliflower, olives, tomatoes, and cheese was the perfect blend of flavors and textures. It was a huge hit with everyone at the table, and it quickly became a regular in our weekly meal rotation.
Cauliflower Antipasto Salad Recipe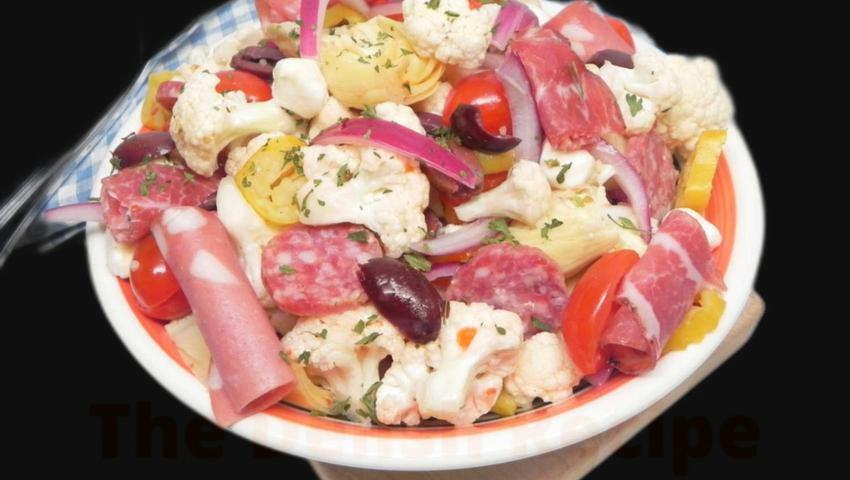 Ingredients
1 medium head cauliflower, cut into small florets
1 small red onion, sliced
12 grape tomatoes, halved
1 (14 ounce) can quartered artichoke hearts, drained
½ cup sliced Kalamata olives
½ cup mild banana pepper rings
8 ounces small fresh mozzarella balls (such as BelGioioso®)
4 ounces Genoa salami, chopped
½ cup Italian-style salad dressing
Instructions
Preheat oven to 375 degrees Fahrenheit.
Spread cauliflower florets on a baking sheet and bake for 30 minutes, or until golden brown.
In a large bowl, combine the roasted cauliflower, red onion, grape tomatoes, artichoke hearts, Kalamata olives, banana pepper rings, mozzarella balls, and Genoa salami.
Pour the Italian-style salad dressing over the salad and toss to combine.
Serve the Cauliflower Antipasto Salad immediately, or chill in the refrigerator for up to 24 hours before serving. Enjoy!
Nutrition Facts
Serving size: 1 cup
Calories: 250
Fat: 13 g
Carbohydrates: 19 g
Protein: 11 g
Sodium: 490 mg
Cholesterol: 25 mg
Fiber: 5 g
How can the flavors of an antipasto salad be enhanced with cauliflower?
Cauliflower can be a great way to enhance the flavors of an antipasto salad. It adds a unique texture, as well as its own gentle flavor, to the salad. Cauliflower can also be used to make the salad more filling, as it is high in fiber and a good source of protein. Here are some ideas for how to incorporate cauliflower into an antipasto salad to make it more flavorful and satisfying:
Roast the cauliflower: Roasting the cauliflower before adding it to the salad will give it a great flavor. To do this, cut the florets into small pieces and spread them onto a baking sheet. Drizzle them with olive oil and sprinkle with salt, pepper, and any other seasonings of your choice. Roast in a preheated oven at 375 degrees for about 25 minutes, stirring occasionally, until lightly browned and tender.
Add a creamy element: A creamy element, such as a pesto, tahini, or a vegan cheese sauce, can add a delicious flavor to the salad. Simply mix a tablespoon or two of the desired creamy element with the cooked cauliflower florets and toss with the other salad ingredients.
Add some crunch: A little bit of crunch can go a long way in enhancing the flavor of an antipasto salad. To add some crunch, sauté some finely chopped cauliflower florets in a pan with a little olive oil. You can also add some toasted nuts or seeds to the salad.
Adding cauliflower to an antipasto salad is a great way to give it a boost of flavor and nutrition. Roasting, adding a creamy element, and adding some crunch can all help to enhance the flavors and make the salad more satisfying.
What are some creative ways to serve cauliflower antipasto salad?
Creative ways to serve cauliflower antipasto salad range from preparing it as a main course to a side dish or appetizer. Here are some ideas:
For a main course, serve the salad over a bed of baby kale or arugula, topped with a generous helping of your favorite cheese and a sprinkle of toasted pistachios.
As a side dish or appetizer, try using the salad as a topping for crostini. Toast up some crusty baguette slices and top with a spoonful of the salad, a drizzle of olive oil, and a pinch of freshly cracked black pepper.
For a more substantial side dish, stuff the salad into a roasted bell pepper. Cut the pepper in half and scoop out the seeds and ribs, then fill with the salad and bake for about 15 minutes.
Get creative and use the salad as a pizza topping. Spread a thin layer of the salad over a pre-baked crust and top with your favorite cheese and herbs. Bake until the cheese is melted and bubbly.
No matter how you choose to serve it, cauliflower antipasto salad is sure to be a hit.
What are the health benefits of an antipasto salad made with cauliflower?
The health benefits of an antipasto salad made with cauliflower include:
High-fiber content: Cauliflower is a great source of dietary fiber, which helps improve digestion, reduce cholesterol levels, and support the immune system.
Low-calorie option: Cauliflower Antipasto Salad is a low-calorie option and is packed with vitamins, minerals, and antioxidants.
Good source of vitamins and minerals: Cauliflower is a good source of vitamin C and K, as well as folate, potassium, and magnesium. It also contains antioxidants that can help protect against oxidative stress and inflammation.
Healthy fats: Cauliflower contains healthy fats such as omega-3 fatty acids, which can help reduce inflammation and support heart health.
Improved digestive health: Cauliflower is high in fiber, which helps to keep the digestive system healthy and promotes regularity.
Reduced risk of cancer: Cauliflower has been linked to a reduced risk of certain types of cancers, such as colorectal cancer, due to its anti-inflammatory properties.
How can an antipasto salad be made with cauliflower to suit different dietary needs?
An antipasto salad made with cauliflower can be a delicious and versatile dish to suit many different dietary needs. It can be modified to fit vegan, vegetarian, and gluten-free diets, as well as be made low-carb for those who are health-conscious. Here are some tips for making an antipasto salad with cauliflower that can fit nearly any diet:
Vegetarian and Vegan:
For a vegetarian or vegan antipasto salad, replace the traditional meat or cheese with a variety of vegetables, such as roasted red peppers, artichoke hearts, olives, and mushrooms. You can also add garbanzo beans or chickpeas for a protein boost. To make it vegan, use a vegan mayonnaise or Greek yogurt instead of regular mayonnaise.
Gluten-Free:
To make a gluten-free antipasto salad, use gluten-free pasta, such as quinoa or brown rice pasta. You can also opt for a gluten-free breadcrumb topping, using crushed gluten-free crackers or corn flakes.
Low-Carb:
For a low-carb antipasto salad, replace the pasta with roasted cauliflower florets, which will provide the same texture and flavor as traditional pasta. You can also opt for a low-carb breadcrumb topping, such as crushed almonds or walnuts.
No matter which dietary needs you are catering to, an antipasto salad with cauliflower can make a nutritious and delicious meal. With these tips, you can easily modify the dish to fit nearly any diet.
What are the key ingredients and flavor profiles that make a cauliflower antipasto salad stand out?
The key ingredients that make a cauliflower antipasto salad stand out are cauliflower, olives, salami, artichoke hearts, and cheese. These ingredients, when combined, create a unique flavor profile that will tantalize the taste buds. The salty and tangy flavors of the olives, salami, and artichoke hearts are balanced by the mild sweetness of the roasted cauliflower. Cheese, such as feta or Parmesan, adds a creamy texture and a savory flavor. The combination of all of these ingredients creates a delicious, nutritious dish that is perfect for a summertime picnic or party.
In addition to the ingredients mentioned above, there are many other flavor profiles that can be added to the salad. For example, sundried tomatoes add a sweet and smoky flavor, while capers add a briny flavor. Fresh herbs such as basil, oregano, or parsley add a bright, herby flavor. Red onion, garlic, and red pepper flakes also add a nice kick of heat. Adding these ingredients will help to customize the flavor of the salad, making it unique and memorable.
A cauliflower antipasto salad is a delicious, unique dish that is sure to be a hit at any gathering. With its combination of key ingredients and flavor profiles, this salad is sure to please even the pickiest of eaters.