This black-eyed pea salad is a staple in my house during the summer. It's easy to make, and it's always a hit at potlucks and cookouts. I usually make a double batch so that we have leftovers for the week.
Ingredients
2 cups dry black-eyed peas
1 package feta cheese
1 jar sun-dried tomatoes in oil
1 cup black olives
1 green onion, finely chopped
1 clove garlic, finely chopped
1 large bunch spinach, washed and chopped
Instructions
1. Bring a medium pot of water to a boil and add salt to taste.
2. Add black-eyed peas and cook slowly, uncovered, until done (30 minutes to 1 hour).
3. In a large bowl, mix together spinach, feta cheese, and all other ingredients except lemon juice.
4. When black-eyed peas are done, pour into a colander and spray with cold water to stop cooking. Pick through and discard any loose skins or mashed peas.
5. Add black-eyed peas to salad mixture and mix well before serving. Squirt some lemon juice over each serving at the table as desired.
Nutrition Facts
Serving size: 1/2 cup
Calories: 190
Fat: 7 g
Saturated fat: 2.5 g
Cholesterol: 10 mg
Sodium: 480 mg
Carbohydrates: 25 g
Fiber: 5 g
Sugar: 2 g
Protein: 6 g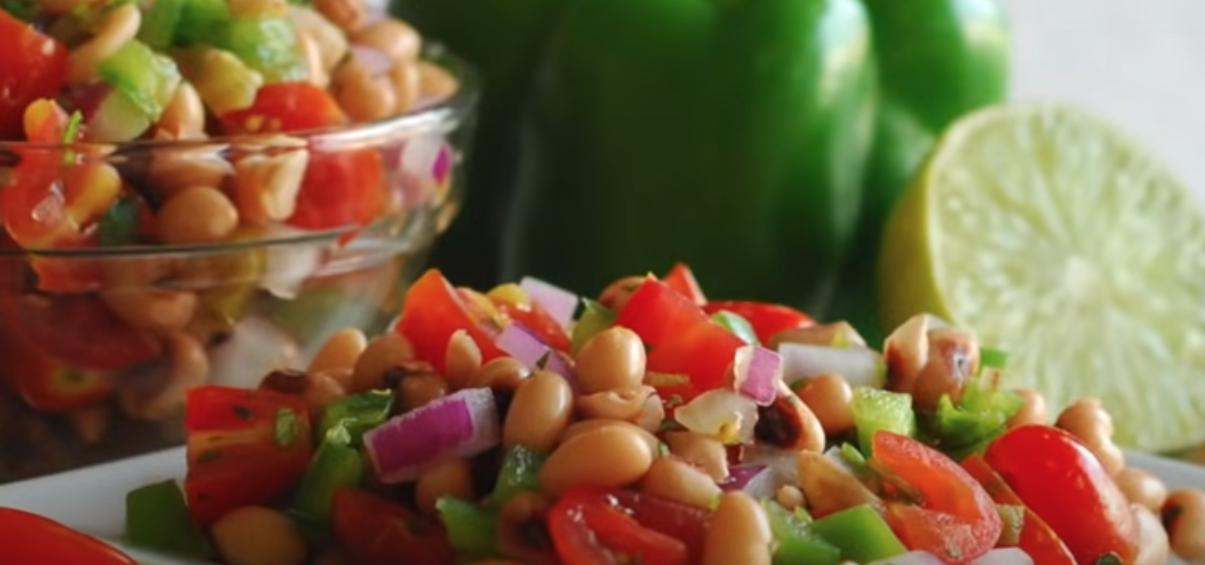 Frequently Asked Questions
What tastes good with black-eyed peas?
There are a variety of dishes that black-eyed peas can be served with as a side dish. Some good options include ham, mashed potatoes, collard greens, cornbread, rice, green beans, or other vegetables. If you're looking for a heartier meal, black-eyed peas can also be served as a main dish.
Why soak black-eyed peas overnight?
Most cooking methods recommend soaking black-eyed peas overnight for two main reasons: soaked beans cook faster and are easier to digest.
Soaking the beans before cooking them helps to speed up the cooking process by reducing the amount of time they need to spend in the pot. This is especially helpful if you're working with a stovetop rather than an Instant Pot or other pressure cooker. Soaking also makes the beans more tender and easier to mash, which can be important for certain dishes like Hoppin' John.
Digestion-wise, soaked black-eyed peas are much gentler on your system than unsoaked ones. Soaking allows enzymes and good bacteria present in the water to break down some of the complex carbohydrates in the beans, making them easier for your intestines to handle. This can help prevent gas and bloating after eating.
Is soaking black-eyed peas necessary?
Soaking black-eyed peas is not necessary, but it can shorten cooking time. To soak, place dried peas in a pot, cover with water, and bring to a boil for 2-3 minutes. Remove pot from heat and allow to stand for 60-90 minutes.
What spice is good in black-eyed peas?
As with many things in life, there is no definitive answer to the question of which spice goes best with black-eyed peas. Different people may have different opinions on the matter, and it ultimately comes down to personal preference. That said, there are some spices that are commonly used in black-eyed pea dishes, and they include salt, pepper, garlic, onion, and cumin. All of these spices can add a unique flavor to the dish, so it's worth experimenting with different combinations to see what you like best.
Is black-eyed peas good for weight loss?
Yes, black-eyed peas can be good for weight loss. They are low in fat and calories, and a 1/2 cup serving is generally less than 100 calories. This makes them a good option for people who are trying to lose weight.