Sweet And Savory Roasted Garlic Carrots
I love adding roasted carrots to my meals and have recently discovered an amazing way to make them even more flavorful — garlic roasted carrots! It's my go-to side dish now, and I can't get enough of the delicious garlicky flavor. If you haven't tried garlic roasted carrots yet, you're missing out! They're so delicious and easy to make, you'll be surprised at how quickly they become a staple in your kitchen.
Garlic Roasted Carrots Recipe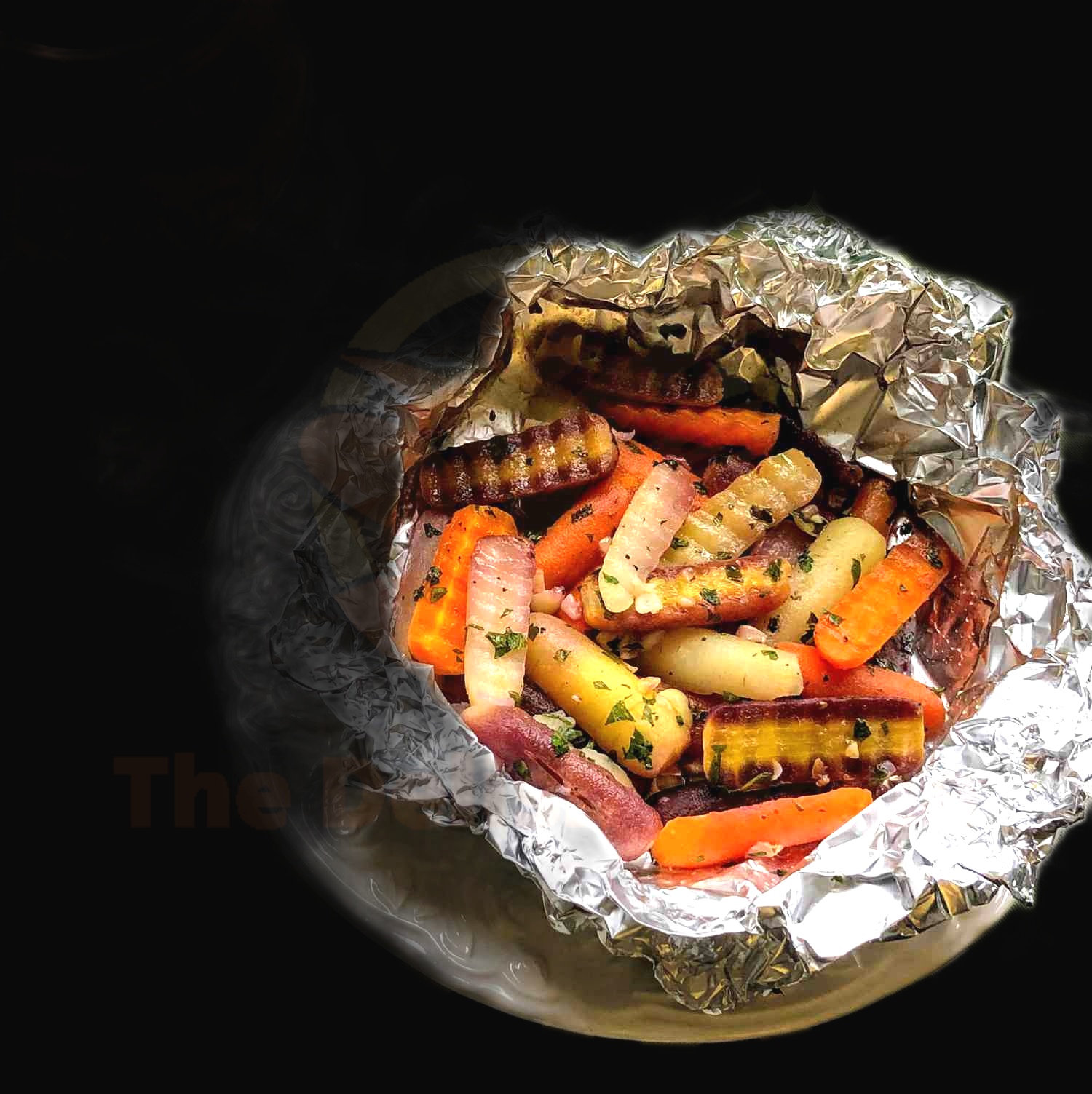 Ingredients
3 large carrots, peeled and chopped into 1-inch pieces
2 cloves of garlic, minced
3 tablespoons olive oil
1 teaspoon ground cumin
1/2 teaspoon salt
1/4 teaspoon ground black pepper
2 tablespoons chopped fresh parsley (optional)
Instructions
Preheat your oven to 400 degrees Fahrenheit.
Peel and chop 3 large carrots into 1-inch pieces.
Mince 2 cloves of garlic.
In a large bowl, combine the carrots, garlic, olive oil, ground cumin, salt, and ground black pepper.
Spread the mixture onto an ungreased baking sheet in a single layer.
Place the baking sheet into the preheated oven and roast for 40 minutes, stirring the carrots every 10 minutes for even cooking.
After 40 minutes, the carrots should be golden brown and cooked through.
Sprinkle with the chopped fresh parsley (optional) and let cool for 15 minutes.
Serve and enjoy your garlic roasted carrots!
Nutrition Facts
Calories: 77
Total Fat: 4g
Saturated Fat: 0g
Cholesterol: 0mg
Sodium: 55mg
Total Carbohydrates: 9g
Dietary Fiber: 2g
Sugars: 3g
Protein: 1g
What makes garlic roasted carrots so special?
Garlic roasted carrots are special because they are the perfect combination of sweet, salty and savory. The caramelized garlic adds a rich flavor to the natural sweetness of the carrots, while the salt brings out the flavor of the garlic and enhances the sweetness of the carrots. The result is a delicious side dish that pairs perfectly with any main course.
What other ingredients work well with garlic roasted carrots?
Garlic roasted carrots are a delicious side dish that can be enjoyed with a variety of other ingredients! To really bring out the flavor of the carrots, try adding some onions, mushrooms, and bell peppers. The sweetness of the onions and peppers will nicely complement the savory flavor of the garlic, while the mushrooms will add a nice earthy taste. If you're a fan of spice, try adding some chili flakes or cayenne pepper to the mix! For an extra boost of flavor, use fresh herbs like thyme, oregano, or rosemary. And for a heartier meal, you can add some protein like bacon or sausage.
How do you choose the right carrots for roasting?
Choosing the right carrots for roasting is easy once you know what to look for! Here are some tips to help you pick out the best:
Look for carrots that are smooth, firm and free of blemishes.
Carrots should be a vibrant orange color and free of green streaks.
Choose carrots that are about the same size for even cooking.
If possible, try to buy carrots with the tops still attached. This indicates freshness.
Try to buy carrots from local growers or farmers markets if possible.
What tips and tricks can you use to maximize flavor when roasting carrots?
Tips and Tricks to Maximize Flavor When Roasting Carrots:
Use fresh carrots that are firm and brightly colored. This ensures that your carrots are full of flavor.
Roast the carrots on a high heat – 400°F is ideal – for about 25 minutes or until the carrots are tender.
Toss the carrots in olive oil to help them roast evenly and give them a delicious flavor.
Add minced garlic, rosemary, thyme, or other herbs to the carrots before roasting to enhance the flavor.
Sprinkle the carrots with sea salt and freshly ground black pepper before and after roasting.
Drizzle the roasted carrots with a small amount of balsamic vinegar just before serving.
If desired, finish the roasted carrots with a sprinkle of freshly grated Parmesan cheese.
Serve the roasted carrots immediately for the best flavor.
What recipes can you make with garlic roasted carrots?
With garlic roasted carrots, the possibilities are endless! You can make some delicious side dishes and even meals with this tasty vegetable. Here are a few ideas to get you started:
Carrot and Feta Salad: Mix roasted carrots with crumbled feta cheese, chopped parsley, and a light vinaigrette for a flavorful and easy salad.
Roasted Carrot Soup: Puree roasted carrots with garlic and vegetable broth for a creamy and comforting soup.
Carrot-Stuffed Baked Potatoes: Stuff baked potatoes with roasted carrots and a mix of herbs and spices for an easy and delicious meal.
Carrot Rice Bowl: Mix roasted carrots with cooked rice, diced onions, and toasted sesame seeds for a tasty and filling bowl.
Roasted Carrot and Avocado Toast: Top toast with mashed avocado, roasted carrots, and a sprinkle of lemon juice for a nutritious and tasty breakfast.