Deliciously Nutty Banana Muffins
I'll never forget the first time I made my grandmother's famous Banana-Nut Muffins. With their sweet and nutty aroma wafting through the kitchen, I knew immediately that these treats would be a hit. The warm and comforting flavor of the banana pairs perfectly with the crunch of the walnuts, creating a delicious snack that's sure to please. Plus, they're easy to whip together in a matter of minutes, so you can enjoy them any time!
Banana-Nut Muffins Recipe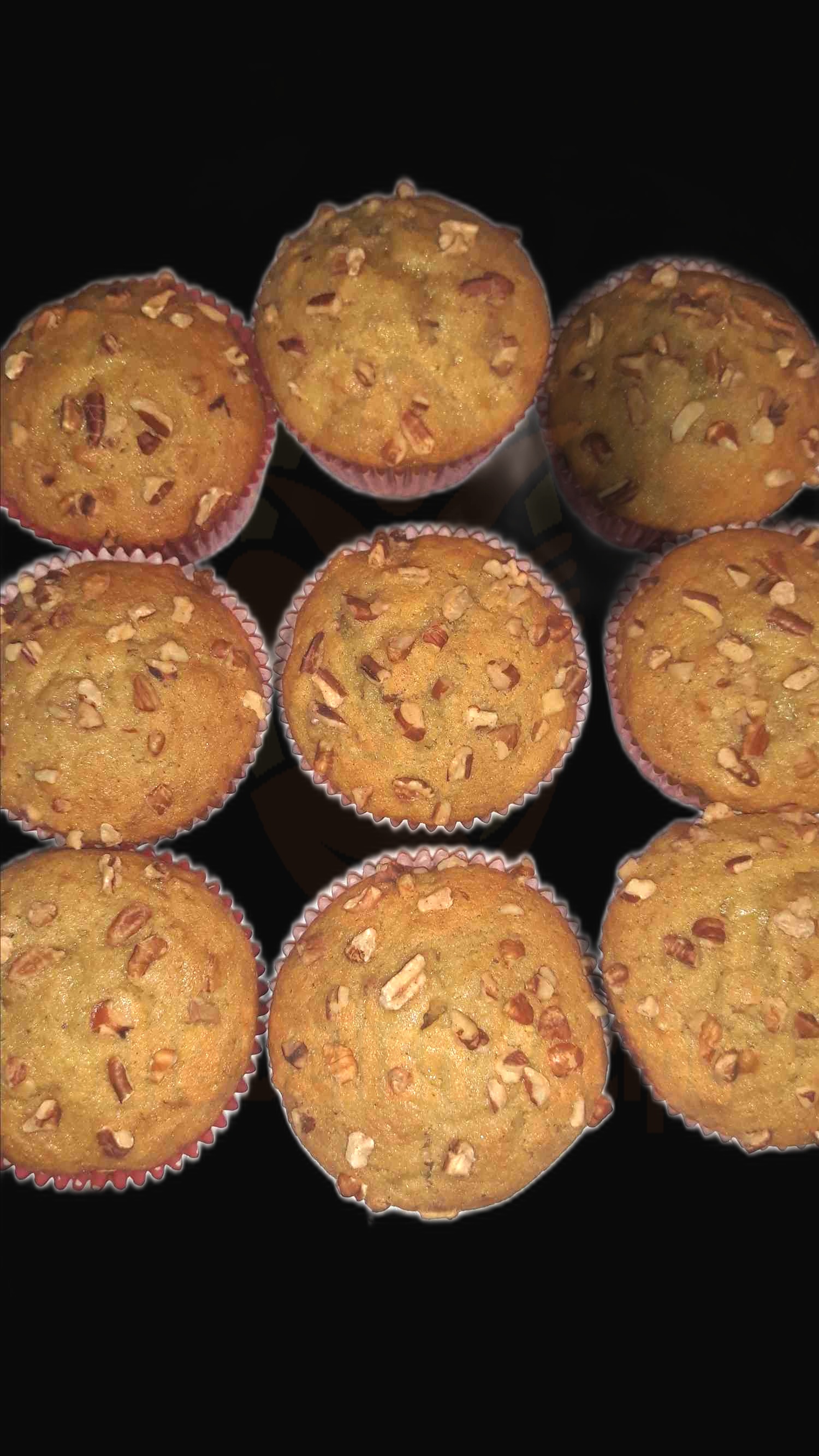 Ingredients
3 ripe bananas
½ cup melted butter
1 cup granulated sugar
2 eggs
1 teaspoon vanilla extract
1 teaspoon baking soda
½ teaspoon salt
1 ½ cups all-purpose flour
½ cup chopped walnuts
Instructions
Preheat your oven to 350°F.
In a medium-sized bowl, mash the 3 ripe bananas until they are smooth.
In a separate bowl, mix together the melted butter and sugar.
Add the eggs and vanilla extract to the butter and sugar mixture and mix until everything is combined.
In another bowl, combine the baking soda, salt, and all-purpose flour.
Add the dry ingredients to the wet ingredients and mix until everything is incorporated.
Fold in the chopped walnuts.
Grease a muffin tin or line it with muffin liners.
Fill each muffin cup about ¾ full with the batter.
Place the muffin tin in the preheated oven and bake for 20-25 minutes.
To check if the muffins are done, insert a toothpick into the center of one of the muffins; if it comes out clean, the muffins are ready.
Allow the muffins to cool for about 5 minutes in the muffin tin before transferring them to a wire rack to cool completely.
Enjoy your delicious banana-nut muffins!
Nutrition Facts
Calories: 375
Total Fat: 16g
Saturated Fat: 8g
Trans Fat: 0g
Cholesterol: 65mg
Sodium: 200mg
Total Carbohydrate: 51g
Dietary Fiber: 3g
Sugars: 25g
Protein: 7g
What makes banana-nut muffins so delicious?
Banana-nut muffins are delicious because they combine two amazing flavors – banana and nut – into one amazing treat! The sweetness of the banana pairs perfectly with the nutty crunch of the nuts, creating a flavor that is hard to resist. Plus, the banana and nuts add a nice texture to the muffins which makes them even more enjoyable. They are also incredibly moist and fluffy, making them the perfect snack or breakfast.
What are some unique topping ideas for banana-nut muffins?
If you're looking for unique topping ideas for your banana-nut muffins, you'll be pleasantly surprised by the variety of options! From sweet to savory, there are a lot of delicious ways to dress up these tasty treats. Here are some ideas to get you started:
A drizzle of honey or maple syrup. Not only does this add sweetness, but it also adds a wonderful gloss that looks great.
A sprinkling of crushed nuts. Whether it's walnuts, almonds, or pecans, this adds crunch and a nutty flavor that pairs well with the banana.
A sprinkle of cinnamon sugar. This is a classic topping that adds a hint of spice and a sweet crunch.
A dollop of whipped cream. If you want to make your muffins extra-special, top them off with a dollop of whipped cream and a few slices of banana.
A dollop of yogurt. Yogurt is a great topping that adds a bit of tartness and creaminess without going overboard on sugar.
A sprinkle of shredded coconut. Coconut is a great way to add a hint of tropical flavor and texture to your muffins.
What are the benefits of baking banana-nut muffins at home?
Baking banana-nut muffins at home can be a wonderful way to treat your family and friends to a delicious snack or breakfast.
You get the satisfaction of knowing that you have created something delicious and nutritious with your own hands.
Making banana-nut muffins at home gives you control over the ingredients that you use. You can choose healthier, natural ingredients, such as whole wheat flour, fresh bananas, walnuts, and honey.
You can also customize your muffins to suit your family's preferences. Add extra nuts, chocolate chips, or a different type of nut butter to make the muffins unique.
Baking your own muffins can also be fun and relaxing. Spend time in the kitchen and get creative!.
Finally, baking banana-nut muffins at home can be a cost-effective way to enjoy a delicious snack. You can buy ingredients in bulk and make a large batch of muffins for a fraction of the cost of buying pre-made muffins.
How do banana-nut muffins differ from traditional muffins?
Banana-Nut Muffins are a delicious twist on traditional muffins that are sure to tantalize taste buds! They differ from classic muffins in a few distinct ways:
Banana-Nut Muffins have a sweeter, more fragrant taste thanks to the ripe bananas used in them. The banana flavor is prominent, making these muffins more like a dessert than a breakfast item.
The nuts used in these muffins add an extra layer of crunch and flavor. Walnuts and pecans are the most popular nuts for this recipe, but feel free to experiment with your favorite nut.
The texture of Banana-Nut Muffins is moist and tender, thanks to the mashed banana used in them. Traditional muffins are often dry and crumbly.
Lastly, Banana-Nut Muffins are often topped with a sweet glaze or streusel for added sweetness and texture. Traditional muffins do not usually have such decorations.
What are some tips and tricks for baking the perfect banana-nut muffins?
Preheat your oven: Before you start baking, make sure your oven is preheated to the right temperature. A preheated oven will help your muffins bake evenly and create a fluffy texture.
Use ripe bananas: Ripe bananas give your muffins a great flavor, so make sure to only use bananas that are ripe and soft. You can also mash them up with a fork or blender before adding them to the batter.
Don't over-mix: When combining the wet and dry ingredients, stir until just combined. Over-mixing your batter can result in a dense and rubbery texture, so be sure to mix until all the ingredients are just combined.
Use a scoop: If you want evenly-sized muffins, use a scoop to measure out the batter into each muffin cup. This will ensure that your muffins bake evenly and will help you get the perfect muffin every time.
Don't forget the nuts: Nuts add both flavor and texture to your muffins, so don't forget to add them to the batter before baking. Chopped walnuts or pecans are the perfect addition to banana-nut muffins.
Bake until golden brown: To make sure your muffins are cooked through, bake until the tops are golden brown. This should take about 20 minutes, but you can check with a toothpick to make sure they're done.
How can banana-nut muffins be customized to suit different tastes?
Banana-nut muffins are a delicious and easy treat that can easily be customized to suit different tastes! Whether you're a fan of traditional banana-nut flavors, or looking to switch things up a bit, there's a variety of ways you can tweak these classic muffins to create something special. Here are some ideas to get you started:
Add an extra flavor. Consider adding some spices like cinnamon or nutmeg, or even some shredded coconut or crystallized ginger to give your banana-nut muffins an extra kick. For an even bigger flavor punch, try adding a teaspoon of your favorite extract, like vanilla or almond.
Switch up the nuts. If you're not a fan of walnuts, don't worry! You can easily swap them out for something else like pecans, almonds, or even macadamia nuts.
Make it dairy-free. No need to use butter or milk in your muffin recipe. Instead, you can replace them with your favorite plant-based milk and a vegan butter substitute like Earth Balance or coconut oil.
Mix in some chocolate. Chocolate and banana are a classic combination, so why not add some mini chocolate chips or chopped dark chocolate to your muffin batter? This will give your muffins an extra boost of sweetness.
No matter how you choose to customize your banana-nut muffins, you're sure to end up with a delicious treat.
How can banana-nut muffins be used to create new and exciting recipes?
Creating new and exciting recipes with banana-nut muffins is easier than you might think! With some basic ingredients and a little creative thinking, you can turn these classic treats into something truly special. Here are just a few ideas to get your creative juices flowing:
Banana-Nut French Toast Muffins – Take your classic banana-nut muffins and transform them into a breakfast treat. Toast the muffins in a pan with some butter, then top with a drizzle of syrup and powdered sugar.
Banana-Nut Ice Cream Sandwiches – For a cool, sweet treat, crumble some banana-nut muffins and mix them with softened vanilla ice cream. Place some of the mixture between two muffins and freeze, then enjoy!
Banana-Nut Milkshakes – Blend your banana-nut muffins with milk and a bit of vanilla extract for an easy, delicious milkshake. You can add a scoop of ice cream or a few tablespoons of cocoa powder for an extra special treat.
Banana-Nut Muffin Pudding – Mix banana-nut muffin crumbs with milk, sugar, and vanilla extract. Cook over low heat, stirring constantly, until thick. Serve warm or chilled with a dollop of whipped cream for a tasty, not-too-sweet dessert.
With just a little bit of inspiration and imagination, you can turn ordinary banana-nut muffins into something truly extraordinary.