Refreshingly Delicious Watermelon Tomato Salsa
I'm so excited to share my watermelon tomato salsa recipe with you! This is one of my go-to recipes for summertime gatherings and backyard barbecues. The combination of sweet watermelon and tart tomatoes is simply delicious. Plus, it's easy to make and can be served as a side dish or dip. I guarantee this salsa will be a hit with your friends and family at your next gathering!
Watermelon Tomato Salsa Recipe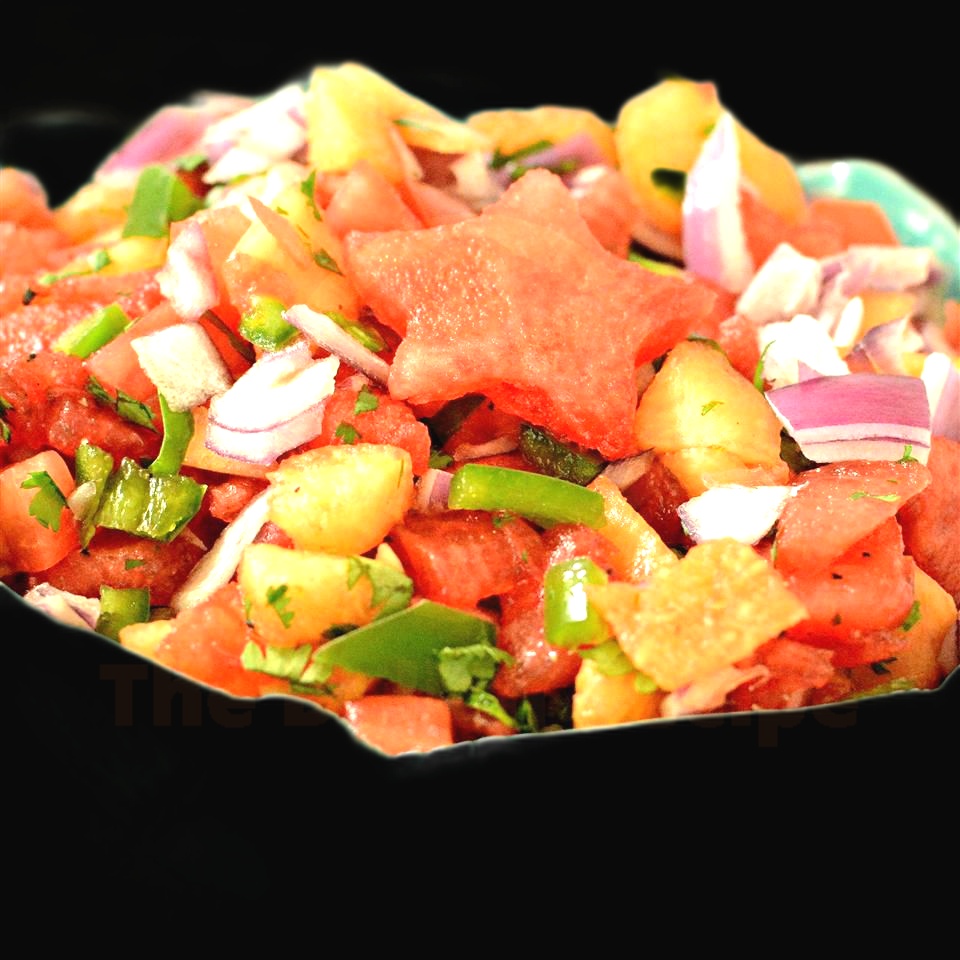 Ingredients
2 cups chopped, seedless watermelon
1/2 cup diced tomatoes
1/4 cup red onion, diced
2 tablespoons chopped fresh cilantro
2 tablespoons fresh lime juice
1/2 teaspoon granulated sugar
1/4 teaspoon garlic powder
Salt and pepper, to taste
Instructions
Let's get started on making some delicious Watermelon Tomato Salsa! Start by gathering all the ingredients listed above.
Now, in a medium-sized bowl, combine the chopped watermelon, diced tomatoes, diced red onion, chopped cilantro, lime juice, sugar, garlic powder and salt and pepper.
Mix everything together until it is well combined.
Let the salsa sit for about 5 minutes so the flavors can meld together.
Taste the salsa and adjust the seasoning to your liking.
Serve up the salsa and enjoy!
Nutrition Facts
Calories: 30
Total Fat: 0g
Saturated Fat: 0g
Cholesterol: 0mg
Sodium: 270mg
Total Carbohydrate: 7g
Dietary Fiber: 1g
Sugars: 4g
Protein: 1g
What unique flavor combination does watermelon tomato salsa offer?
Watermelon Tomato Salsa offers a unique blend of sweet and savory flavors that will tantalize your taste buds. Packed with juicy tomatoes, zesty jalapeños, sweet watermelon, and plenty of herbs and spices, this salsa offers a unique combination of flavors that will leave your mouth watering. The sweetness of the watermelon balances out the zesty chili pepper, while the freshness of the tomatoes and herbs adds an extra layer of flavor and texture. Whether you enjoy it as a dip with chips, over grilled fish, or even as a topping for tacos, this salsa is sure to be a crowd-pleaser.
How does this salsa differ from traditional salsa recipes?
This Watermelon Tomato Salsa is a delicious twist on traditional salsa recipes! It's a sweet and spicy mix of fresh watermelon, tomatoes, jalapeño, and cilantro that will have your taste buds jumping in delight.
The combination of juicy watermelon and ripe tomatoes adds a unique flavor and texture to the salsa that you won't find in traditional recipes. The sweetness of the watermelon contrasts nicely with the spiciness of the jalapeño and the tang of the tomatoes.
The addition of fresh cilantro adds a delightful herbal flavor and aroma that is perfect for summer barbecues and Mexican-themed dinners. Plus, it's a great way to sneak in some extra nutrition into your meal!.
Finally, the Watermelon Tomato Salsa is incredibly easy to make. All you need is a few fresh ingredients and some basic kitchen tools and you can enjoy a flavorful salsa in no time.
What are some tips and tricks for making the perfect watermelon tomato salsa?
If you're looking to whip up a delicious watermelon tomato salsa that's sure to impress, then these tips and tricks have got you covered! Here's how to make the perfect watermelon tomato salsa:
Start with the freshest ingredients – no matter the recipe, it's always important to use the freshest ingredients available. When it comes to watermelon tomato salsa, you'll want to find the ripest tomatoes and sweetest melon you can find.
Dice your vegetables – for a smooth salsa, it's important to get your vegetables diced finely. That way, you'll have a uniform texture that won't overpower the other flavors.
Don't forget the spices – watermelon tomato salsa isn't complete without a few key spices. Consider adding a bit of cumin, chili powder, and/or garlic powder to give your salsa a kick.
Add a bit of sweetness – to give your salsa some additional flavor and sweetness, consider adding a bit of honey or brown sugar. This will help to cut through the acidity of the tomatoes and give your salsa a unique flavor.
Don't forget the acidic elements – lime juice, balsamic vinegar, and white wine vinegar are all great additions to your watermelon tomato salsa. The acidity helps to bring out the flavors of the other ingredients.
Have fun with it – the best part about making a salsa is that you can customize it to your own tastes. Don't be afraid to experiment and add your own unique touches.
By following these tips and tricks, you'll be able to create a delicious and unique watermelon tomato salsa that's sure to impress.
What are some creative ways to serve watermelon tomato salsa?
Serve up a plateful of summertime flavor with creative takes on watermelon tomato salsa! This refreshingly sweet and spicy salsa is perfect for topping tacos, scooping onto chips, or adding a kick to grilled dishes. Here are some delicious and creative ways to enjoy this delightful dish:
Add some crunch! Crumble up some crunchy tortilla chips into traditional watermelon tomato salsa for a crunchy twist.
Cool down the heat. For a milder salsa, add some fresh cucumber. The juicy crunch of cucumber will help balance out the flavor of the salsa and provide a cool contrast to the spiciness of the tomatoes.
Spice it up! Add a bit of heat to the mix with jalapenos or chilies. This will give your salsa a nice kick and make it a bit more exciting.
Add some sweetness. Add some diced sweet bell peppers, mango, or pineapple to the salsa for a sweet and juicy burst of flavor.
Make it creamy. Stir in some creamy avocado or sour cream for a smooth and creamy texture. This will help mellow out the spiciness of the salsa and make it more enjoyable for all.
No matter how you choose to enjoy this summertime dish, watermelon tomato salsa is sure to satisfy your taste buds.
How can watermelon tomato salsa add a special touch to your next gathering?
When it comes to adding a special touch to your next gathering, nothing beats a delicious Watermelon Tomato Salsa! This unique twist on a classic salsa recipe is sure to be a hit with all your guests. Not only is it incredibly easy to make, but it also offers a unique flavor profile that is unlike any other salsa out there. Watermelon Tomato Salsa has a sweet, spicy, and slightly tangy taste that will leave everyone wanting more. Plus, its vibrant color is sure to be a conversation starter!
The best part about making Watermelon Tomato Salsa is that it only requires a few simple ingredients. All you need is fresh tomatoes, watermelon, jalapeños, onion, garlic, lime juice, cilantro, and salt. Chopping all the ingredients is the most time consuming part, but with a little help from your guests you can get everything prepped in no time. Once all the ingredients are ready, simply combine them in a bowl and you'll have a delicious Watermelon Tomato Salsa in no time.
Watermelon Tomato Salsa is great for any occasion, from a casual gathering of friends to a more formal event. Serve it as an appetizer with chips, or as a side dish to tacos and burritos. It's also wonderful on grilled meats and vegetables. No matter how you choose to serve it, Watermelon Tomato Salsa is sure to bring an extra special touch to your next gathering.