Refreshingly Sweet Watermelon Salad
I'm so excited to share my favorite summer salad recipe with you – watermelon salad! This light, refreshing salad is the perfect accompaniment to any outdoor barbecue or picnic. It's incredibly easy to make and sure to be a hit with your friends and family. I've been making this dish for years and I'm always amazed at how quickly it disappears! The combination of sweet watermelon, crunchy cucumbers, and a zesty lime dressing is just unbeatable. So next time you're looking for a tasty way to cool off, give this watermelon salad a try – you won't be disappointed!
Watermelon Salad Recipe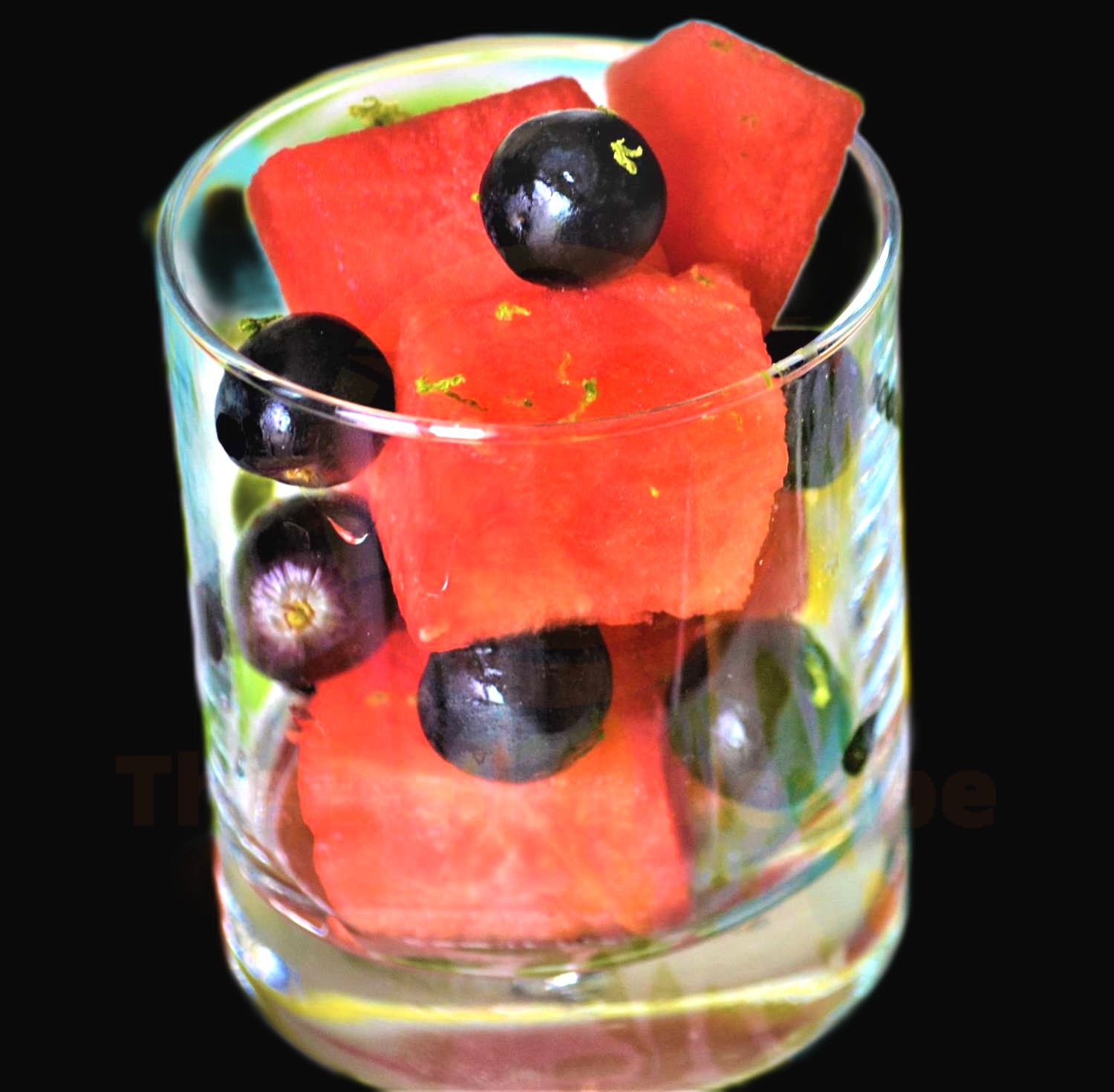 Ingredients
2 cups diced watermelon
1/4 cup crumbled feta cheese
2 tablespoons fresh basil leaves, finely chopped
1 tablespoon honey
1 tablespoon olive oil
1 tablespoon white balsamic vinegar
Salt and freshly ground black pepper, to taste
Instructions
To make your delicious Watermelon Salad, start by dicing two cups of watermelon into bite-sized pieces and placing them in a large bowl.
Add 1/4 cup of crumbled feta cheese, 2 tablespoons of finely chopped fresh basil leaves, 1 tablespoon of honey, 1 tablespoon of olive oil, and 1 tablespoon of white balsamic vinegar to the bowl.
Mix everything together and season with salt and freshly ground black pepper, to taste.
Voila! You've made your own Watermelon Salad in just 10 minutes. Enjoy!
Nutrition Facts
Calories: 162 kcal
Carbohydrates: 17g
Protein: 3g
Fat: 10g
Saturated Fat: 3g
Cholesterol: 17mg
Sodium: 190mg
Potassium: 108mg
Fiber: 1g
Sugar: 14g
Vitamin A: 573IU
Vitamin C: 11mg
Calcium: 86mg
Iron: 1mg
What are some creative ways to incorporate watermelon into a salad?
There are so many creative ways to incorporate watermelon into a salad! Whether you're looking for a new take on a classic summer favorite or you're just looking to get creative with a fresh, juicy watermelon, there's no shortage of delicious and unique recipes to choose from. From adding watermelon chunks to a classic fruit salad to creating a unique and flavorful watermelon, feta, and mint salad, there's no limit to the ways you can use this sweet fruit in your next salad. Here are a few of our favorite recipes to get you started:
Watermelon, Feta, and Mint Salad: This classic combination of sweet and salty is sure to be a crowd pleaser. Simply combine cubed watermelon, crumbled feta cheese, and freshly chopped mint in a large bowl. Drizzle with a light balsamic vinaigrette and you're ready to serve.
Watermelon, Cucumber, and Tomato Salad: This recipe is perfect for a light and refreshing summer salad. Simply combine cubed watermelon, diced cucumbers, and halved cherry tomatoes in a large bowl. Drizzle with a light olive oil and lemon juice dressing and top with chopped fresh basil for a delicious and healthy side dish.
Watermelon, Spinach, and Walnut Salad: This flavorful salad is sure to be a hit. Start by combining baby spinach, cubed watermelon, and crumbled goat cheese in a large bowl. Top with toasted walnuts and a light honey mustard dressing for an irresistible combination of sweet, savory, and crunchy.
No matter what type of salad you're making, adding watermelon is sure to take it to the next level. Give one of these delicious recipes a try, or get creative and come up with your own unique combination.
What are the health benefits of eating watermelon?
Yes, there are plenty of health benefits to eating watermelon! Here's a few ways it can benefit your health:
Boosts Hydration: Watermelon is made up of 92% water, making it one of the best sources of hydration available. Eating watermelon can help keep your body hydrated throughout the day.
Rich in Vitamin A and C: Watermelon is packed with essential vitamins like Vitamin A and C. These vitamins can help strengthen your immune system, support healthy vision and skin, and assist your body in absorbing iron.
Heart Healthy: Watermelon is an excellent source of lycopene, an antioxidant which helps protect against inflammation and can reduce the risk of cardiovascular disease.
Supports Digestive Health: Watermelon contains fiber, which can help keep your digestive system healthy and regular. Additionally, since fiber binds with toxins, eating watermelon can help remove toxins from the body.
Low in Calories: Watermelon is naturally low in calories, making it a great snack choice for those looking to maintain their weight.
Incorporating watermelon into your diet can help you stay hydrated, support your immune system, protect against heart disease, maintain digestive health, and keep you on track with your health goals.
How can you make a watermelon salad that is both delicious and nutritious?
Making a watermelon salad that's both delicious and nutritious is actually really simple! All you need is a few simple ingredients and a few minutes of your time. Here's what you'll need to make a delicious and nutritious watermelon salad:
/2 a small watermelon
/2 cup of feta cheese
/4 cup of chopped fresh mint
/4 cup of olive oil
tablespoons of balsamic vinegar
Salt and pepper to taste
To start, cut the watermelon into bite-sized pieces and place them in a bowl. Add the feta cheese and chopped mint, and mix gently. In a separate bowl, whisk together the olive oil and balsamic vinegar and season with salt and pepper. Pour the dressing over the salad and mix gently. Serve chilled and enjoy!
This simple watermelon salad is a great way to get a tasty and nutritious meal. It's light, refreshing and packed with vitamins and minerals. Plus, it only takes a few minutes to make, so it's perfect for those days when you need something quick and flavorful.
What other fruits, vegetables, and seasonings pair nicely with watermelon in a salad?
Watermelon salads are an exceptionally refreshing and delicious way to enjoy the summer months. Not only is watermelon a delicious and juicy fruit, but it also pairs wonderfully with a variety of other fruits, vegetables, and seasonings. To create a truly unique and tasty Watermelon Salad, consider adding some of the following ingredients:
Fruits:
Strawberries
Blueberries
Raspberries
Cantaloupe
Honeydew
Vegetables:
Cucumber
Red Onion
Tomatoes
Seasonings:
Mint
Basil
Lime juice
Balsamic vinegar
By adding some of these fruits, vegetables, and seasonings to your Watermelon Salad, you can create a truly unique and flavorful dish that is sure to be a hit among your friends and family.
How can you make a watermelon salad to serve for a special occasion?
Creating a delicious watermelon salad for a special occasion is easier than you might think! The key is to select the right ingredients and let them work together to create a flavorful, colorful, and eye-catching salad. Here are a few tips to get you started:
Choose ripe watermelon – The star of the show should be a sweet and juicy watermelon, so make sure you pick one that is ripe and ready to eat.
Add texture – To add texture to your watermelon salad, you can add nuts, seeds, or crumbled cheese.
Give it flavor – To give your salad flavor, you can add a light vinaigrette or a citrus dressing.
Add a pop of color – To brighten up the salad, add some colorful ingredients like tomatoes, peppers, or even edible flowers.
Don't forget the garnish – To make your salad look extra special, top it off with some sprigs of mint or slices of lime.
With these tips, you'll be able to create a delicious watermelon salad that's perfect for a special occasion.