Healthy Warm Lentil Salad With Creamy Dijon Vinaigrette
I'm a big fan of hearty salads, so when I stumbled across this Warm Lentil Salad with Dijon Vinaigrette, I was intrigued. I had never combined lentils with a simple vinaigrette dressing before, but I was excited to give it a try. I'm so glad I did because this salad was absolutely delicious and the perfect balance between savory, tart, and slightly sweet. It's become one of my favorite salads and I highly recommend it for anyone looking for a hearty and flavorful meal!
Warm Lentil Salad with Dijon Vinaigrette Recipe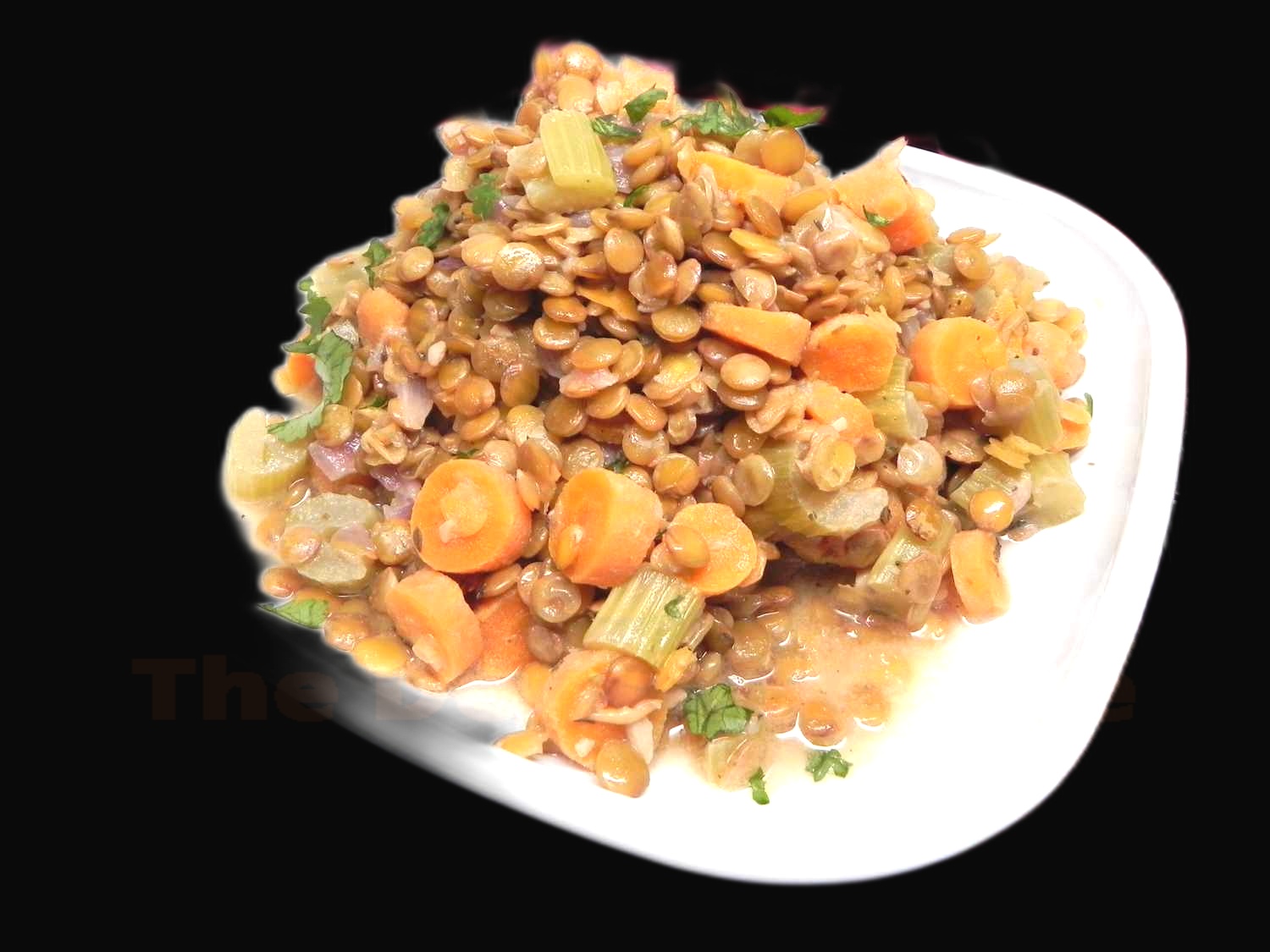 Ingredients
2 cups cooked lentils
2 tablespoons olive oil
2 tablespoons red wine vinegar
2 tablespoons Dijon mustard
2 cloves garlic, minced
1/2 teaspoon dried oregano
1/2 teaspoon dried thyme
1/4 teaspoon freshly ground black pepper
2 cups arugula
2 cups cherry tomatoes, halved
1/2 cup crumbled feta cheese
2 tablespoons chopped fresh parsley (optional)
Instructions
First, let's get all the ingredients prepped! Get the lentils cooked and the cherry tomatoes halved. Mince the garlic and chop the fresh parsley. Now it's time to make the dressing!
In a medium bowl, whisk together the olive oil, red wine vinegar, Dijon mustard, minced garlic, oregano, thyme, and freshly ground black pepper.
In a large bowl, combine the cooked lentils, arugula, cherry tomatoes, feta cheese, and parsley (if using).
Pour the dressing over the salad and toss to combine.
Let the salad sit for at least 15 minutes so the flavors can mingle.
Now the warm lentil salad with dijon vinaigrette is ready to be served! Enjoy!
Nutrition Facts
Calories: 216 kcal
Carbohydrates: 8.8 g
Protein: 7.3 g
Fat: 15.6 g
Saturated Fat: 3.2 g
Cholesterol: 10 mg
Sodium: 94 mg
Potassium: 200 mg
Fiber: 4.3 g
Sugar: 1.3 g
What makes this warm lentil salad so great?
This warm lentil salad is so great because it's incredibly flavorful and filling, but still light and healthy. The lentils provide plenty of protein, while the Dijon vinaigrette adds a tangy kick. The salad also contains fresh veggies like tomatoes and peppers, plus a sprinkle of feta cheese for an extra burst of flavor. It's a perfect meal for lunch or dinner that's sure to satisfy.
What kind of lentils are best for this salad?
When it comes to making a Warm Lentil Salad with Dijon Vinaigrette, the best kind of lentils to use are French green lentils. These lentils are a bit firmer than other varieties and hold their shape when cooked. They also have a nutty flavor that complements the earthy taste of the other ingredients in the salad. Plus, they are great at absorbing the flavors of the dressing.
French green lentils are also known as Puy lentils. They are grown in the Auvergne region of France, and are a bit more expensive than other types of lentils. But their unique flavor and texture make them well worth the extra cost.
If you can't find French green lentils, then black lentils are a good substitute. They have a mild, earthy flavor and a tender but toothsome texture. Plus, they look beautiful in the salad, with their shiny black outer coating.
Whichever variety of lentils you choose, make sure to cook them until they are just tender. Overcooked lentils can turn mushy and ruin the texture of the salad.
No matter which lentils you choose, this Warm Lentil Salad with Dijon Vinaigrette will be a delicious, healthy, and satisfying meal.
How does the dijon vinaigrette elevate the salad?
The Dijon vinaigrette truly makes this warm lentil salad something special! Here's why:
It adds a delightful tangy flavor to the salad, with just the right amount of zest.
The mustard in the vinaigrette gives the salad a subtle kick, so it's not too bland.
The vinaigrette helps to bring out the other flavors in the salad, making the overall taste more intense and flavorful.
The vinaigrette helps to bind the ingredients together, and gives the salad a creamy texture.
The vinaigrette also helps to keep the salad moist and prevents it from drying out.
Finally, the vinaigrette adds a nice visual element, making the salad look more vibrant and appetizing.
What are the health benefits of eating lentils?
Eating lentils is an amazing way to improve your health! Lentils are packed with vitamins, minerals, and nutrients that make them one of the healthiest foods you can eat. Here are some of the top health benefits you can get from adding lentils to your diet:
High in Fiber: Lentils are high in dietary fiber, which helps keep your digestive system running smoothly and can help lower your risk of heart disease and diabetes.
Low in Calories: Lentils are low in calories, but high in nutrients, making them a great way to get the nutrition you need without the extra calories.
Rich in Protein: Lentils are a great source of plant-based protein, which is important for building strong muscles, bones, and tissues.
Rich in Antioxidants: Lentils are rich in powerful antioxidants that can help reduce inflammation and protect your cells from damage.
Source of Iron: Lentils are a good source of iron, which is important for transporting oxygen throughout your body.
What tips can you offer to make the salad extra flavorful?
Spice it up! Add a pinch of cayenne pepper, smoked paprika, or chili flakes to your salad for some heat and a hint of smokiness.
Don't forget the herbs! Chopped fresh herbs like oregano, thyme, and basil are great for adding a bit of fresh flavor to the dish.
Go for the crunch! Toasted nuts and seeds, such as almonds, walnuts, or sunflower seeds, add texture to your salad.
Pickle it! Quick-pickled vegetables, such as onions or cucumbers, add a bit of acidity and sweetness that pairs nicely with the vinaigrette.
Don't forget the cheese! A sprinkle of feta, goat cheese, or Parmesan can really take your salad to the next level.
Get creative with dressings! Try experimenting with different dressings and vinaigrettes to give your salad a unique flavor.
What other ingredients pair well with this salad?
This warm lentil salad is a great base to mix and match different flavors. There are so many delicious ingredients that pair well with this dish! For example, you could add some roasted sweet potatoes for an extra burst of flavor and texture. Grilled chicken or fish can also be added to make the salad a complete meal. The Dijon vinaigrette of this dish pairs wonderfully with acidic ingredients like capers and olives. If you're looking for a more vibrant flavor, try adding some diced tomatoes or diced bell peppers. You could also add some crunch with a handful of nuts or seeds.