Heavenly Veggie Lasagna: A Deliciously Satisfying Meal
I love making a big pot of vegetarian lasagna—it's always a hit at dinner parties and family gatherings! There's something special about layering up all the delicious flavors of ricotta cheese, marinara sauce, and spices with freshly-cooked lasagna noodles. Every bite is a little party in your mouth. With its layers of texture and flavor, it's no wonder that this classic Italian dish has been a favorite for generations. If you're looking for a flavorful and satisfying meal, give this vegetarian lasagna recipe a try—you won't be disappointed!
Vegetarian Lasagna Recipe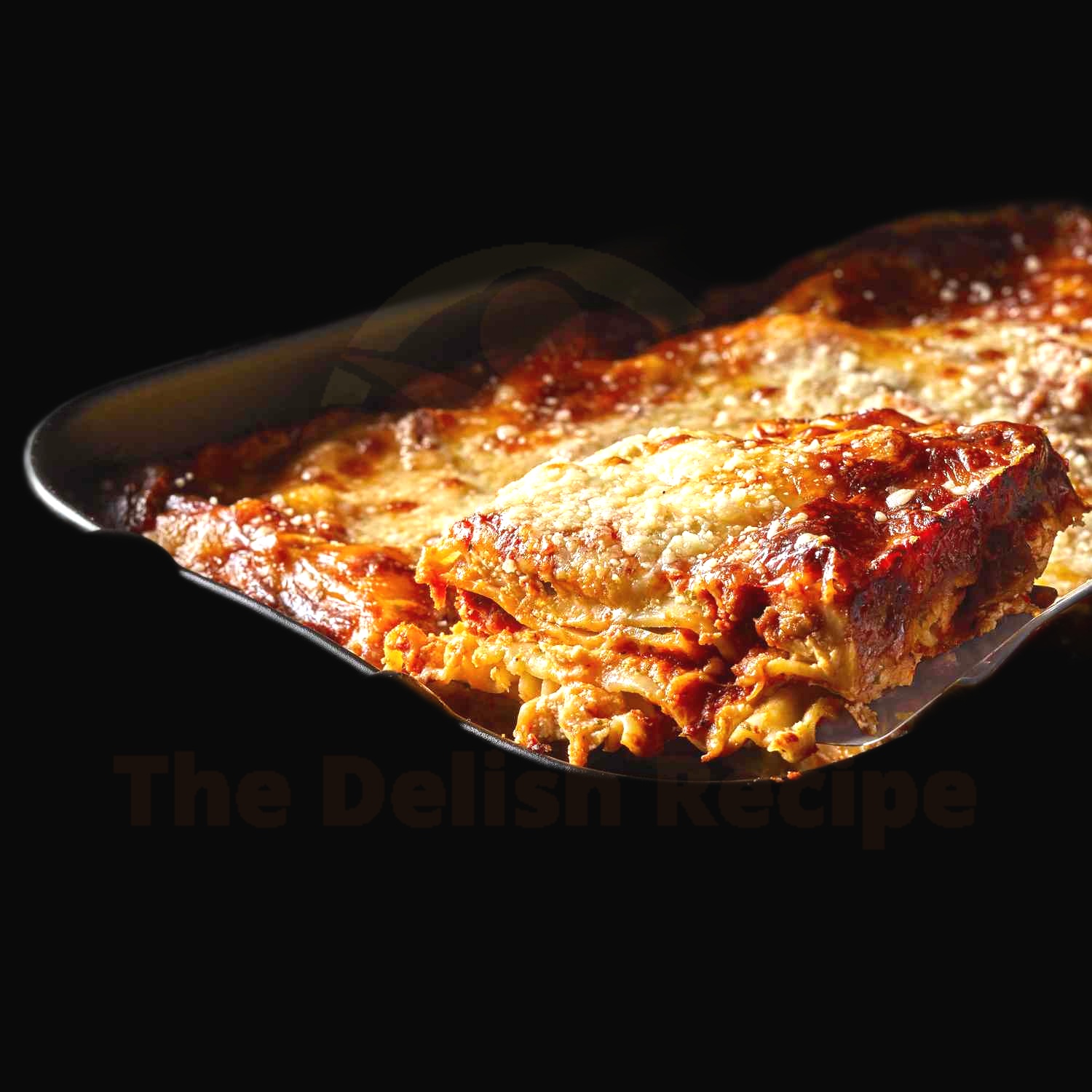 Ingredients
2 tablespoons olive oil
1 large onion, diced
1 red bell pepper, diced
2 cloves garlic, minced
2 cups mushrooms, sliced
1/2 teaspoon dried oregano
1/2 teaspoon dried basil
1/2 teaspoon dried thyme
1/2 teaspoon red pepper flakes, optional
1 15-ounce can diced tomatoes
1/4 cup red wine
1/4 cup vegetable stock
1/4 cup chopped fresh parsley
2 tablespoons tomato paste
1 15-ounce container ricotta cheese
1 cup shredded mozzarella cheese
1/2 cup grated Parmesan cheese
8 ounces lasagna noodles, cooked according to package instructions
Salt and pepper, to taste
Instructions
Vegetarian Lasagna – 45 minutes of prep time and 60 minutes of baking time!
Let's get started!
Preheat your oven to 375°F.
Heat the olive oil in a large skillet over medium heat. Add the onion and bell pepper and cook for about 5 minutes, stirring often.
Add the garlic and mushrooms and cook for an additional 5 minutes.
Stir in the oregano, basil, thyme, and red pepper flakes (optional).
Pour in the diced tomatoes, red wine, vegetable stock, and parsley. Simmer for 10 minutes.
Add the tomato paste and stir until combined. Remove the mixture from heat and set aside.
In a separate bowl, mix the ricotta cheese, mozzarella cheese, and Parmesan cheese.
Grease a 9×13 inch baking dish with cooking spray.
Spread 1/2 of the vegetable mixture into the baking dish.
Top with a layer of lasagna noodles.
Spread the cheese mixture over the noodles.
Top with remaining vegetable mixture.
Top with a final layer of noodles.
Sprinkle with mozzarella cheese and Parmesan cheese.
Bake for 60 minutes, or until the cheese is melted and bubbly.
Let cool for 15 minutes before serving. Enjoy!
Nutrition Facts
Calories: 595
Fat: 25 g
Carbohydrates: 59 g
Protein: 28 g
Cholesterol: 65 mg
Sodium: 879 mg
Saturated Fat: 13 g
Sugar: 8 g
Fiber: 6 g
What are some of the most popular vegetarian lasagna recipes?
Vegetarian lasagna is a delicious and hearty dish that is guaranteed to please even the pickiest of eaters! There are so many wonderful vegetarian lasagna recipes out there that it can be hard to decide which one to make. To help you out, we've compiled some of the most popular vegetarian lasagna recipes that have been crowd-pleasers for years.
One of the most popular vegetarian lasagna recipes is the classic spinach and ricotta lasagna. This classic dish is made by layering lasagna sheets with a blend of ricotta, spinach, and Parmesan cheese. To make it even more delicious, you can add some mushrooms, garlic, and herbs for extra flavor. It's simple to make and is sure to be a hit with everyone.
Another popular vegetarian lasagna recipe is eggplant lasagna. This recipe is made by layering slices of roasted eggplant with a blend of ricotta, mozzarella, and Parmesan cheeses. To add even more flavor, you can top it off with some sautéed mushrooms, onions, and garlic. This dish is creamy and cheesy and sure to be a hit with everyone.
Last but not least, there's vegetable lasagna. This vegetarian lasagna recipe is made by layering a mix of roasted vegetables with a blend of ricotta, mozzarella, and Parmesan cheeses. You can customize this dish with some of your favorite vegetables, such as peppers, squash, zucchini, and mushrooms. It's a delicious and healthy dish that the whole family is sure to love.
These are just a few of the most popular vegetarian lasagna recipes that you can make. Whether you're looking for something simple and classic, or something more adventurous and flavorful, one of these recipes is sure to please. Give one of these recipes a try and you'll be sure to have a delicious and satisfying meal.
What are the benefits of making a vegetarian lasagna?
Vegetarian lasagna is a delicious, nutritious, and budget-friendly meal.
Preparing a vegetarian lasagna is a great way to get creative in the kitchen and make something both tasty and healthy without relying on meat.
It is a great source of plant-based proteins, low in fat, and packed with vitamins and minerals.
Thanks to the addition of cheese, it's also a great source of calcium.
The best part is that vegetarian lasagna is easy to make, requires minimal effort, and can be prepared ahead of time for a quick and delicious meal.
Additionally, it is an excellent meal for entertaining, as it can easily be made in large quantities.
What tips can you share for making the perfect vegetarian lasagna?
Doing a vegetarian lasagna right means choosing the best ingredients. Look for high-quality vegetables and cheeses to get the most out of your dish.
Take extra time to make sure the vegetables are cooked to perfection. This will ensure that each layer is full of flavor.
Layer the lasagna with care. Make sure each layer has enough sauce, cheese, and vegetables.
Don't be afraid to experiment. Try adding different herbs and spices to give your lasagna a unique flavor.
Don't forget to top it off with a sprinkling of cheese. This will give the lasagna a nice, cheesy finish.
Bake the lasagna for the recommended time. This will ensure that the vegetables and cheese are cooked to perfection.
What are the key ingredients for a delicious vegetarian lasagna?
Creating a delicious vegetarian lasagna can be a challenge – but it's definitely doable! The key ingredients for a tasty vegetarian lasagna are fresh vegetables, flavorful cheese, and a delicious tomato sauce.
Vegetables provide the bulk of the dish and provide a variety of textures and flavors. Some classic options include eggplant, mushrooms, bell peppers, zucchini, and spinach, but feel free to experiment with other vegetables that you enjoy. For extra flavor, you can sauté them in a bit of olive oil and garlic before adding them to the lasagna.
Cheese is what makes lasagna so delectable, and there are plenty of vegetarian cheeses that you can use. Ricotta, mozzarella, and parmesan are all good options, or you can mix and match different types of cheese to create a unique flavor.
Finally, you need a delicious tomato sauce to hold everything together. You can use store-bought tomato sauce, but making your own is even better. Try a combination of diced tomatoes, herbs, garlic, and olive oil – this will give the sauce a fresh, vibrant flavor.
With these key ingredients, you're sure to create a delicious vegetarian lasagna that will please even the pickiest eaters.
How can you customize a vegetarian lasagna to make it healthier?
If you want to make your vegetarian lasagna healthier, there are lots of simple ways to customize it! Here are a few ideas to get you started:
Use low-fat cheese: Instead of using full-fat cheese, opt for low fat cheese, such as reduced-fat mozzarella or part-skim ricotta. This will help reduce the calories and fat content of your vegetarian lasagna.
Incorporate more vegetables: Add extra veggies such as mushrooms, spinach, peppers, and zucchini to your lasagna. This will not only add flavor and texture to the dish, but also increase the nutritional value.
Use whole-wheat noodles: To make your lasagna even healthier, opt for whole-wheat noodles instead of white pasta. Whole-wheat noodles contain more fiber and are a great source of complex carbohydrates.
Choose a low-sodium sauce: Many store-bought sauces contain a lot of sodium, which can add up quickly. Look for a low-sodium sauce, or make your own with fresh tomatoes and herbs.
Use Greek yogurt: Replace the traditional ricotta cheese with Greek yogurt. Greek yogurt has less fat and more protein than regular ricotta cheese.
With these tips, you can easily customize your vegetarian lasagna to make it healthier.
What are some creative vegetarian lasagna variations?
Vegetarian lasagna is a classic dish that can be made in so many delicious and creative ways! From vegetable-packed layers to unique sauces, you can make a vegetarian lasagna that's full of flavor for your next meal. Here are some of our favorite vegetarian lasagna variations to try.
Spinach and Mushroom Lasagna: Layered with sautéed mushrooms and spinach, this version of vegetarian lasagna is full of flavor and nutrients. You can also add in some ricotta cheese for extra creaminess.
Ratatouille Lasagna: This colorful lasagna is layered with a combination of eggplant, bell peppers, zucchini, and tomatoes. Top it off with a light béchamel sauce for a delicious vegetarian lasagna.
Butternut Squash Lasagna: This creamy lasagna is made with roasted butternut squash, ricotta cheese, and a white sauce. It's a comforting and delicious vegetarian lasagna.
Green Lasagna: This light and healthy lasagna is layered with spinach, zucchini, and kale. Top it off with a creamy ricotta and Parmesan cheese sauce for an extra special lasagna.
Tomato and Basil Lasagna: To make this classic Italian-style vegetarian lasagna, layer it with sautéed tomatoes, basil, and mozzarella cheese. It's a simple but delicious dish.
No matter which vegetarian lasagna variation you choose, you're sure to have a flavorful and satisfying meal.
What are some common mistakes to avoid when making a vegetarian lasagna?
When it comes to making a vegetarian lasagna, there are a few common mistakes to avoid if you want to make a delicious, flavorful dish. Whether you're a novice cook or an experienced chef, these tips will help you make the most of your vegetarian lasagna.
First, don't skimp on seasoning. Even though a vegetarian lasagna doesn't require meat, it still needs to be flavorful. Make sure to season your sauce, fillings, and cheese with herbs and spices to give it a boost of flavor.
Second, don't skimp on the veggies. The star of a vegetarian lasagna is the vegetables, so make sure you use a variety of fresh, flavorful veggies. Try to use different colors and textures to create a visually appealing and delicious dish.
Third, don't overcook the lasagna. Vegetarian lasagna is best when it's cooked just until the cheese is melted and the vegetables are tender. If you cook it too long, the vegetables can become mushy and the cheese can become rubbery.
Finally, don't forget the cheese! Cheese is a key ingredient in vegetarian lasagna and it helps to add flavor and texture. Be sure to use a good quality cheese that melts well and adds flavor to the dish.
By following these tips, you'll be able to make a delicious vegetarian lasagna that your family and friends will love.