Vegan Moroccan Stew: A Deliciously Healthy Stew Recipe
I've been vegan for quite a while now, and one of the dishes I come back to again and again is my vegan Moroccan Stew. It's a warm and comforting meal that is full of flavor and is a great way to enjoy a vegan-friendly dish. The combination of spices and vegetables gives it a unique taste that I find myself craving all the time. I'm sure you'll love it as much as I do!
Vegan Moroccan Stew Recipe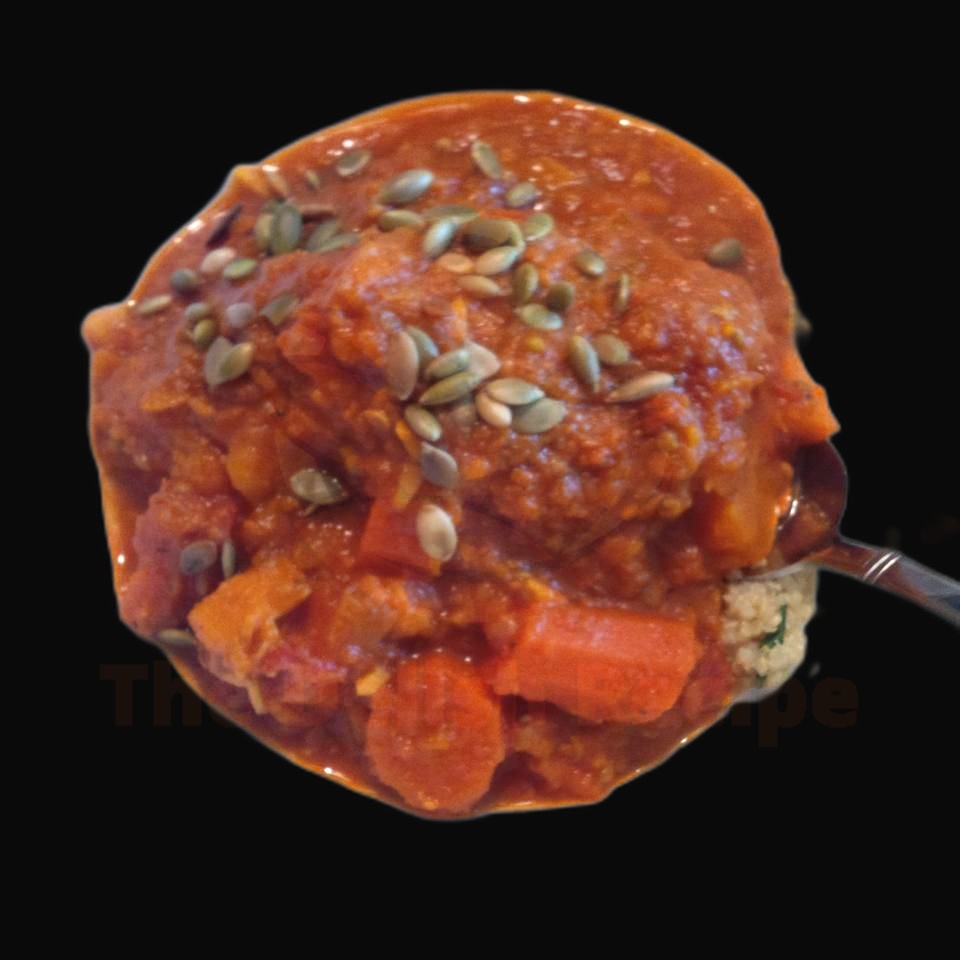 Ingredients
1 teaspoon of ground cumin
2 teaspoons of ground coriander
1 teaspoon of paprika
1/2 teaspoon of ground turmeric
1/4 teaspoon of ground cinnamon
1/4 teaspoon of freshly ground black pepper
1/4 teaspoon of cayenne pepper
3 tablespoons of olive oil
1 large onion, finely chopped
3 cloves of garlic, minced
2 large carrots, peeled and diced
2 celery stalks, diced
1/2 teaspoon of sea salt
1 large sweet potato, peeled and diced
1 red bell pepper, diced
1 cup of cooked chickpeas
2 cups of vegetable broth
1 can (14.5 ounces) of diced tomatoes
1/2 cup of pitted Kalamata olives
1/4 cup of fresh parsley, chopped
2 tablespoons of freshly squeezed lemon juice
Instructions
Let's make a delicious Vegan Moroccan Stew!
Heat the olive oil in a large pot over medium heat.
Add the onion, garlic, carrots, celery and sea salt. Sauté for about 5 minutes or until vegetables are softened.
Add the cumin, coriander, paprika, turmeric, cinnamon, black pepper and cayenne pepper. Stir and cook for another minute.
Add the sweet potato, bell pepper, chickpeas, vegetable broth and diced tomatoes. Bring to a boil and reduce heat to low. Simmer for 20 minutes.
Add the Kalamata olives, parsley and lemon juice. Simmer for another 15 minutes or until the vegetables are tender.
Enjoy your delicious Vegan Moroccan Stew!
Nutrition Facts
Calories: 220
Total Fat: 10g
Saturated Fat: 1.5g
Cholesterol: 0mg
Sodium: 570mg
Total Carbohydrates: 26g
Dietary Fiber: 7g
Sugars: 7g
Protein: 6g
What is the history behind this iconic dish?
Moroccan Stew has been around for centuries, and it's an iconic dish that has been passed down through generations of Moroccan families. The stew has its roots in traditional Berber cuisine, a style of cooking that originated in the Maghreb region of North Africa. It's a hearty dish that is packed full of flavorful ingredients like tomatoes, garlic, onions, spices, and chickpeas. The vegan version of this delicious dish has become increasingly popular in recent years, as more and more people are discovering the health benefits and bold flavor of this vegan Moroccan stew.
What are some of the health benefits of eating a vegan moroccan stew?
Eating vegan Moroccan stew offers many health benefits!
Here are a few of the main ones:
Improved Digestion: Vegan Moroccan stew is high in fiber, which helps keep digestion functioning properly. The vegetables, beans, and spices in the stew also help to make it easier to digest.
Lower Blood Pressure: The vegetables, beans, and spices in vegan Moroccan stew can also help to lower your blood pressure. The potassium in the vegetables helps to regulate fluid balance in your body, which can help to reduce high blood pressure.
Increased Energy Levels: Eating vegan Moroccan stew can give you a boost of energy due to the complex carbohydrates and fiber in the ingredients. This can help you stay focused and energized throughout the day.
Clearer Skin: The vitamins and minerals in vegan Moroccan stew can help to keep your skin looking clear and healthy. The antioxidants in the stew can also help to protect skin from damage caused by free radicals.
Improved Immunity: Eating vegan Moroccan stew can help to support your immune system due to its high content of vitamins and minerals. These nutrients can help to keep your body functioning properly and ward off illnesses.
How does the unique combination of spices in moroccan stew make it so flavorful?
The unique combination of spices in Moroccan stew is what makes it so flavorful! Here's a breakdown of the spices used to make this deliciously aromatic dish:
Cumin: This warm and earthy spice adds complexity and depth to the stew.
Cinnamon: This fragrant spice adds a hint of sweetness and warmth that pairs perfectly with the other spices.
Paprika: This slightly spicy and smoky spice brings out the flavors of the other spices.
Turmeric: This bright yellow spice adds a subtle depth of flavor, as well as color.
Ginger: This zesty spice adds a bit of warmth and zing to the stew.
Garlic: This pungent spice adds an extra layer of flavor and aroma.
What type of ingredients are typically used to make a vegan moroccan stew?
When making a vegan Moroccan stew, you're likely to find a mix of fresh and flavorful ingredients. A base of onions, garlic, ginger and spices like cumin, paprika, turmeric, coriander and cinnamon is typically used to create the traditional flavors of the dish. For added texture and nutrition, you can add a variety of vegetables such as carrots, potatoes, bell peppers, zucchini, and eggplant. You can also add cooked chickpeas or lentils to give the stew a hearty, plant-based protein boost. Finish it off with a splash of vegetable stock and lemon juice for a bright and tangy flavor.
What can be added to a vegan moroccan stew to make it even more nutritious?
Adding a few extra ingredients can make a vegan Moroccan stew even more nutritious! You can easily incorporate nutrient-dense superfoods like quinoa, kale, and sweet potatoes to provide a wealth of benefits to your vegan Moroccan stew. Quinoa is packed with proteins, vitamins, and minerals, while kale is full of fiber, antioxidants, and vitamins A, C, and K. Sweet potatoes, meanwhile, are a great source of dietary fiber, beta-carotene, and vitamin C.
How can vegan moroccan stew be served as a main dish or as a side?
Vegan Moroccan Stew is a delicious and versatile dish that can be served as either a main course or a side! As a main course, it pairs perfectly with steamed rice or couscous, and can also be served with a side salad for a complete meal. As a side dish, it's perfect for adding a flavorful boost to your favorite vegan proteins.